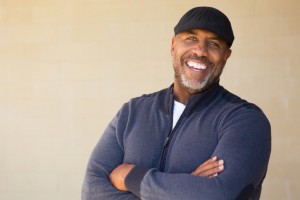 Would you rather replace your tooth or restore your tooth? Traditional tooth replacement options do a great job of filling in the gaps in your smile after tooth loss, but only dental implants fully restore the entire tooth. There's nothing more appealing than a beautiful smile, and no one knows that better than the Piney Point Dental Implant Center team. That's why we offer dental implants to support crowns for single tooth replacement, bridges replacing two or three consecutive teeth, and as well as partial and full dentures. Because the entire dental structure is restored, root and biting surface, implant-supported dental prosthetics look, feel, and function just like your natural smile. Call to find out more about the dental implants Houston, TX residents trust from Piney Point Dental Implant Center.

A Seamless Dental Implant Process
At this point, you may be wondering, what's the catch? Permanent tooth replacement that looks and feels like natural teeth sounds too good to be true. The reality is that there will be a time commitment, but at the end of the process, your beautiful, fully restored smile is worth the wait. Here's how the process works:
The first step is a dental implant consultation with Dr. Steve L. Koo. This consultation is 100% free to you. During this visit we'll examine your smile to determine whether you're a good candidate for dental implants, thoroughly explain the procedure, and answer your questions with care.
If you decide during your consultation that dental implant treatment is something you wish to pursue, we begin planning your treatment. X-rays and CT scans are utilized to develop surgical guides to guarantee accurate implant placement. Any dental preparation can be done at this time as well including removing damaged teeth, preparing remaining teeth, and taking bite impressions to create your custom implant-support dental prosthetic.
Next, you'll return for the implant surgery. The procedure varies in length depending on the number of implants needed to support the prosthetic and difficulty of placement. Once your surgery is completed, you'll need 3 to 6 months of healing time during which you'll wear a temporary prosthetic.
Once the gum tissue has healed and the dental implant fuses with the jawbone, you'll return to our practice to be fitted with your custom-made tooth replacement.
Finally, you'll look forward to a lifetime of dazzling, durable, dependable smiles.
In addition to the significant time commitment, many patients express concern regarding the expense of the implant procedures. We're happy to work with patients, file insurance claims, and help you in any possible way. Call to speak to a patient concierge today.
Amazing Results from Teeth Implants
The best recommendation we can give patients interested in dental implant restoration is to hear what other patients have to say. Our team loves what they do because patients leave our care with beautiful, fully restored smiles. Watch and read some of our patient success stories to find out more about the Houston dental implants process at Piney Point Dental Implant Center.
Call Our Houston Dental Implant Specialist
Still not sure whether or not dental implants are the right tooth replacement option for you? Call or complete our form online to schedule your free Houston dental implants consultation. Our team is ready to answer your questions, and thoroughly explain the benefits of dental implant tooth replacement.