Multiple Tooth Dental Implants – Houston, TX
Filling the Gaps in Your Smile
When it comes to replacing missing teeth, treatment options have traditionally replaced just the visible portions of teeth. Dental implant supported tooth replacement restores the entire tooth from the roots up. These implant-retained dental prosthetics give patients with missing teeth an alternative smile restoration option that looks and feels more natural than those that do not replace the root structure. Before making the decision to replace missing teeth with dental implants, schedule a consultation with Piney Point Dental Implant Center to find out about your tooth replacement options, including multiple tooth dental implants in Houston, TX.
Non-Implant Tooth Replacement Options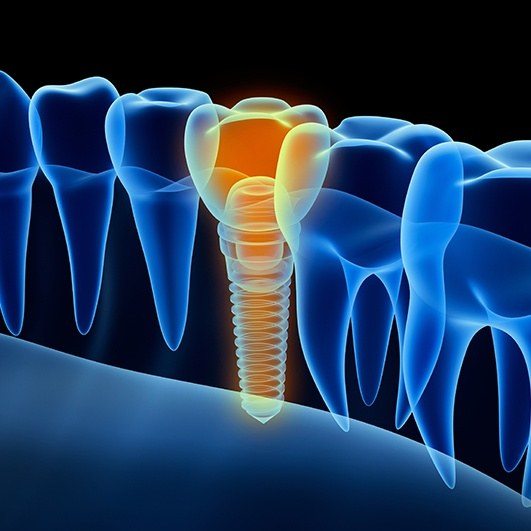 Crown & bridge – to replace between one and three consecutive missing teeth a crown and bridge may be an excellent, minimally invasive option for patients who have remaining healthy teeth to support the prosthetic. Composed of replacement teeth connected to abutment crowns, the dental restoration is cemented into place relying on crowns placed over the healthy dental structure for support.
Partial dentures – to replace any number of consecutive and nonconsecutive missing teeth, partial dentures utilize remaining teeth to attach a customized tooth replacement using clips or clasps. A partial denture fills in gaps left by missing teeth like a puzzle piece shaped to fit the patient's mouth.
Full dentures – to replace a full arch of missing teeth, dentures are crafted using a flexible, gum-colored based with prosthetic teeth set into it. A full denture stays in place utilizing natural suction or small amounts of dental adhesive and partially restores chewing and speaking function for edentulous (without teeth) patients.
The Dental Implant Process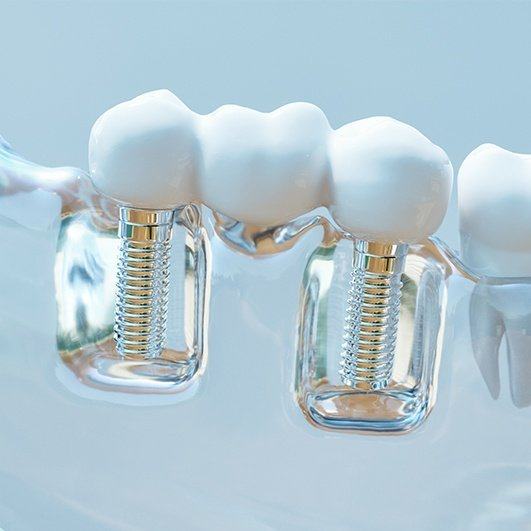 Patients who determine dental implant supported tooth replacement is the right option for their smile should plan on treatment spanning several months. The first phase of treatment is preparation. Remaining teeth are removed in some cases, but for the most part, healthy teeth are preserved. During this phase, the dentist takes 3D scans of a patient's bite to determine the optimal placement of implants, create a custom dental prosthetic, and schedule the remainder of treatment to fit the patient's schedule. The second phase of treatment is surgical implant placement. Small incisions are made for each implant, and the dentist places the optimal number of implants to support the necessary restoration. For several months, patients allow gum tissue to heal following surgery, and for the prosthetic tooth root to fuse to the jawbone and gum tissue. Finally, patients come in to have their implant supported crown, bridge, partial, or full denture placed.
Benefits of Dental Implant-Retained Dental Prosthetics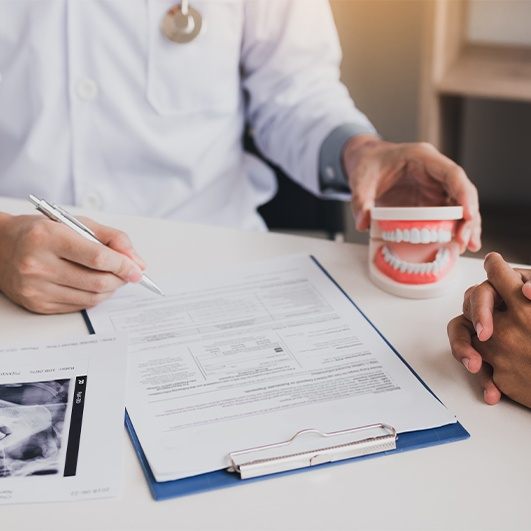 Protect the health of remaining natural teeth
Provide optimal comfort and stability with replaced root structure
Restore the entire tooth from the roots up providing stimulation to preserve jawbone density and gum tissue volume
No need to remove restorations for cleaning or while sleeping
Implant supported restorations last 30 or more years whereas crown and bridge replacement typically need restoration or replacement after ten years, and full and partial dentures require frequent maintenance to maintain fit
Find out More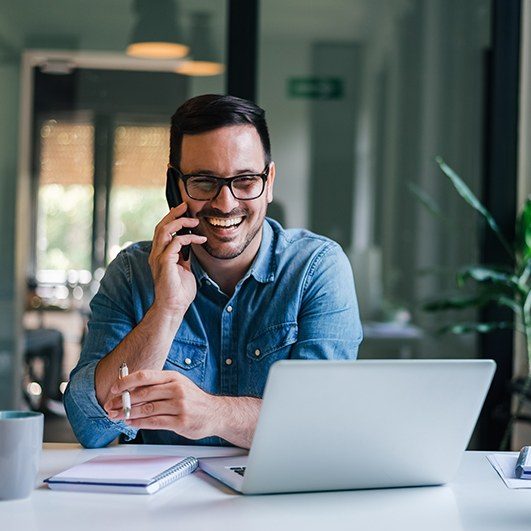 Contact Piney Point Dental Implant Center, Houston's home for dental implants, to find out more today. We welcome patients from the greater Houston area and offer superior tooth replacement options to restore and renew oral health.