Teeth in a Day – Houston, TX
A Streamlined Way to Rebuild Your Smile
For years, patients with extensive tooth loss have relied on dental implant-supported prosthetics to rebuild their smiles from the roots up. However, for many denture wearers, a lengthy treatment time and the prospect of multiple surgeries makes them hesitate to commit to dental implants. Furthermore, bone loss in the jaw may make it difficult for them to qualify for implants. Fortunately, such patients may be eligible for Teeth in a Day in Houston, which is also widely known as All-on-4 in Houston. Contact Piney Point Dental Implant Center today to learn more about this innovative procedure.
How Do Teeth in a Day Implants Work?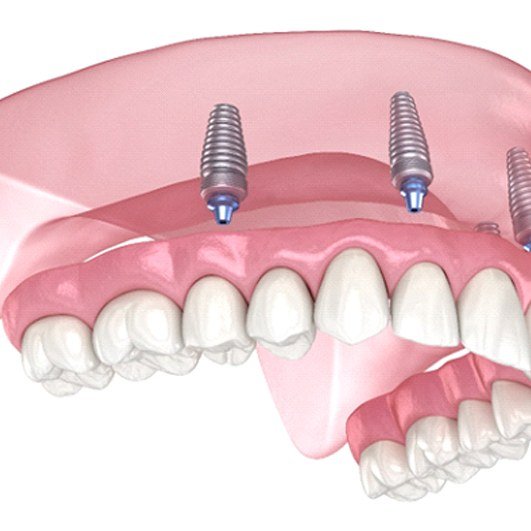 Dental implants are prosthetic tooth roots. After they are inserted into the jawbone, they fuse with the surrounding tissue and are thus able to provide a strong base of support for the artificial teeth that get attached to them.
Teeth in a Day is a special type of dental implant treatment that involves placing 4 – 6 implants into the jaw at strategic locations, where the bone tends to be naturally strong and thick. Immediately after the implants are in place, a provisional (temporary) denture is attached to them. Later, the provisional prosthetic is replaced by a permanent one.
Am I a Candidate for Teeth in a Day Implants?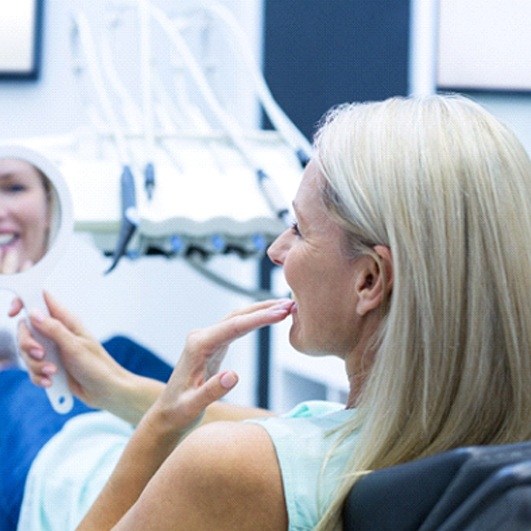 Generally speaking, candidates for Teeth in a Day:
Have lost all or most of their teeth.
Have adequate bone density in their jaw to support dental implants. (Most patients meet this criterion even without a bone graft.)
Are free of active gum disease and other serious oral health conditions.
Are in fair overall health.
Maintain excellent oral care habits.
If you aren't sure if you qualify for Teeth in a Day, visit your implant dentist in Houston for a consultation. Most patients who want dental implants do qualify for them, either immediately or after some preparatory treatments.
What Are the Benefits of Teeth in a Day Implants?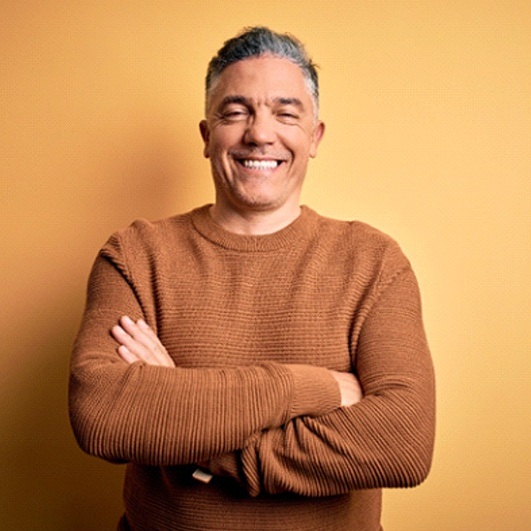 Some of the top benefits of Teeth in a Day implants include:
You can expect your prosthetic teeth to be strong enough to stand up to virtually any food.
Your teeth will be permanently secured in your mouth, so you can treat them in almost the same way that you would treat natural teeth.
Jawbone preservation. Dental implants prevent the bone deterioration that normally occurs after tooth loss.
Teeth in a Day restorations are carefully designed with the goal of making them look as natural as possible.
Teeth in a Day vs. Traditional Dental Implants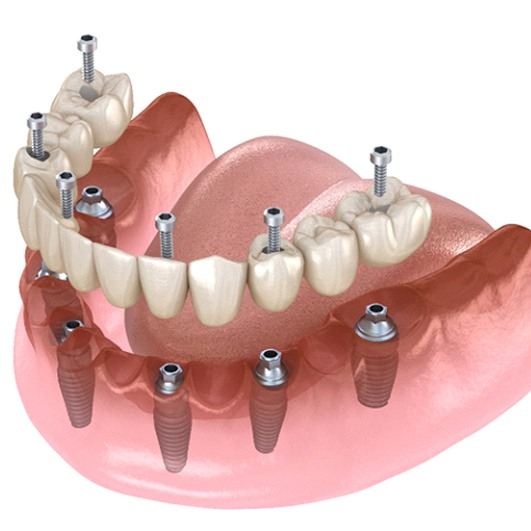 Some of the biggest differences between Teeth in a Day and traditional dental implants include:
Teeth in a Day usually requires just one surgery, as opposed to the two or more that are often necessary in traditional procedures.
Teeth in a day is a faster process that allows you to get your teeth on the same day as your implant surgery.
Teeth in a Day is exclusively for full-arch replacement, whereas traditional implants are more versatile.
Teeth in a Day usually uses fewer implants than traditional full-arch procedures, a fact that can facilitate lower costs and a quicker recovery. The use of more implants in traditional procedures may contribute to the sturdiest prosthetic possible.