What Are the Benefits of Dental Implants? – Houston, TX
Hear Some of the Many Advantages of Dental Implant Supported Replacement Teeth
When it comes to virtually all cases of tooth loss, dental implants are the ideal reconstructive solution for a patient's oral health, self-confidence, and overall wellbeing. They offer several benefits, many of which can't be enjoyed with traditional dentures or dental bridges.
The Benefits of Dental Implants Include: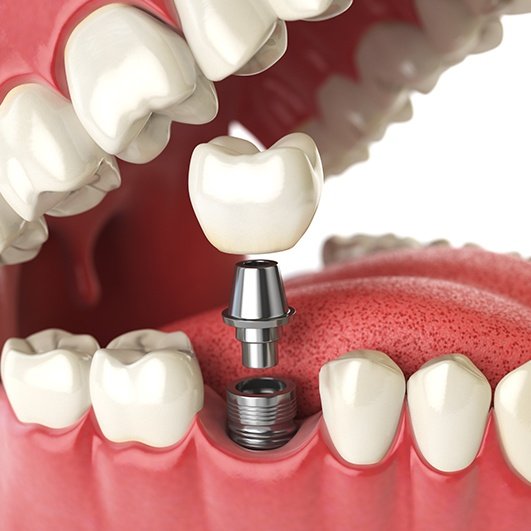 The closest thing to a strong, natural tooth – dental implants are the only tooth replacement option that replicates the entire structure of the tooth, not just the crown that shows when you smile. With a new tooth root in place, patients don't have to worry about health problems that occur like jawbone deterioration, and they have a complete, confident smile they'll be proud of.
A truly long-term solution – While bridges and dentures typically don't last longer than 10 years, a dental implant can thrive for 20-30 years, and with the proper care and maintenance, many patients are able to enjoy them for the rest of their life.
Keep your natural facial shape – Another problem associated with the deterioration of the jawbone is that the face begins to sag and appears older. Thankfully, teeth implants are a big help in maintaining a patient's look.
No slipping – Dentures offer convenience, but they can also slip and slide, resulting in embarrassment. Messy, unpleasant adhesive is often needed to hold dentures in place. With an implant-retained denture, patients can forget about these frustrating issues and enjoy a completely confident fit.
Protect remaining healthy teeth – Dental bridges provide sturdiness, but in order to place the prosthetic, patients must have one or more teeth grounded down. Dental implants avoid this problem by only fitting into the spaces that were occupied by missing teeth. They even help patients avoid the common issue of teeth shifting to fill empty spaces.
No cavities – While patients certainly need to attend regular check-ups and cleanings after implant placement, they find some comfort in knowing that cavities are an impossibility with their new teeth.
Exceptional success and predictability – Dental implants have a great track record and high overall rate of successful placement. In fact, they've been shown to be more predictable than most other reconstructive procedures, including bridgework, dentures, and root canal therapy.