Single Tooth Dental Implants – Houston, TX
Replacing the Roots & Crowns of Teeth for Flawless Smiles
Many people who are missing a single tooth choose not to undergo tooth replacement. The assumption of these patients is that one missing tooth won't adversely affect their oral health, but this is not the case. The dental field is complicated because, unlike some medical conditions that clear up on their own over time, dental health issues get worse the longer they are left untreated. Tooth decay doesn't go away without treatment. It spreads. Likewise, tooth loss has a more profound impact on oral health over time. The loss of a single tooth leads to jawbone density reduction, gum tissue deterioration, shifting of remaining teeth, and additional tooth loss. To prevent dental health damage following tooth loss, it's essential that patients replace missing teeth as soon as possible. Keep reading to learn more about replacing individual missing teeth with single tooth dental implants in Houston, TX
Single Tooth Replacement Options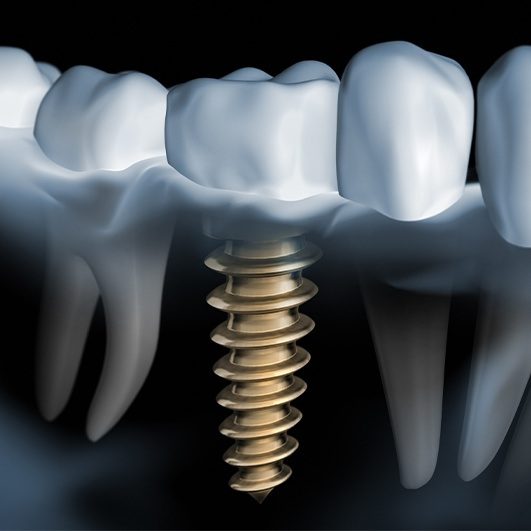 To replace a single missing tooth, patients have two options: a fixed bridge or a dental implant.
Fixed bridge: sometimes called crown and bridge tooth replacement restores the visible portion of missing teeth with a dental prosthetic permanently attached to remaining healthy teeth. The bridge consists of one prosthetic replacement tooth connected to two crowns. These crowns are affixed to healthy teeth providing support for the replacement tooth. This option looks and feels very natural, prevents dental drift into the open socket, and restores full dental function.
Single tooth implant: replaces the entire dental structure from the roots up. A dental implant is a titanium post surgically placed below the gum line. This post mimics the function of a tooth root and provides support for a dental crown restoration that is permanently attached to the implant to replace the visible portion of teeth. Surgical placement is minimally invasive. A small incision is made, and the post is implanted. The soft tissue heals quickly, but patients should still plan for three to four months between the placement of the implant and the attachment of the crown. During this time, the implant post fuses to the jawbone and connective gum tissue. Once this process is complete, the crown can be attached, and the patient's replacement tooth will function just like a healthy, natural tooth.
The Benefits of Dental Implant Supported Single Tooth Replacement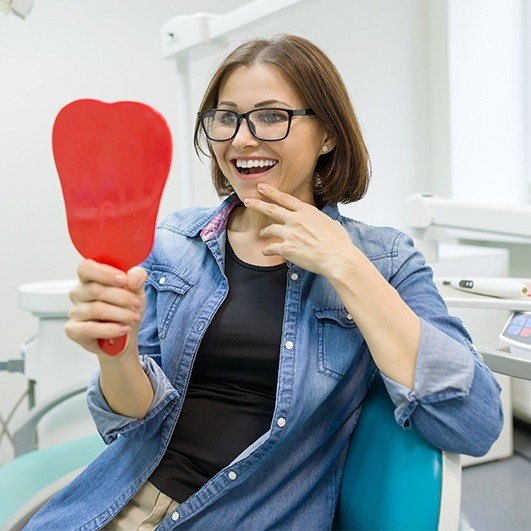 While dental crown and bridge or single tooth implants both restore the appearance and function of smiles, there are several benefits to implant supported dental prosthetics including:
Implants preserve the health of remaining teeth unlike crown and bridge which requires the removal of healthy dental structure to place the abutment crowns
A dental implant provides the stimulation required to maintain and increase jawbone density and gum tissue volume
Dental implants feel more like natural teeth since they replace the entire dental structure from the roots up
Implants last 30 or more years with proper care whereas most dental bridges need replacement or restoration after 10 years
Contact Piney Point Dental Implant Center Today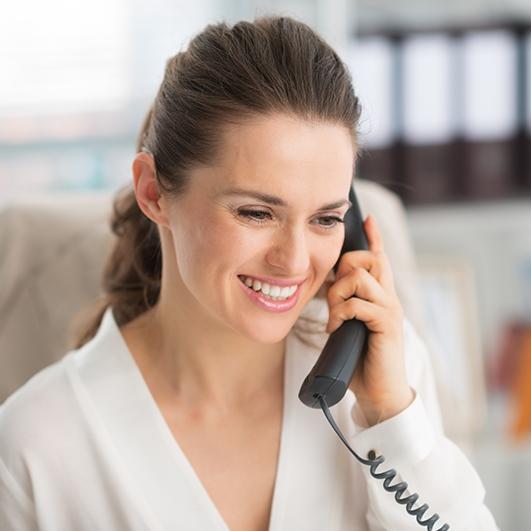 If you've been putting off replacing a missing tooth, don't wait another day. Contact Piney Point Dental Implant Center, Houston's home for dental implants. Our skilled dentists and team quickly, effectively replace any number of missing teeth with natural looking and feeling dental implant supported tooth replacement.