Dentures – Houston, TX
Comparing Your Full Arch Tooth Replacement Options
If you have lost a significant number of teeth, you might be thinking about getting dentures in Houston. Certainly, dentures can provide you with an attractive new smile and reliable function. But did you know that there are several different types of dentures? On this page, you will find a brief comparison between some common types of prosthetics. After learning about their options, many patients opt for implant dentures due to the remarkable array of benefits they offer.
Why Choose Piney Point Dental Implant Center for Dentures?
Highly Trained Oral Surgeons
Variety of Dental Implant Treatments Available
Implant Dentures Are Superior to Traditional Dentures
Who Is a Good Candidate for Dentures?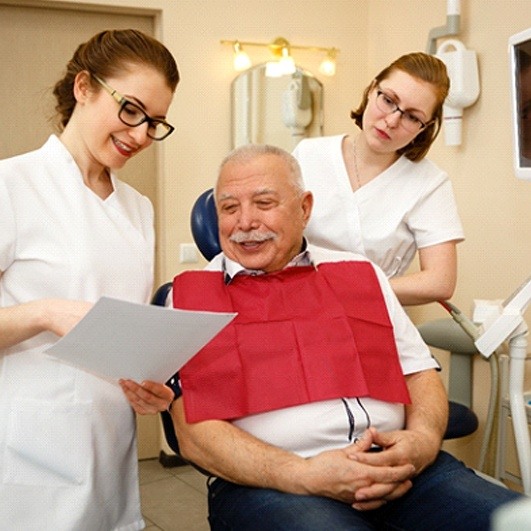 Virtually any adult who has lost all or most teeth throughout one of their dental arches can qualify for dentures. A new prosthetic may be perfect for you if you struggle to eat your favorite foods, if you feel embarrassed to smile in public, or if your old dentures are starting to become uncomfortable. Of course, the different types of dentures come with varying criteria for candidacy, but all of them require that you have healthy gums and a strong commitment to oral hygiene.
Types of Dentures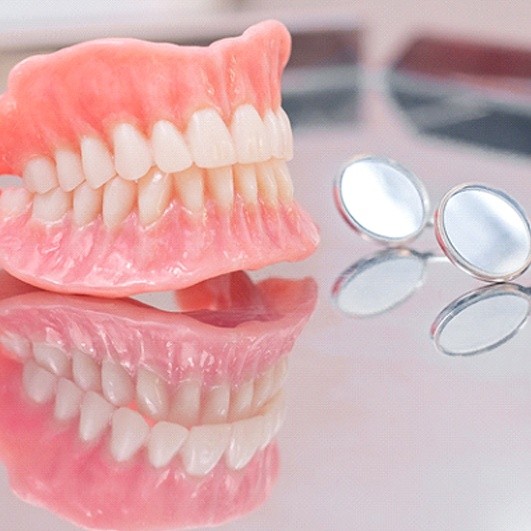 A consultation with our team can help you learn about your tooth replacement options and settle on the one that is best for you. We usually recommend implant dentures as the best choice, but partial dentures and traditional full dentures from a general dentist are also possibilities for many patients.
Full Dentures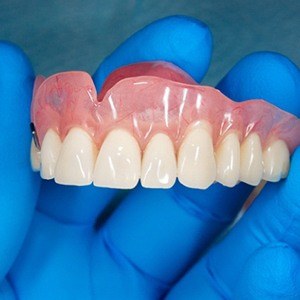 A full denture consists of a gum-colored base that supports a full row of prosthetic teeth, which are usually made of acrylic or porcelain. Natural suction or a mild adhesive helps traditional dentures to stay in place. Although they can restore a degree of chewing power, they tend to lose their fit over time. They can also contribute to bone loss in the jaw.
Partial Dentures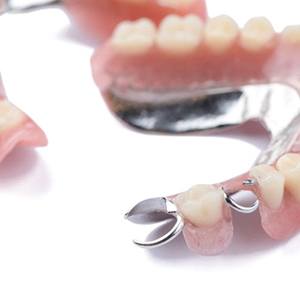 These fit around the remaining natural teeth, sort of like a puzzle piece that goes exactly where it is needed. Small clips help partial dentures to stay in place. Unfortunately, those clips are sometimes visible to onlookers. Partial dentures are convenient in many ways, but they are not nearly as stable as natural teeth.
Implant Dentures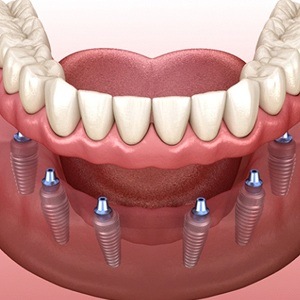 Implant dentures are anchored in the jawbone by dental implants, which serve as prosthetic tooth roots. Even though they have a longer treatment timeline than their traditional counterparts, they are well worth the wait! They are extremely secure, prevent bone deterioration in the jaw, and tend to last for many years. They are able to stand up to even some of the toughest foods. Many patients who are frustrated with their traditional dentures opt to upgrade to implant dentures.
The Benefits of Dentures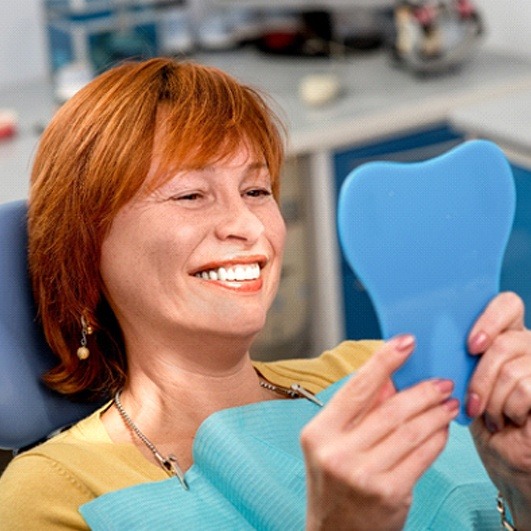 All types of dentures can improve your appearance and enhance your chewing ability. They are also all custom-designed to fit well in your mouth and complement your natural facial characteristics. Additionally, dentures are designed to be easy to clean and maintain. Non-implant prosthetics even come with a relatively low cost. However, when you carefully compare implant dentures to their traditional counterparts, implant-supported options oral surgeon in Houston come out the winner for their unmatched stability, longevity, and health benefits.
Understanding the Cost of Dentures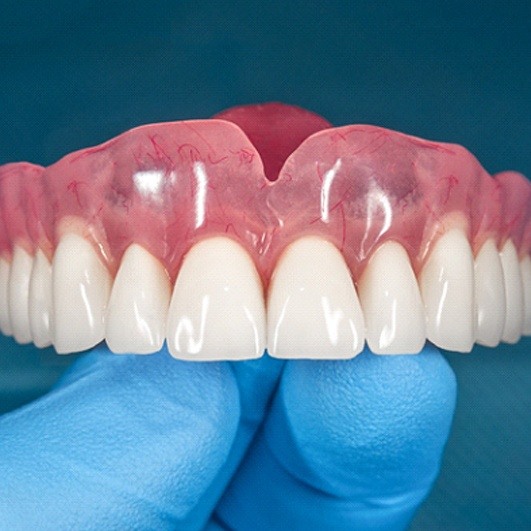 The cost of dentures in Houston depends on several factors, so you may not be able to know the price of your new smile until you attend a consultation. You can rest assured, however, that dentures are one of the most cost-effective tooth replacement solutions, especially if you invest in high-quality implant dentures.
Factors that Affect the Cost of Dentures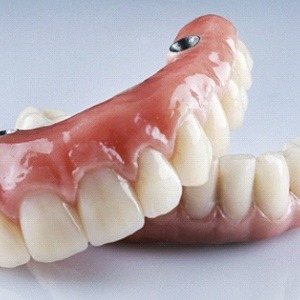 Some of the factors that have a bearing on the cost of dentures include:
You may need to have your remaining natural teeth extracted, undergo gum disease treatment, or receive other types of preliminary care before your mouth is ready for dentures.
Dentures have an acrylic base, and there are several types of acrylic, each with its own unique price. Replacement teeth can be made out of either acrylic or porcelain.
The type of denture. Partial dentures, full non-implant dentures, and implant dentures all have different price points.
You might come across denture "bargains" that seem too good to be true. Be wary of such deals because you might end up with a product whose quality falls short of your expectations.
Are Implant Dentures More Expensive?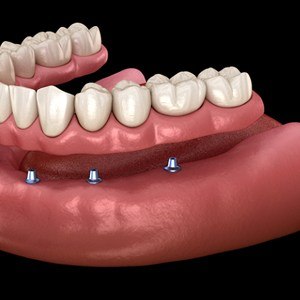 Yes, implant dentures are more expensive than traditional dentures. They require a much more complex treatment process, which of course requires a lot of time and skill on the part of your denture dentist in Houston.
However, it is important to keep in mind what you are getting when you opt for an implant denture. Such a prosthetic is anchored in the mouth via prosthetic tooth roots, making it extremely sturdy. Implant dentures also maintain their fit and function for many years, whereas traditional dentures must be replaced every 5 – 8 years (on average).
Does Dental Insurance Cover Dentures?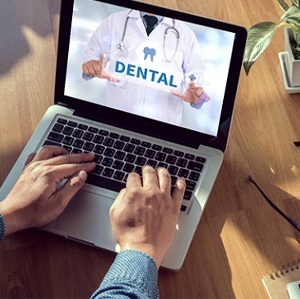 Most dental insurance policies consider dentures to be a major procedure and are willing to pay for about 50% of their cost, up to the amount of the policy's annual maximum. If you choose implant dentures, your implant surgery may not be covered, but your prosthetic itself is likely to be. Our team will be happy to help you navigate your benefits and file your claims. We can also work with your medical insurance to determine if it will cover any portion of your treatment.
Other Options for Making Dentures Affordable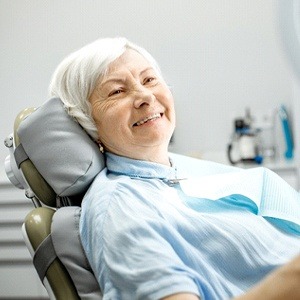 We want you to be able to afford your implant dentures in Houston, so we offer some provisions that may make it easier for you to fit them into your budget, including financing. We may be able to arrange a payment plan for you. You may also qualify for CareCredit or credit through another third-party lender. We can help you through the application process — most patients do get approved for financing, and you may even have the option of choosing a no-interest payment plan.
Would you like to learn more about implant dentures and their cost? Contact the Piney Point team today. We look forward to speaking with you!
Denture FAQs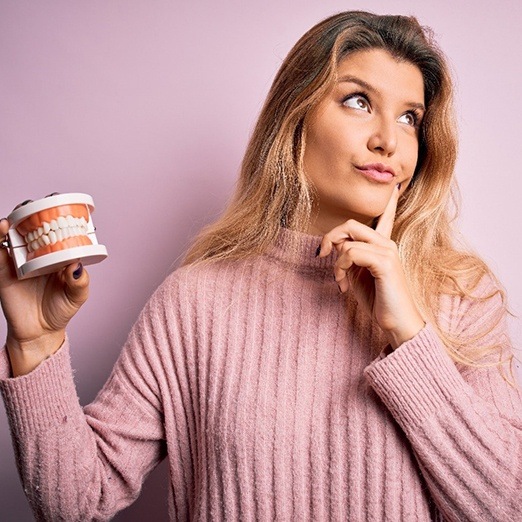 We are confident that implant dentures in Houston are the best way to treat extensive tooth loss. Before you contact us about scheduling your consultation, however, you might want to learn more about the journey in front of you. That is why we have put together the following list of FAQs, along with their answers. If you do not see the information you were hoping for, you are welcome to contact us directly. We look forward to speaking with you!
How Long Will You Have to Wait to Get Dentures After Your Teeth are Pulled?
The answer to this question varies from case to case. For traditional dentures, patients typically have to wait 6 – 8 weeks so their gums have adequate time to heal. However, some patients qualify for immediate dentures, which are placed right after extractions.
Things can be a little different with implant dentures. For example, if you opt for All-on-4 implant dentures, extractions usually take place on the same day as the implant placement surgery. Then, you can get a provisional (temporary) denture right away. With traditional implant dentures, you might have to wait a few weeks to a few months before your implant surgery.
Will It Hurt to Get Dentures?
It's normal to experience some soreness after tooth extractions, after dental implant surgery, and as you are adjusting to a new prosthetic. Taking painkillers and avoiding hard, tough foods can help to minimize your discomfort. Many patients adjust more quickly to implant dentures than they do to traditional ones. If you experience any persistent or severe pain, seek help from a denture dentist in Houston as soon as you can. It is possible that your prosthetic needs to be adjusted.
Can Dentures Reduce Life Expectancy?
Research suggests that wearing traditional dentures can decrease life expectancy by up to 10 years. The dentures themselves may not be to blame; rather, it may be the loss of bite force that limits food choices. Fortunately, implant dentures come with a very strong bite force that can stand up to virtually any food. They can allow you to eat things like crisp apples, crunchy salads, and even corn on the cob. They can also reduce the emotional and mental strain that come with extensive tooth loss, thereby supporting your overall wellness.
Is It Hard to Talk with Dentures?
Dentures are a foreign object in the mouth, so you can expect to experience a bit of a learning curve when you first get your prosthetic. Some patients lisp a little. Practicing speaking, either by chatting with friends or reading out loud, can help you adjust. It is generally easier to adjust to implant dentures than traditional dentures because many traditional dentures have a plate that covers the roof of the mouth, which can affect speech. Implant dentures are smaller and cover less of your palate, which allows greater range of motion for your tongue.
What Can't You Eat with Dentures?
Non-implant dentures come with a list of food restrictions. For example, eating sticky foods like gummy candies or peanut butter could pull your dentures in Houston out of place. Foods with small bits, like sesame seeds or popcorn kernels, may get stuck beneath the prosthetic and lead to problems. Certain hard foods, like raw vegetables, are a challenge to chew with dentures.
Fortunately, implant dentures are different. Because they are secured in your mouth via prosthetic tooth roots, they are quite strong. With them, you can feel free to eat all of your favorite treats, including most hard, tough, and chewy foods.
Will Dentures Change the Shape of My Face?
After you lose your teeth, your facial muscles will begin to sag, contributing to a sunken appearance. Fortunately, dentures can fill out your teeth and preserve your facial shape. Over the long term, though, traditional dentures may accelerate bone loss in the jaw, which may adversely affect your facial profile. Implant dentures are different because they actually preserve the jawbone, which can help you retain a youthful appearance for years or even decades to come.
Should I Have All My Teeth Pulled to Get Dentures?
As wonderful as implant dentures are, natural teeth are still preferrable. We don't recommend extractions unless we believe that removing your teeth would benefit your oral health and be a stepping stone on the road to regaining a complete and healthy smile. This may be the case if your teeth are severely decayed or gum disease has caused them to become loose. On the other hand, if your remaining natural teeth are still in good shape, you may benefit from a partial denture rather than a full one. The partial prosthetic will fit around your natural teeth and help you smile and eat with confidence.
Can I Sleep with My Dentures?
Traditional dentures and removable implant dentures should usually be removed at night. This allows you to maintain a thorough oral hygiene routine, and it gives your gums an opportunity to rest. When you first get your dentures, however, you may need to wear them for 24 hours as part of your initial adjustment period.
Permanent implant dentures are a different story. They are designed to stay in your mouth for months at a time with no significant risk of complications. They are only removed during dental appointments as part of preventive or restorative care.
Why Do My Dentures Smell?
An unpleasant odor associated with your dentures could be due to the accumulation of plaque, bacteria, or food particles. In most cases, thoroughly cleaning your prosthetic and your mouth can resolve the issue and help you to once again enjoy a fresh smile.
Another possible reason for an odor is a lack of saliva production. Denture wearers often suffer from dry mouth, and without adequate saliva to wash away bacteria, unpleasant smells can occur. Tending to oral hygiene and drinking plenty of water may help to correct the problem.