Affordable Dental Implants – Houston, TX
Understanding the Cost of
Dental Implant Tooth Replacements
Many people balk at the cost of dental implants in Houston, but when they look a little deeper into the details of the treatment, they learn that it is a worthwhile investment! Still, you might be confused about how to compare implant costs and determine what your out-of-pocket financial obligation will be. Furthermore, how can you really know if you're getting a good value?
The total cost of your dental implant treatment will depend on several factors, including where in the mouth your missing teeth are located, the type of dental implant used, and whether or not you need to have a procedure to build up bone volume before your implants are placed. If you have dental or health insurance, you may receive partial coverage on your dental implants. Keep reading to learn more about how much your dental implants may cost and why they seem to cost so much. Then schedule an appointment with Dr. Steve L. Koo at Piney Point Dental Implant Center to learn more about the specifics of your options for affordable dental implants in Houston, TX.
Take Our Dental Implants Assessment
Can I Afford Dental Implants?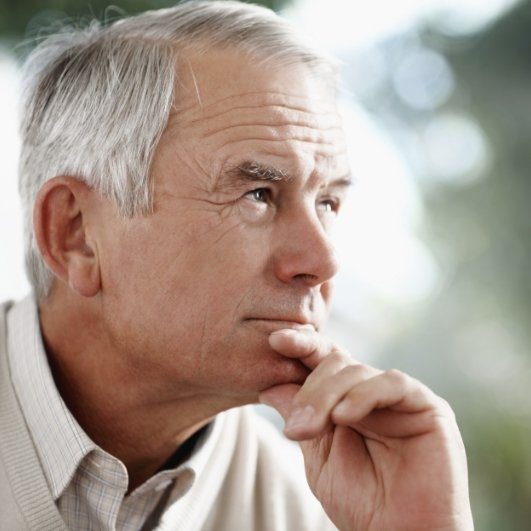 If you have priced all of your options in tooth replacement, you are probably left with one question -- why are dental implants considerably more expensive than the fixed bridge, or a non-implant retained denture? Well, it might be surprising, but we would like for you to consider the fact that dental implants are really not all that expensive when you think about the return on investment they provide. You really can't put a price on a healthy, long-lasting smile.
The reason dental implants cost more than other options is pretty simple. The procedure requires extreme precision and advanced treatment planning, so you need to visit a highly trained specialist for the most successful placement and restoration. Many general dentists can fit you for a denture or apply a traditional crown and bridge, but fewer are qualified to perform in-depth, comprehensive implant care.
And of course, the method of placement isn't cheap for your implant dentist, either. Treatment planning requires capturing three-dimensional images of your oral structures with a Cone Beam CT scanner. Each dental implant is made out of biocompatible titanium, a special material that is actually able to fuse with your jawbone for unsurpassed stability.
Most patients also like to have a little help relaxing throughout their procedures in addition to local anesthesia. Oral conscious or intravenous sedation during dental implant procedures can greatly improve the entire process -- but it does add additional cost to your dental implant treatment.
What Should I Budget for Dental Implants?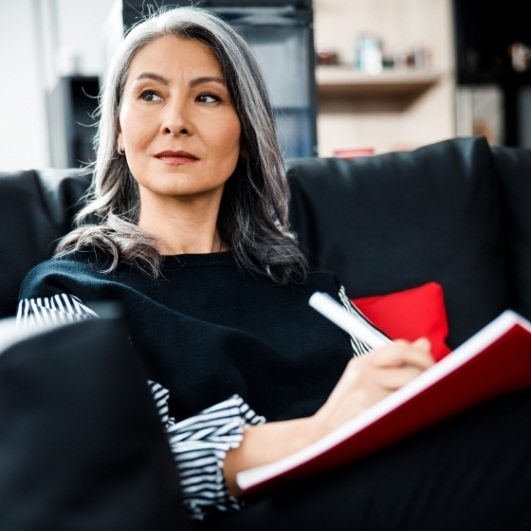 What is included in the price of your dental implant treatment? The dental implants themselves, sedation or anesthetic options you request, and any necessary preparatory procedures should all certainly be considered as you budget for your dental implants. People who have had missing teeth for a long time (i.e., months or years) have likely already experienced the bone loss and degeneration that impede proper healing following the dental implant procedure. Bone grafting and sinus lift are two common procedures that your implant dentist may recommend before your dental implants can be placed.
What is the Typical Cost of Dental Implants?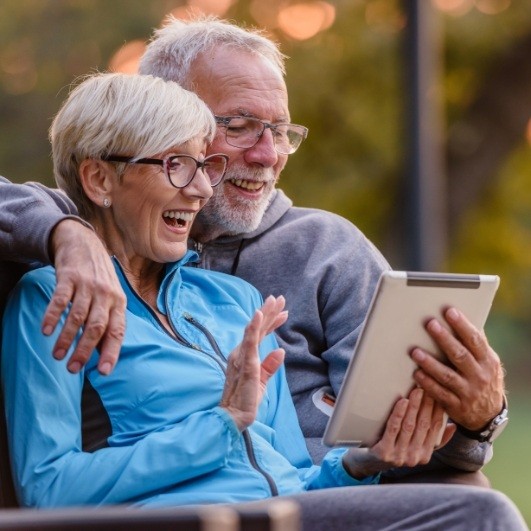 Traditional dental implants are composed of three parts. We have outlined the components and the average cost of a single traditional implant here:
Dental Implant: $1,000 to $3,000
Abutment and Crown: $500 to $3,000
Total Cost: $4,000 per implant, on average
How Much Do Single Dental Implants Cost Around Houston?
| City | Single Dental Implant Cost |
| --- | --- |
| Pasadena | $2,500 |
| Tomball | $3,600 |
| Texas City | $3,800 |
| Webster | $4,000 |
| Stafford | $4,000 |
| Sugar Land | $4,100 |
| Crosby | $4,075 |
| Houston | $4,186 |
| Katy | $4,200 |
| Baytown | $4,300 |
To get a better understanding of how much dental implants cost in and around Houston, we have conducted ample research for you. Below is a snapshot of what a single dental implant costs, including the abutment and crown, in Houston and its surrounding cities.
What About Multiple Dental Implants… How Much Do They Cost?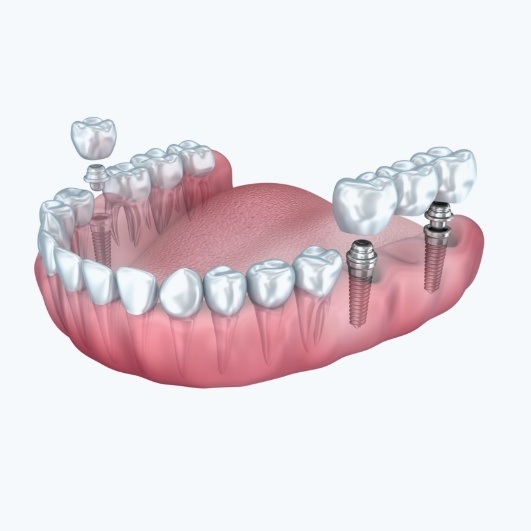 When more than one tooth has been lost, an implant-retained bridge provides a sturdy multiple-tooth replacement. It depends on how many teeth are missing and where they are located in the mouth, but you can expect the average cost of an implant-retained bridge to range anywhere from $4,000 to $30,000.
How Much Do Mini Dental Implants Cost?
Mini dental implants are like traditional implants, just on a smaller scale. They are less invasive, completed faster, and cost less than their larger counterparts -- by as much as half. The price you will pay for tooth replacement with a mini dental implant looks something like this:
Single Mini Dental Implant: 500 to $1,500
Mini Dental Implants for a Lower Denture: $12,000 to $30,000
How Much Do All-on-4/6 Dental Implants Cost?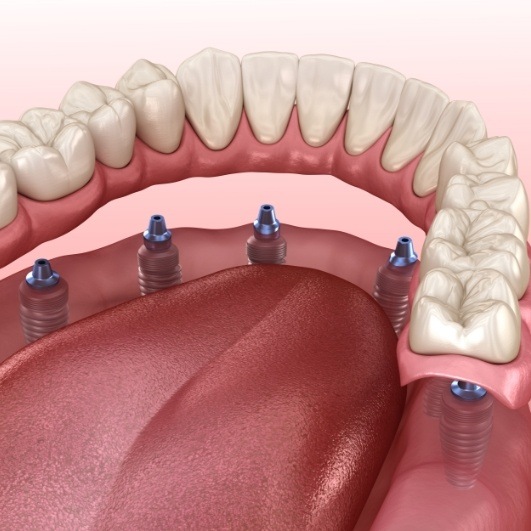 Patients who have lost all of their teeth do not need to fear they will have to have a dental implant placed for each missing tooth. Doing so would be too invasive and prohibitively expensive. In cases of total tooth loss, your implant dentist can sometimes secure a full denture on as few as four to six dental implants. The treatment, known as All-on-4 or Teeth-in-a-Day, provides an affordable alternative to patients who wish to benefit from implant dentistry. Even better, immediate loading of the prosthetic teeth is possible with All-on-4 /Teeth-in-a-Day.
All-on-4 Average Treatment Cost: Around $30,000
What is the Cost of Bone Grafting?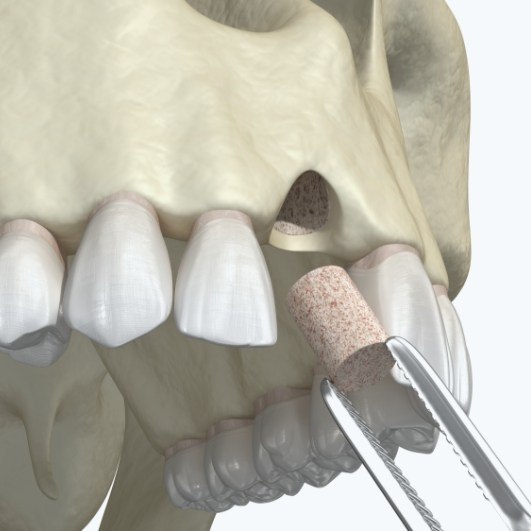 Bone grafting replaces degenerated tissue with healthy bone from elsewhere in the body, or from a donor site. Bone grafting with your own bone is slightly more expensive. Grafting with material from somewhere else -- usually from a cadaver, a cow, or with a bone-like synthetic material -- costs considerably less.
The approximate cost of single bone grafting (on one location) before dental implants depending on the material used is:
Bone grafting with cow, cadaver, or synthetic material: $250 to $1,000
With your own bone: From $2,000 to $3,000
What is the Cost of a Sinus Lift?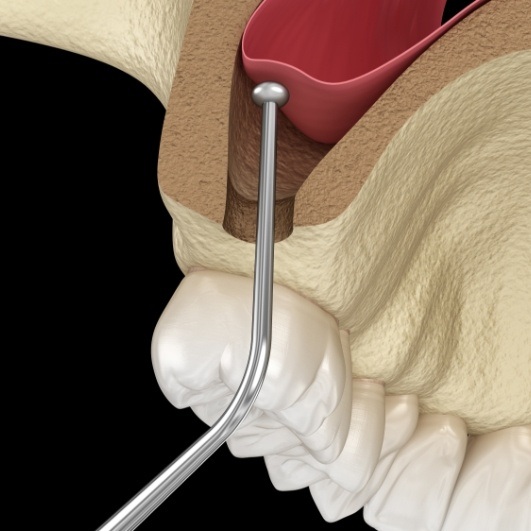 A sinus lift is necessary when there is not enough room to replace teeth in the upper jaw. You may need it on both sides of your mouth or just one. The typical cost for a sinus lift is approximately $2,000 per side.
At Piney Point Dental Implant Center, we perform bone augmentation procedures from our own state-of-the-art facilities to improve convenience and potentially reduce the cost associated with your dental implant procedure.
The Importance of Not Cutting Corners When Evaluating Dental Implant Dentists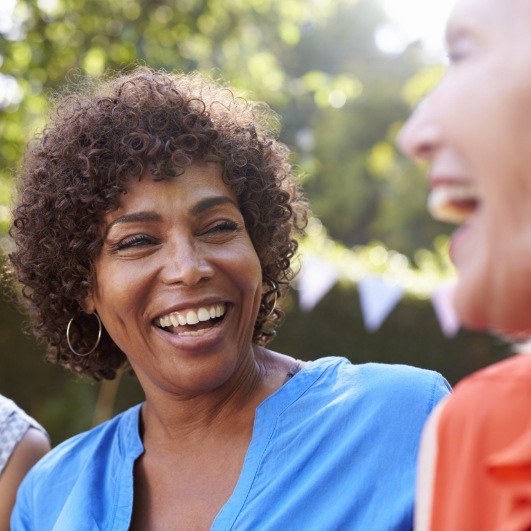 Dental implants do come at a higher initial cost than other options in tooth replacement, but nothing replaces teeth better than the comprehensive solution. Over 95 percent successful for eligible candidates, dental implants are unquestionably the best solution for replacing one or more missing teeth.
No matter how well you care for them, non-implant retained prosthetics (i.e., dentures) will need to be replaced every five or six years to keep up with the changing shape of your jawbone. Fixed bridges, which are anchored in your smile with the help of two dental crowns over the surrounding healthy teeth, may also need periodic replacement. And the healthy teeth that have been affected may require advanced treatment later on.
With proper care and maintenance, you will never have to worry about your dental implants becoming loose or uncomfortable due to a loss of volume in your jaw. Dental implants can be expected to last for the wearer's lifetime -- and that is a lot of healthy, stable smiles. Save money in the long run by making a smart investment from the get-go.
Additional cost-saving benefits of dental implants include:
Freedom from denture adhesives
No need for special diet modifications
Little risk for infection related to oral sores or blisters
Prevent the need for additional tooth replacement by keeping remaining teeth healthy and strong
Does My Dental Insurance Cover Dental Implants?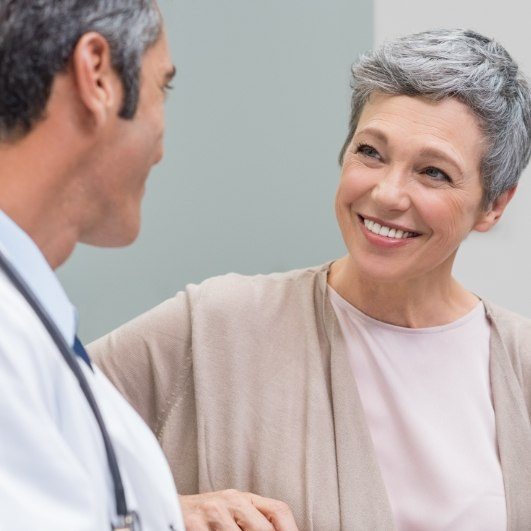 Most dental insurance plans require patients to choose the least expensive option in restorative dentistry, and that includes in your tooth replacement. Many dental insurance plans will cover traditional crown and bridge therapy, or non-implant retained dentures rather than dental implants. However, as it becomes increasingly clear that dental implants offer the ultimate in long-lasting tooth replacement that also benefit oral and overall health, some dental insurance plans are beginning to expand coverage to include implant dentistry. And even if your dental insurance does not cover implants, your health insurance may.
At Piney Point Dental Implant Center, we accept a number of popular dental insurance plans. Our highly trained staff is also here to help you navigate the particulars of your plan. You can either contact your provider directly or work with us to find out more about whether or not you are eligible for coverage on your dental implants.
Affordable Payment Options and Financing at Piney Point Dental Implant Center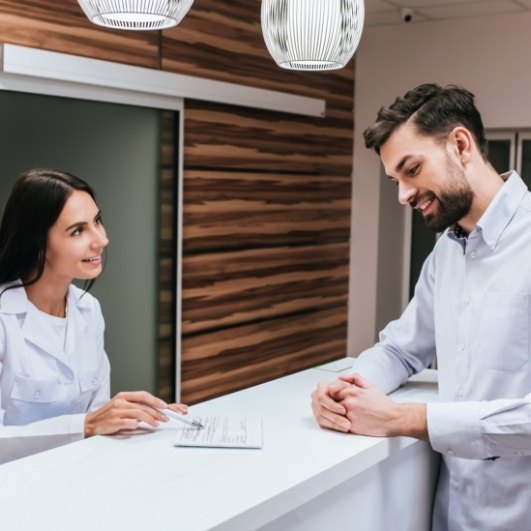 The total price of your Houston dental implant procedure might cause you a bit of sticker shock, but you may not end up having to pay the total amount. For example, dental insurance and medical insurance can be a big help in cutting the cost of your treatment. Many patients are also candidates for no-interest financing. Rather than focusing on the big numbers, take a look at your monthly budget and realistically consider whether you can fit monthly implant payments into it.
Comparing Dental Implant Cost Between Houston Dentists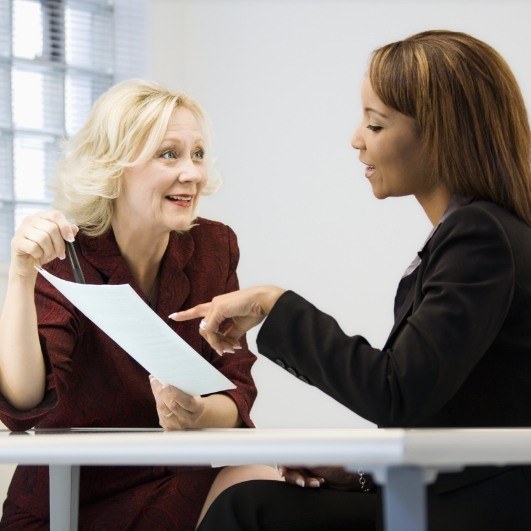 Some dentists advertise low prices for dental implants. However, there are a few things you should keep in mind about these so-called bargains:
Many advertised prices reflect the price of a single implant. They may not factor in other costs, such as bone grafts and restoration.
You should never let a low-price tag compromise your good judgment. An experienced oral surgeon may charge more for implants than a dentist who has less expertise with this treatment, but you should never entrust your smile to someone who isn't truly qualified.
Low prices may only be available for certain types of implants and restorations, and not for the treatment that is truly best for your unique mouth.
Piney Point Dental Implant Center vs. Corporate Dental Implant Center
When getting dental implants, you have a choice between the Piney Point Dental Implant Center and a leading Corporate Dental Implant Center. Here at our dental office, we prefer a personalized approach for each unique smile, and we completely stand behind our work with a guarantee. Also, in addition to the surgery, we can place a temporary bridge as well as the final restoration.
| | Piney Point Dental Implant Center | Corporate Dental Implant Center |
| --- | --- | --- |
| Once Price | $24,000 | $28,000 |
| No Unexpected Fees | | |
| Financing Options Available | | |
| Professional Training & Expertise | | |
| In-House Sedation Available | | |
| Personalized Approach | | |
| Our Work is Guaranteed | | |
| Everything Done in One Location | | |
| The Same Dedicated Team at Every Visit | | |
| Includes Temporary Bridge & Final Prosthesis | | |
The Cost of Dental Implants vs Dentures and Dental Bridges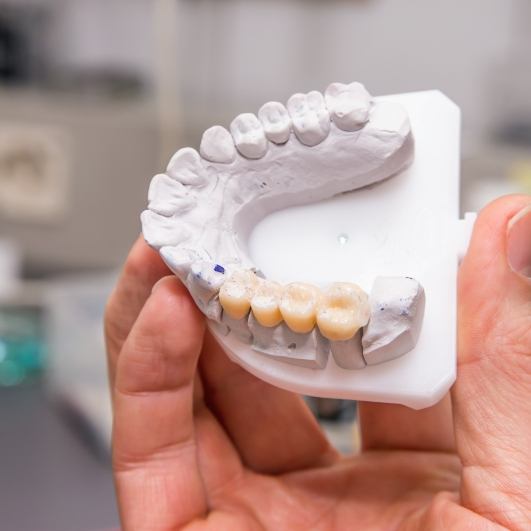 Houston dental implants are not the only way to replace missing teeth. Traditional dentures and bridges can also help you fill in the gaps. You even have the option of doing nothing. However, it is important that you compare the cost of each of these alternatives with the cost of implants.
A full set of dentures typically costs a few thousand dollars, and they'll need to be replaced every 5 – 8 years. On a long-term basis, they may cost more than dental implants.
A dental bridge may cost anywhere from a few hundred dollars to more than a thousand dollars. It may have a lifespan of around 10 – 15 years. However, it is nowhere near as strong as an implant-supported tooth replacement, and installing it requires that you sacrifice a significant amount of healthy tooth enamel.
Doing nothing to replace your teeth may seem like the most financially attractive option, especially if you are only missing one or two teeth. However, those little gaps in your smile can lead to misalignment and the need for braces (which cost thousands of dollars). Missing teeth can also cause further tooth loss, which in the long run will greatly increase the cost of restoring your smile if you decide to opt for tooth replacement later on.
Additional Frequently Asked Dental Implant Questions
How much do you know about the dental implant process? You can learn more by reviewing the answers to the questions listed below. If anything is confusing or vague, please reach out to us; we'll do everything we can to answer your question to your satisfaction so that you can move forward with your appointment.
What is a Dental Implant?
What Are the Benefits of a Team Approach with Dental Implants?
Are All Dental Implants the Same?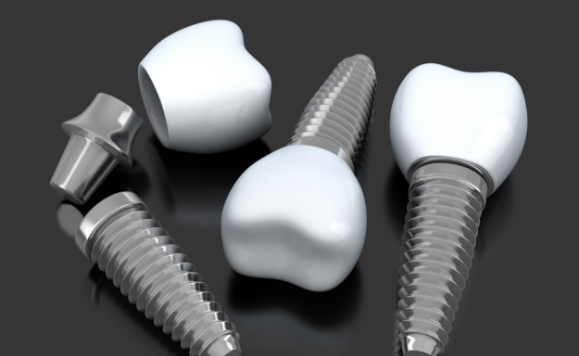 There's a wide variety of available dental implants that are split into several groups including how many stages their placement requires, their relative width, the material used to create them, and the implant manufacturer.
There are a number of manufacturers providing a variety of types of dental implants – over 60 of them, in fact. Dr. Koo and our staff will provide advice to help you determine the best types of materials, abutments, crowns, and implants to fit your smile and budgetary needs.
The shape, location, and method of placement all affect the total cost of your dental implant procedure. Dental implants are completed in one stage or two, with two-stage dental implants being the most popular method of replacement.
The type of dental implant Dr. Koo recommends for your case depends on your unique needs and preferences.
How Much Do Dental Implants Cost?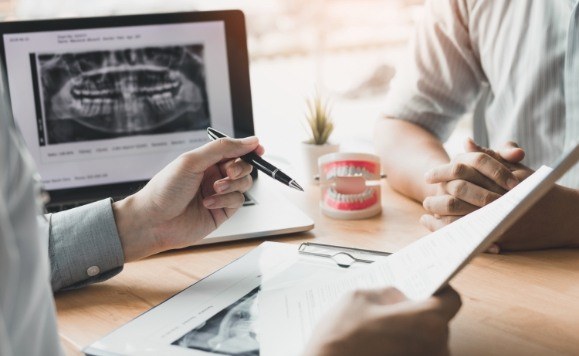 The cost of dental implants has a wide range and depends on a number of factors including the number of implants needed, the location in the mouth where implants will be placed, the type of dental implant needed, whether grafting procedures are necessary, and more. The cost of the restoration (whether crown, bridge, or denture) also needs to be factored in.
How Many Dental Implants Do I Need?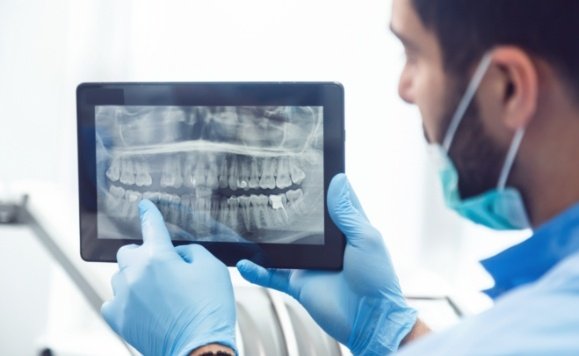 Having multiple implants placed is necessary in many cases. In fact, many of the larger teeth in the back of your jaws (also known as molars) often have two or three roots, which could require larger implants or even multiple implants per tooth to successfully replace. This possibility is even more likely if the patient shows signs of powerful biting or has already lost some of their jawbone density.
Multiple implants will also be placed if the patient is in need of an implant-retained bridge or denture. Depending on their unique needs, Dr. Koo could recommend as few as 3 implants or as many as 10 to successfully support the prosthetic.
How Are Dental Implants Placed?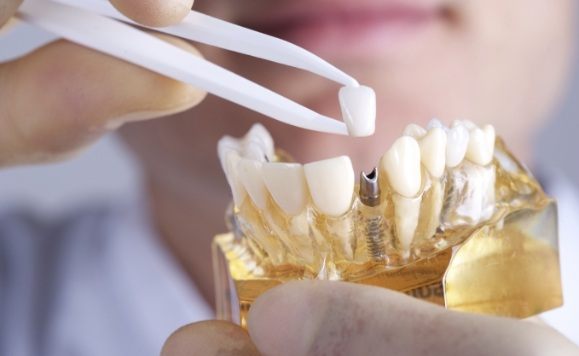 A dental implant procedure consists of several sections including surgical placement of implants, a period of healing (in some cases), and the creation and placement of your personalized restoration. Visit our How Does A Dental Implant Work? page to learn more!
Are Dental Implants Safe?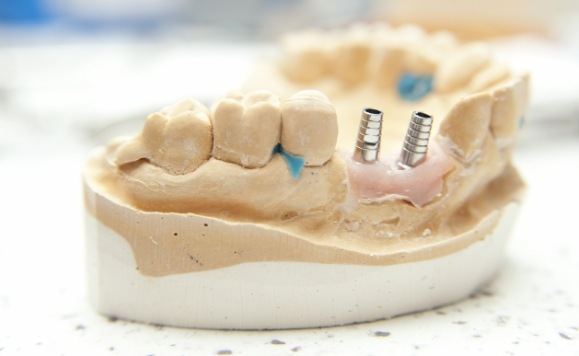 Dental implants have been clearly shown through clinical research and experimentation to be a safe and successful restoration option. However, risk factors like smoking or inadequate bone density increase the chances of failure. Visit our Ideal Candidates for Dental Implants page to learn more about whether or not implants are the right choice for your smile.
What Are the Advantages of Choosing Dental Implants Over A Bridge or Denture?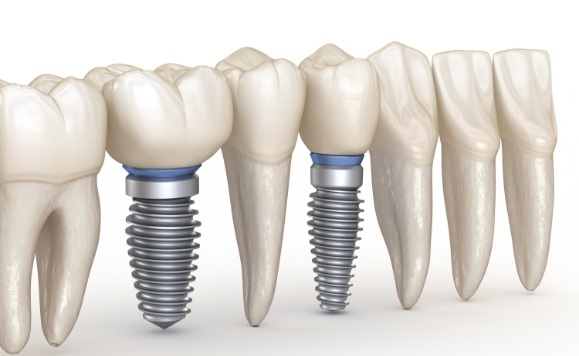 There are several benefits patients enjoy when choosing dental implants over more traditional reconstructive solutions including revitalized oral health, increased aesthetic quality, long lasting durability, and more. Visit our What Are the Benefits of Dental Implants? page to learn more!
How Long Do Dental Implants Last?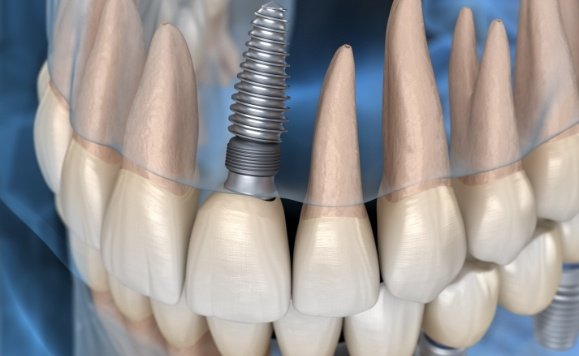 As long as they're cared for properly with regular oral hygiene and routine visits to the dentist, dental implants can easily last 20 years, 30 years, or the rest of a patient's life.
Are Dental Implants Right for Me?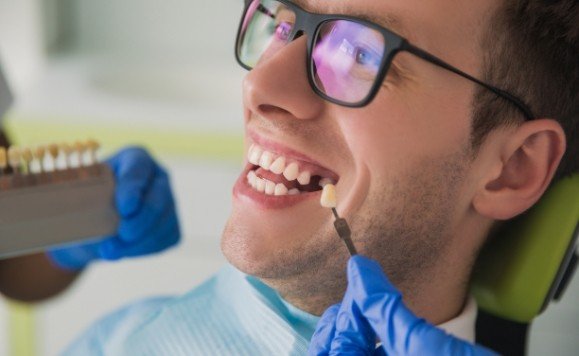 Dental implants are the right choice for virtually any patient, even those who may have insufficient bone in the necessary areas. However, there are some situations that should be treated with caution. Visit our Ideal Candidates for Dental Implants page to learn more about the good qualities and potential concerns we'll review during your initial implant consultation.
Why Do I Need A Bone Grafting Procedure?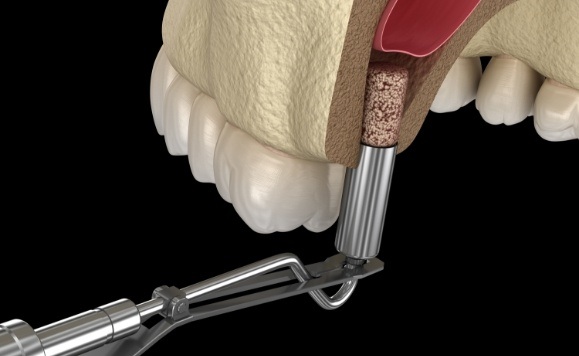 The amount of jawbone mass is a crucial factor when determining whether or not the placement of implants will be successful. This can be a problem, as patients who've been struggling with tooth loss for a long time typically experience deterioration of bone tissue leaving them with an inadequate amount for the procedure. Thankfully, bone grafting creates a strong foundation for your new smile.
Are Dental Implants Covered by My Insurance?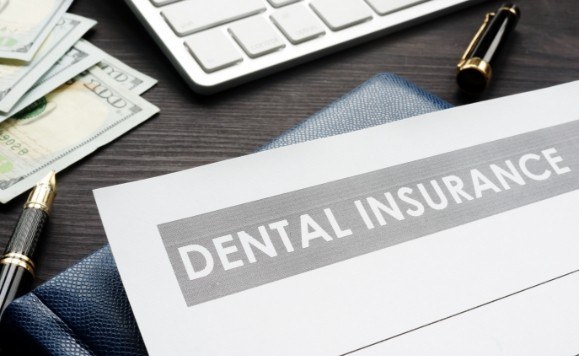 Everyone's benefits vary, but many plans actually don't elect to cover dental implants because they're still considered a primarily cosmetic procedure. However, your general health insurance may be used to defray some of the surgical costs. Patients are urged to review their personal dental insurance and available medical coverage before pursuing treatment.
What If I Want My New Teeth Faster?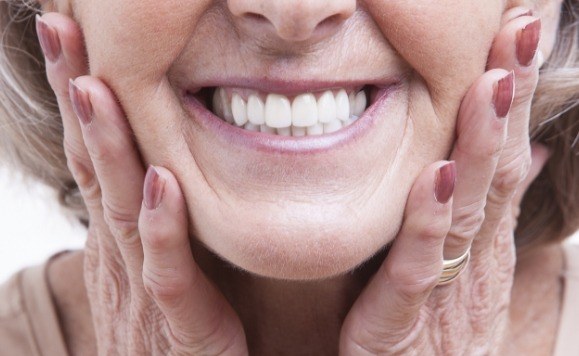 If you're hoping to achieve a stronger, more complete smile without the long wait times traditional dental implants often require, the advanced All-On-4 procedure may be your ideal solution. By utilizing only a small number of implants designed for immediate functionality, this option allows patients to walk in with an incomplete smile and walk out with a beautiful, new look.
Are There Any Risks Associated with The Surgery?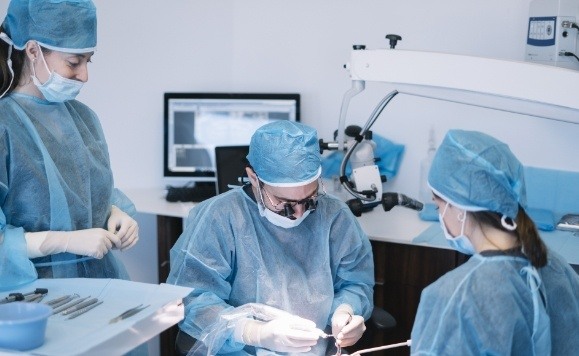 It's perfectly understandable for patients to be concerned about what they may experience after their implant procedure. Thankfully, a majority of those treated report only mild to moderate cases of post-operative pain or discomfort. You will receive a prescription for pain medication and/or antibiotics to aid your recovery as well.
There is a slight chance that a post-operative infection could result in additional surgery or treatment. It's also possible that a patient may experience bruised nerves. Because these nerves are responsible for your lips, cheeks, and tongue's sensation, numbness might occur. This numbness could become permanent, but only in extremely rare circumstances.
How Long Will It Take for My Dental Implants to Heal?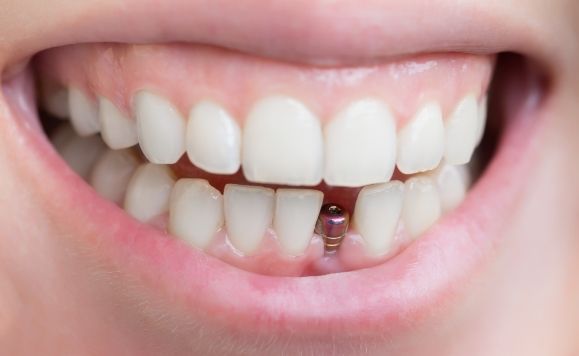 This process will be affected by a few factors, most importantly the type of implant procedure you've undergone and the current density of your jawbone. While All-on-4 allows us to leave the very same day as your procedure with a fully restored smile, others require multiple months of healing before restorations can be successfully placed. Bone grafting or additional procedures lengthen this time significantly. Once Dr. Koo knows more about your case, he provides a more accurate timeframe.
What Can Cause Implant Failure?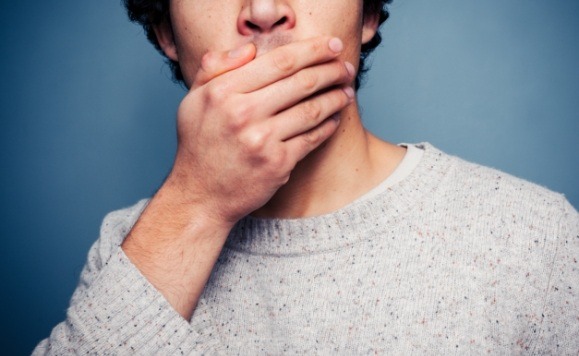 Failure could be possible if the implant is placed improperly and the site isn't able to heal. Current infections within your oral bone and soft tissue could also lessen the chances of a successful recovery, which is why it's ideal that patients have relatively good oral health before pursuing implants as a reconstructive solution.
Will the Implant Placement Procedure Hurt?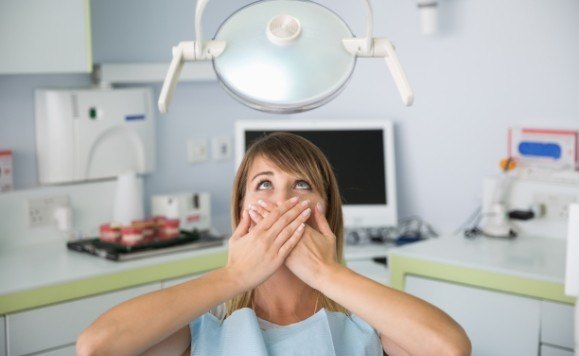 Most patients report only experiencing minimal discomfort and swelling throughout the entire procedure! In fact, many would prefer it to having a tooth extracted.
Could Implants Help Someone Who's Unhappy with Their Regular Denture?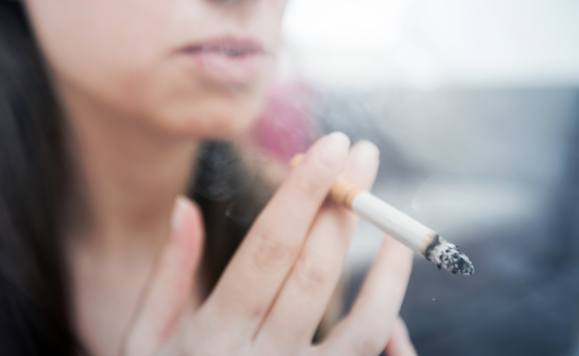 In fact, dental implants can be extremely helpful when it comes to improving the stability of a patient's denture. Additionally, their placement minimizes the threat of jawbone deterioration, which is very common with traditional dentures and bridges. Dr. Koo places two or three implants that support the upper or lower denture. If four or more are needed, a metal bar holds a denture firmly against the roof of the patient's mouth, making it easier for them to speak and eat with confidence.
Can Smokers Have Implants Placed?
Yes, but there are risks involved. For instance, complications and implant failure are much more likely for patients who smoke. With conservative surgery, Dr. Koo helps ensure a higher rate of success.
After Undergoing Implant Surgery, Is It Possible to Return to Work?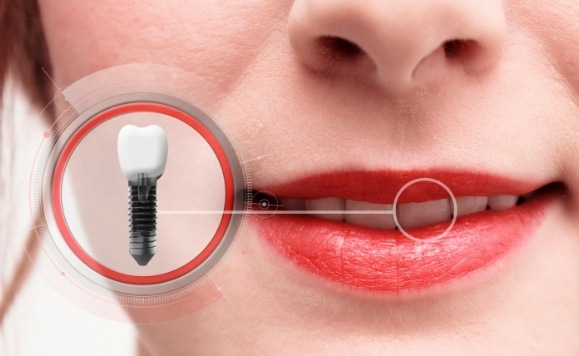 It depends on the complexity of the surgery. After relatively small cases, many patients often feel well enough to resume their day. However, if your care is more involved, two to three days of rest is recommended before you should return to your regular routine.
Types of Dental Implants
Today, there are more than 60 companies that manufacture dental implants and related materials as well as several variations and types to meet the needs of a wide variety of patients. Dr. Koo determines which dental implant option works best for you after an in-depth examination.
One Stage Implants VS Two Stage Implants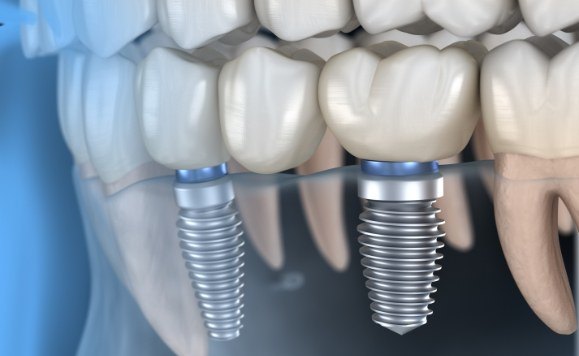 Most commonly, implants are distinguished by the number of stages they require for successful placement and restoration. As the name implies, a two-stage implant will require multiple surgical procedures – one to place the tooth implant into the jaw, and one to expose the teeth implants and attach an abutment, as well as a temporary restoration in some case. Endosteal implants are the common type for this procedure and they're placed directly in the bone. Screw, cylinder, and bladed types are available variations in two-stage implants.
One stage dental implants involve the placement of a slightly longer implant with the top exposed after the gum tissue heals. This eliminates the need for an additional surgical procedure to place the abutment and temporary restoration. Subperiosteal implants are most commonly used for this procedure, and they support dentures for patients who may not have enough bone mass for two-stage dental implants.
Dental Implant Sizes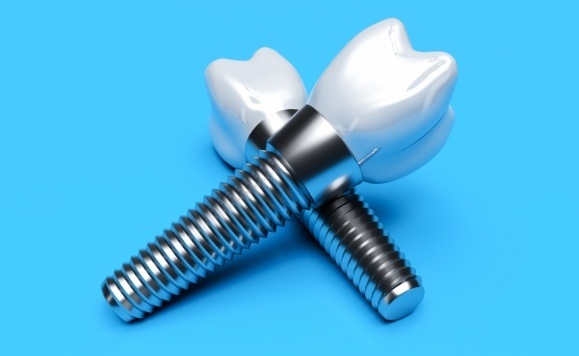 Dental implants can also be separated into groups by size. This quality generally determines where they can be placed within the mouth. However, the unique amount of individual bone and spacing between teeth for each patient also determines Dr. Koo's recommendation. The types include:
Standard Implant Platform – These implants are typically placed towards the front of the patient's mouth, and they're around 3.5 mm to 4.2 mm in diameter.
Wide Implant Platform – Wide implants are usually recommended to replace a tooth in the back of a patient's mouth. Their diameter is around 4.5 mm to 6 mm.
Narrow or Mini Dental Implants – Mini dental implants are around 2 mm to 3.5 mm in diameter, and they work wonders in small spaces where a larger implant just couldn't fit. If a patient suffers from a lack of jawbone mass, this alternative allows them to receive implant retained tooth replacements.
Dental Implant Materials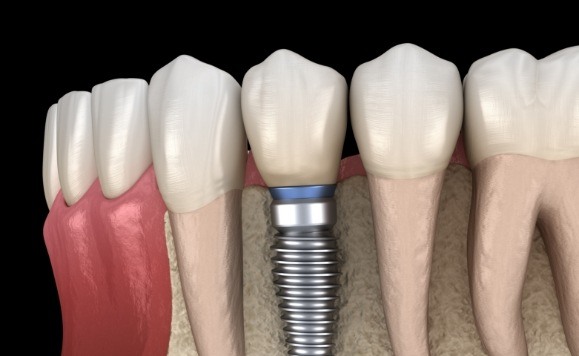 Dental implants are typically made from titanium or stainless-steel materials, and they offer patients strength and durability. However, zirconium is becoming more popular as an aesthetically pleasing, structurally sound alternative. Dr. Koo can help you decide which option is best. The most important factor regarding what implants is made of is that they have the biocompatibility necessary to fuse with human tissue. Both titanium and zirconium are accepted by natural structures and have very low chances of causing any sensitivity or allergic reaction.
Leading Manufacturers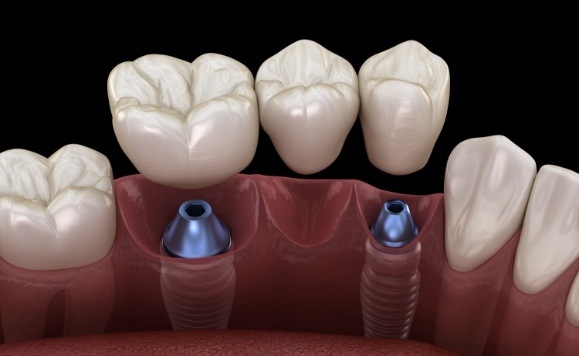 There are several excellent companies that create dental implants, including:
AstraTech
BioHorizons
Straumann/ITI
Nobel Biocare
Dental Implant Options
Getting dental implants means something different for everyone. We can use implants to replace any number of missing teeth. To determine what the correct treatment option is, first we will have to evaluate the state of your mouth and see how much empty space needs to be filled. Then we can determine how many dental implants are needed.
Single Tooth Replacement with Dental Implants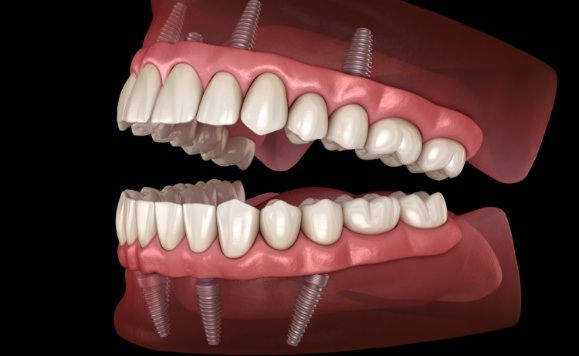 Whether you lost a tooth due to an accident or severe decay, a single tooth implant can restore dental structure and strength. The secret behind the success of dental implants is that they replicate the entire tooth, not just the crown portion others see when you smile. Seamlessly reconstructing the root of the tooth as well protects the health and density of the jawbone minimizing the risk of further complications and cosmetic concerns. Your new dental implant is permanently attached to a custom dental crown designed to perfectly match natural teeth in a subtle and aesthetically pleasing fashion.
Learn More About Single Tooth Replacement
Multiple Tooth Replacement with Dental Implants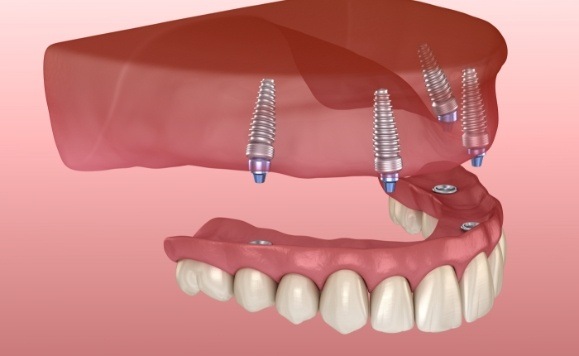 Often, the biggest fear for patients who've lost multiple teeth is that they'll have to sacrifice the rest of their natural smile to have them replaced. With dental implants, this fear is unneeded. Multiple tooth implants restore and revitalize the smile just as successfully as single placements and Dr. Koo can place individual implants with dental crowns or a custom-made bridge or partial denture restoration. Unlike traditional bridges, which don't provide new roots and can allow greater opportunities for bacteria to thrive, an implant-retained bridge dramatically improves oral health and happiness.
Learn More About Multiple Tooth Replacement
Implant-Retained Dental Implant Dentures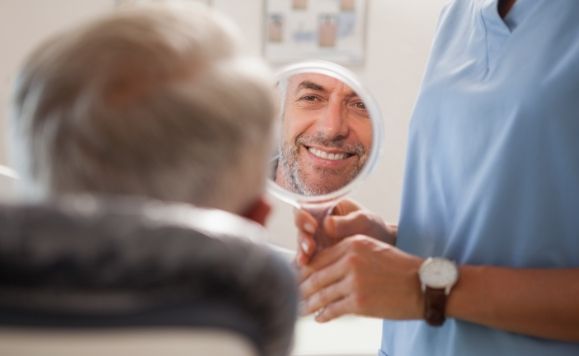 It's never too late to regain the full, strong smile you deserve, even if you're missing a majority or all of your natural teeth. An implant retained denture offers patients exceptional convenience and aesthetic benefits. This technique involves the strategic placement of a small number of dental implants throughout the jaw, creating a strong foundation for your new set of teeth. Both fixed and removable implant denture options are available, depending on the patient's preference. It's even possible to have your existing denture modified if you find that option more comfortable. In cases of severe tooth loss, Dr. Koo may need to perform an additional grafting procedure before the dental implants are placed so the jawbone can accommodate them successfully, and past that point, your bone should stay healthy and intact with proper maintenance.
Learn More About Implant-Retained Dentures
All-On-4® Dental Implants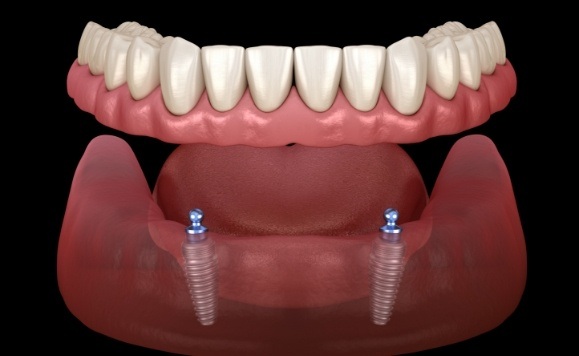 With more traditional dental implant procedures, a significant period of healing after the implants are placed is necessary to ensure the creation of a strong, healthy foundation for your restoration. Understandably, many patients want to achieve results faster. All-on-4® is an innovative, state-of-the-art procedure that gives you permanent teeth in just one day allowing you to go about your life with confidence. By utilizing just four dental implants that have been specifically designed for immediate function, All-on-4® implant-retained dentures are able to support a permanent dental prosthetic right away.
Learn More About All-on-4® Dental Implants
Teeth-in-an-Hour
Normally, it takes months for dental implants to be ready to support a restoration. That's months of having a smile that's still essentially incomplete. Teeth-in-an-Hour is a revolutionary concept that accelerates the entire process. The surgery will be guided by a computer to ensure a highly precise placement, and the restoration will be prepared ahead of time. Thanks to this advanced process, less swelling and discomfort occur, and you'll be able to resume normal activities the next day.
Learn More About Teeth-in-an-Hour
Mini Dental Implants
If there's not enough bone in your jaw to support traditional dental implants, you may instead be able to get mini dental implants. As you might expect, mini-implants are much shorter, yet they still offer all the benefits of traditional implants. The main advantage of a shorter implant post is that it simplifies the surgical process; there's typically no need for costly bone grafts to add the necessary density to the jawbone, and healing time is typically much shorter.
Bone Grafting
If there are tissue deficits in the desired site for your new implant(s), bone can be grafted onto the area in question. This bone usually comes from other areas of your mouth or body, a bone bank, or even a synthetic material. We place a thin collagen membrane so growing gum tissue doesn't cause the bone graft to shrink. In some cases, bone grafting can be performed on the same day as the placement of your implants!
If bone loss is more substantial, we place a block of bone that's transplanted from your chin or behind your back teeth. These blocks are held in place with screws, and the same membrane is used to cover it. Patients need a few months of healing after this procedure so they can successfully grow new bone.
Learn More About Bone Grafting
Sinus Lifts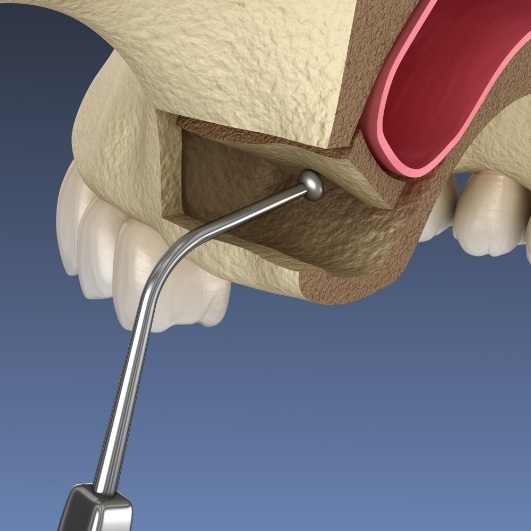 When replacing a patient's posterior teeth in the upper jaw, a common problem is the collapse of their sinuses into the space where the roots of the missing teeth once were. This leaves the sinuses with only a thin wall of bone between them and the patient's mouth leaving no room for implants to be placed securely. A sinus lift is a gentle procedure that moves the sinus creating space where your doctor can place new bone material where dental implants are placed, after a few months of healing.
Dental Implant Salvage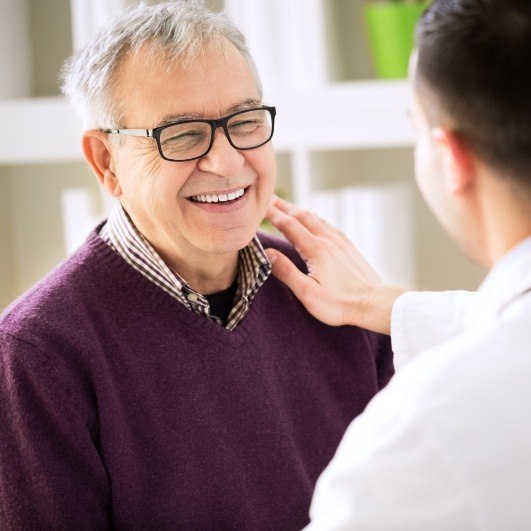 One of the best parts about dental implants is that they have an impressive 95% success rate, but we see many patients who are unfortunate enough to fall into that later 5%. Whether due to a procedure that wasn't performed properly by another doctor, an accident, or an infection, there are certain cases where implants can become loose, painful, and even be at risk of falling out. Rather than losing an implant, your oral surgeon in Houston can help salvage it, giving patients the strong and reliable tooth replacement, they were expecting in the first place.
Learn More About Dental Implant Salvage
Zygoma Dental Implants
The lack of healthy jawbone can be a roadblock for patients who want to recreate their smile with dental implants – but thankfully, there's a new alternative! Zygoma dental implants are specifically designed for patients with serious bone loss. Their design is lengthy and tilted so that they can be successfully placed in the cheekbone instead for dense, stable support. This state-of-the-art approach allows patients to avoid the need for time-consuming bone grafting procedures and achieve the new, attractive teeth they want without unnecessary stress.

Denture Stabilization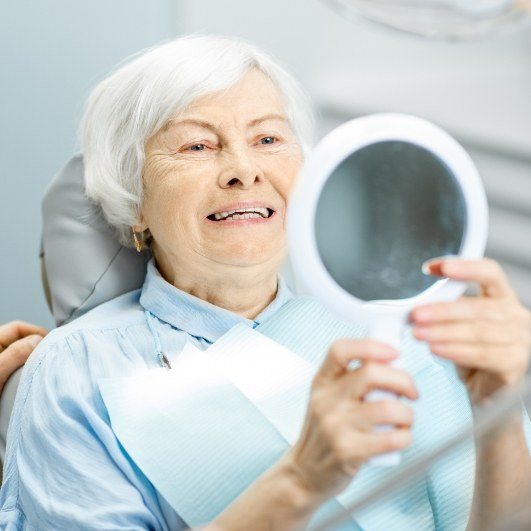 Many patients who visit our dental office have worn dentures for years and suffered numerous annoyances because of them. Traditional dentures can move around in the mouth, feel uncomfortable, or even fall out at inopportune moments. That's why we recommend denture stabilization for these cases. With the addition of dental implants, your denture can be held much more firmly in place by rooted support. Not only does this modern approach prevent gradual bone loss, but it allows patients to chew favorite foods, speak clearly, and go about their daily lives without constantly feeling burdened by their prosthetic.