Dental Implant-Retained Dentures – Houston, TX
Recreating Your Lost Smile
Piney Point Dental Implant Center provides implant retained dentures to restore the health, function, and appearance of your mouth when missing a majority of your teeth. As a form of dental implants, we will create a customized treatment plan to give you a permanent solution to tooth loss. We offer both fixed and removable dental implant-retained dentures for Houston, TX dentistry patients to give you the function and appearance you need while resolving the issues you're facing. With Piney Point Dental Implant Center, you'll have an amazing, functional smile for a lifetime.
What are Dental Implant-Retained Dentures?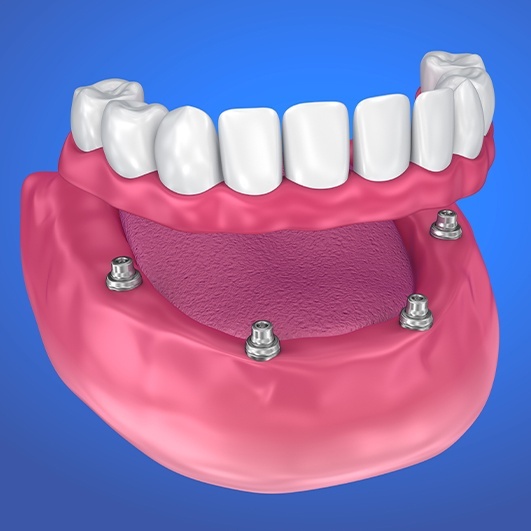 Retained dentures are surgically implanted into the jawbone as a type of overdenture that is supported by implants, not your gum. For those who are missing all or the majority of their natural teeth, the implant is inserted into the jawbone using special attachments that allow the denture to snap onto the implants. Unlike traditional implants, these are removable for easy cleaning. While they are removable, they stay firmly in place, so you won't have to deal with the discomfort of slipping dentures. You'll enjoy all of the benefits of traditional implants with a less invasive and removable option.
Am I a Candidate for Dental Implant-Retained Dentures?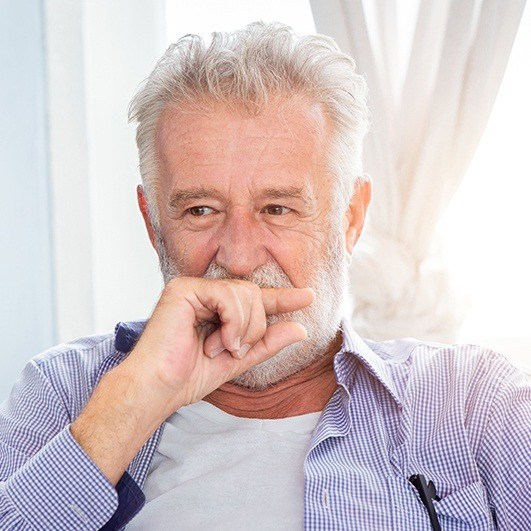 If you're interested in this form of implant tooth replacement, we will first need to conduct an examination of your oral health to determine if you're a candidate. In order to get the implant dentures, you will need to have healthy gums and bone. In addition, you will need the right amount of bone density in the jaw to support the implants. However, in some cases, bone grafting can be used to help those with decreased bone density.
What is the Procedure Like?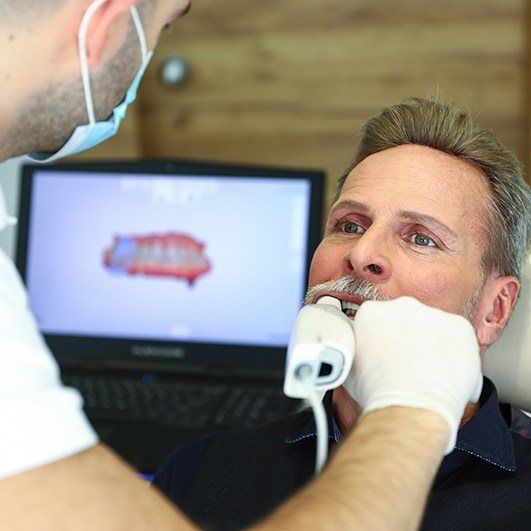 After your first consultation, we will take x-rays and impressions of your teeth and gums to "map" your mouth. In some cases, we may use a CT scan for deeper insight. Using the information we gather, we will create a customized treatment plan, which will include the placement of the posts and the appearance for the dentures.
During the implant process, we will place the implant posts into the jawbone, usually in the front of the jaw where bone density is greater. An incision is made into the gum and a hole will be drilled into the bone. The implant is then placed into the hole and the incision is closed. Afterward, you will need to keep the incision clean and avoid putting pressure on the implants while the area heals.
After you've healed and the bone has fused to the implant, a healing cap is placed on the top of the implant to allow the gum tissue to heal around the implant correctly. This will also keep the gum tissue out of the way of the denture. Now, an impression of the gum and abutments will be taken, at which point we can begin inserting the denture. We will make custom adjustments to ensure it fits comfortably and correctly.
In just a few short steps, you'll have a complete smile transformation using implant retained dentures. Let Piney Point Dental Implant Center give you a new smile today. Call us at (713) 597-7583 to schedule a consultation.
Understanding the Cost of Implant Dentures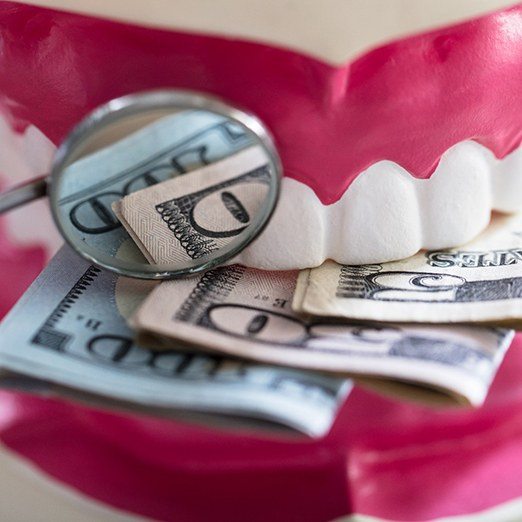 There are several factors that can affect the cost of dentures in Houston. Our team will be happy to provide you with an estimate during your consultation. We strive to charge fair prices, and we are happy to help patients arrange for financing if necessary. Rest assured that your investment in implant dentures is a wise one that has the potential to provide you with decades of benefits.
Factors that Affect the Cost of Dentures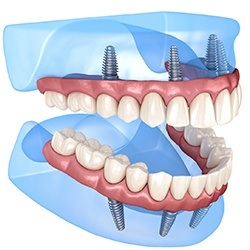 Some of the factors that affect the cost of implant dentures include:
The number of implants needed. Some implant dentures require just two prosthetic tooth roots, while others require six or more. Placing more implants will add to the cost of your surgery.
The type of denture you receive. Implant dentures can be made out of various materials and come from different manufacturers. If you have a traditional denture that can be retrofitted to work with implants, you might save a bit of money.
The extent of any preliminary work. Some patients require tooth extractions, a bone graft, or other preparatory procedures before they can move ahead with getting implant dentures.
Are Implant Dentures More Expensive?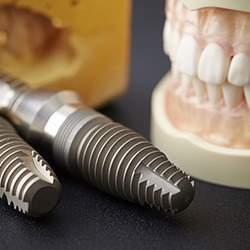 Yes, implant dentures cost more than traditional dentures in Houston. Implants require a much more involved treatment process, which is time-consuming and requires a high level of skill. However, we believe they are a worthwhile investment! Keep in mind that a traditional denture may last for just 5 – 8 years before it needs to be replaced because it can no longer fit comfortably. The fit of implant dentures does not change over time, which means they have the potential to last for much longer. Plus, it is impossible to assign a monetary value to the confidence, stability, and natural function that you get with implant dentures.
Does Dental Insurance Cover Dentures?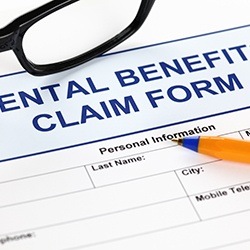 In most cases, dentures are considered a major procedure and are covered at about 50%, up to the amount of a plan's annual maximum. Potentially, this means you could save a thousand dollars or more on your out-of-pocket costs. Remember that while insurance typically covers dentures themselves, it may not cover dental implants. Our team will be happy to help you understand your coverage and use it in a way that is most beneficial.
Other Options for Making Dentures Affordable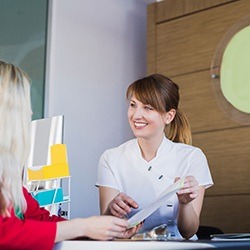 As your implant denture dentist in Houston, we want you to be able to afford your treatment! In addition to helping you with insurance, we can assist you as you explore your financing options. We are happy to partner with CareCredit, a third-party lender that offers flexible payment plans for medical and dental services. Many of the available plans are interest-free, and most patients qualify for credit.
Are you ready to find out more about implant dentures and how you may be able to manage their cost? Contact us today to schedule a consultation. We look forward to speaking with you!
Implant Denture FAQs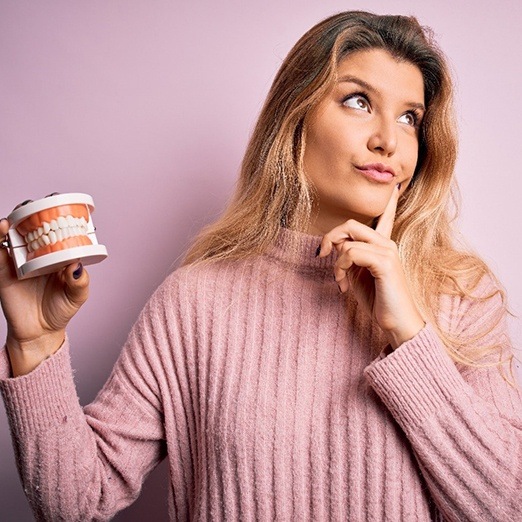 Are you excited to get started on rebuilding your smile? Our team is ready to help you! However, if you hesitate to schedule your consultation, we understand — you may want more information before you commit to anything. That is why we have put together this brief list of frequently asked questions about implant dentures in Houston. If you do not see the specific information you were hoping for, you are more than welcome to give us a call so we can personally assist you.
How Long Will You Have to Wait to Get Dentures After Your Teeth Are Pulled?
This varies from patient to patient. If you are getting an All-on-4 implant denture, it is likely that you will receive a temporary set of teeth on the same day that your natural teeth are extracted. If you are getting a more traditional form of implant denture, you might have to wait a few months after your extractions before your implant surgery. This will give your gums an opportunity to heal. Once your dental implants are in place, you may have another waiting period while the implants bond with the surrounding jawbone. Our oral surgeons will do all they can to help you enjoy a streamlined treatment process.
Will It Hurt to Get Implant Dentures?
As your denture dentist in Houston, we want you to enjoy a comfortable treatment experience. We offer multiple forms of sedation, and we perform procedures as conservatively as possible. With that being said, you should be prepared for some discomfort. After the implant surgery, tenderness and soreness are common. When you receive your denture, your gums might experience some sensitivity. We will coach you on what you can do to keep your discomfort to a minimum.
Is It Hard to Talk with Implant Dentures?
When you first receive your prosthetic, you'll go through an adjustment period. You might find that you lisp a little or that certain sounds are difficult to pronounce. The best way to learn to speak with dentures is simply to practice, practice, practice. By reading out loud or talking with family members, you will soon get used to the way your tongue interacts with your new teeth. Most patients find that their speech becomes clear in a relatively short period of time.
How Will Implant Dentures Affect My Life Expectancy?
You might have heard that people who wear traditional dentures tend to have a shorter life expectancy than people who retain all of their natural teeth. This may be due to a variety of factors, such as a reduced bite force and a higher prevalence of oral infections. Fortunately, implant dentures are different. They do not have many of the drawbacks that come with traditional dentures. For example, they provide a strong bite force. Plus, they help to protect the sensitive gum tissue. They might actually help you live longer!