Full Mouth Reconstruction – Houston, TX
Renewing Your Smile and Your Oral Health
If you have struggled with severe oral health issues for years, the experts at Piney Point Dental Implant Center wants to help you. As part of your team for full mouth reconstruction in Houston, we can play a big role in helping you replace your missing teeth, renew your smile, and enjoy sound oral health for many years to come. Read on below to learn more about this potentially life-changing service.
Why Choose Piney Point Dental Implant Center for Full Mouth Reconstruction?
Experienced Oral Surgeons
Expert Dental Implant Placement
Ready to Cooperate with Your Dentist and Other Specialists
Is Full Mouth Reconstruction Right for Me?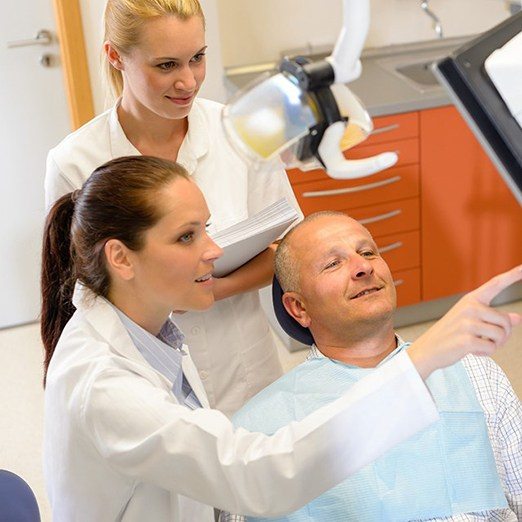 Full mouth reconstruction may be right for you if:
You struggle with severe oral health problems. Even if you have been dealing with issues like missing teeth, broken teeth, and decay for years, it isn't too late to get your smile back on track! Your dentist in Houston, working alongside specialists, is able to correct almost any oral health problem.
You want streamlined treatment. Full mouth reconstruction is more efficient than getting restorative treatments done here and there.
You want to improve your overall wellness. Improving your oral health can support your head-to-toe well-being. It even has the potential to bolster your mental and emotional health.
The Full Mouth Reconstruction Process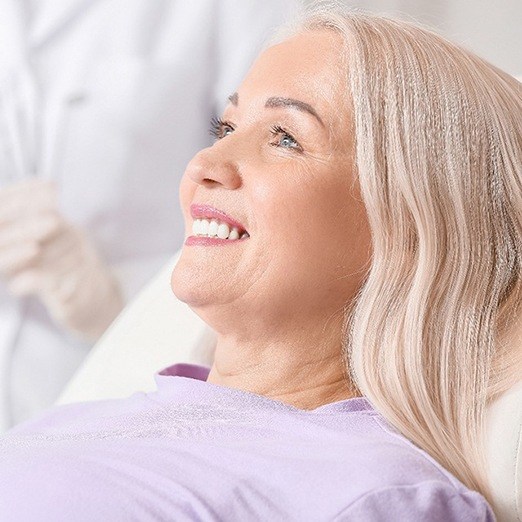 The process begins with a consultation, during which your dentist will evaluate your needs and learn about your goals for treatment. Feel free to ask questions and state your preferences — your care should be tailored to you as much as possible!
Your full mouth reconstruction journey might include:
Dental implants to replace missing teeth
Fillings, crowns, inlays, and onlays to repair damaged teeth
Gum disease therapy to rid your gums of harmful infections
Cosmetic procedures to put the finishing touches on your smile
When you partner with us for the dental implant part of your full mouth reconstruction, you can expect us to go above and beyond to provide excellent service. We can even use advanced technology to give you a preview of what your new teeth will look like!
Understanding the Cost of Full Mouth Reconstruction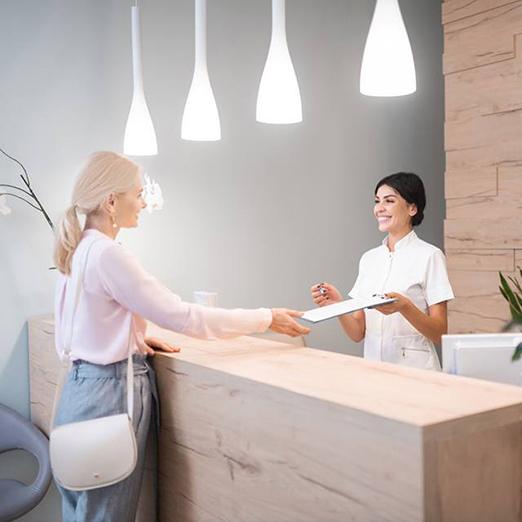 The cost of full mouth reconstruction varies from patient to patient. It depends on things like which procedures you undergo and the extent of those procedures. We are always sure to give our patients upfront price estimates, and we will do our best to accommodate your budget if possible. We participate in several popular dental insurance plans, and in some cases, patients can even use medical insurance in our practice. For patients who would like to pay for their treatment over time, convenient low-interest financing is available through CareCredit. We can help you through the application process — most people who apply get approved for credit.
Full Mouth Reconstruction FAQs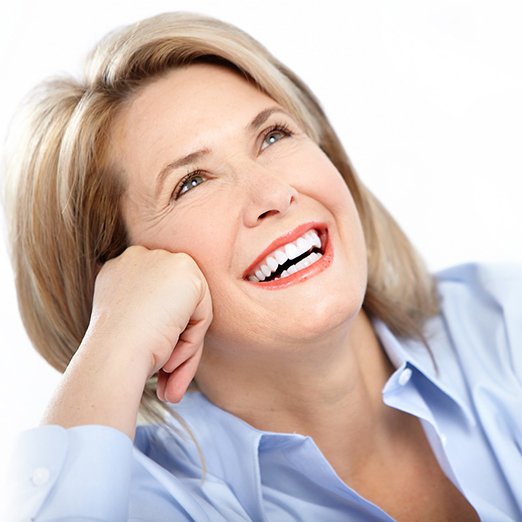 The Piney Point team will be happy to work with your general and cosmetic dentist in Houston to help you achieve renewed oral health and function. Before you commit to a consultation, however, you may have questions about the road ahead. Below, you will find answers to some FAQs about this transformative service. If you would like further explanation on what you read here, feel free to give us a call — we look forward to speaking with you.
How Long Does a Full Mouth Reconstruction Procedure Take?
The timeline for full mouth reconstruction in Houston varies from patient to patient. In some cases, multiple treatments can be performed simultaneously to make the process as efficient as possible. Of course, some aspects of your restorative plan may require several months to complete. For example, dental implants often require a year or more for start to finish treatment, particularly in patients who need preliminary work before receiving their implants.
During your consultation, your dentist may be able to give you an idea of how long your full mouth reconstruction process will take. Although it may require a significant investment of time, it will be worth the wait when you have a strong, pain-free smile in place!
How Long Will My Full Mouth Reconstruction Results Last?
The procedures used in full mouth reconstruction can have differing life expectancies. For example, dental implants may last a lifetime, while the restorations on top of them may endure for a decade or longer. Veneers can also stand the test of time; they often last for at least 15 – 20 years before replacement becomes necessary.
Of course, the longevity of your treatment results will depend largely on how you care for your mouth. A thorough oral hygiene routine, regular dental visits, and a balanced diet can help your renewed smile stay healthy and functional for as long as possible.
Does Getting a Full Mouth Reconstruction Hurt?
Thanks to sedation, local anesthesia, and modern dental techniques, you should feel little to nothing while you are undergoing various procedures. After an oral surgery, it is normal to experience some soreness, swelling, and bleeding. We will give you detailed instructions to minimize any discomfort and facilitate a complication-free recovery. For example, you may need to adjust your diet, take prescribed medications, and get plenty of rest.
I've Had a Full Mouth Reconstruction — Is There Anything I Can't Eat?
In the days right after an oral surgery, you may find it best to stick to a liquid diet, consuming such things as smoothies, brothy soups, and meal replacement shakes. Later, you can progress to a fork-tender diet, which may include scrambled eggs, meatloaf, and other items that are easy to chew.
Once you are fairly well recovered, you should be able to consume virtually anything. Of course, moderation is key. Limiting your intake of hard, sugary, and sticky foods can do much to reduce the risk of damage to your restored smile.