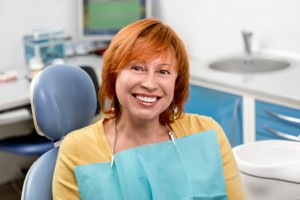 If your smile is missing one or more teeth, we know you're thinking about your best options in tooth replacement. The proof? You're reading this blog. Did you know that dental implants are good for the function and appearance of your teeth — helping you to smile, speak and eat with ease — and also for the overall health of your smile? That's right. Learn more about dental implants in Houston from your trusted oral surgeons and restorative experts at Piney Point Dental Implant Center today!
Why Dental Implants Are the Way to Go
When you choose dental implants as your tooth replacement, you'll notice a great improvement in the look and feel of your smile immediately. And as the years go on, you'll start to realize you made an excellent decision for the health of your mouth, too.
Other tooth replacement options, like fixed bridges or non-implant supported dentures, only replace half of what's been lost: that's the crown, or the visible portion of the tooth. Dental implants, on the other hand, replace the tooth and its root. That's crucial to the overall strength of your jaw, as the tooth's root provides the stimulation it needs to stay whole. Without that stimulation, the bone will slowly disintegrate, changing the shape of the mouth over time — and requiring the refitting of non-implant supported dentures and bridges, at great cost to you.
With dental implants, there's no refitting or expensive upkeep to worry about. After the implantation is complete and your new tooth replacement is securely attached, you have a complete smile that, when cared for correctly, can last a lifetime.
Complete Smiles Are Happy Smiles
When you choose to have your missing teeth replaced with dental implants, you'll feel good knowing you've made a wonderful choice for your smile. And we're confident about this: every time you catch a glimpse of it in the mirror, you'll feel even better knowing you can eat, speak and smile without worrying about your missing teeth.
Too many adults choose a quick fix when it comes to filling the gaps in their smile — either that, or they don't have their teeth replaced at all. Both options are detrimental, not only to your oral health, but to your self-esteem and confidence, too.
Request Your Appointment in Houston Today
If you've got one or more missing teeth, make the right choice for yourself. Contact our office to schedule an appointment at Piney Point Dental Implant Center and find out if dental implants are a good choice for you and your smile. We serve the Houston, TX, area and the surrounding cities of Stafford, Bellaire, Lamar Terrace, Briargrove, Hedwig Village, and Katy. Let us help you today!