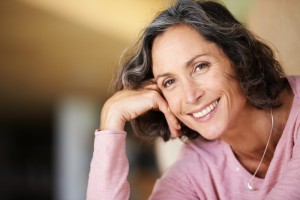 At Piney Point Dental Implant Center, we believe that everyone should feel confident when they smile — and we know that's impossible when teeth are missing or severely damaged. That's why your Houston dental implant specialists are here to provide you with all possible options in dental implants to get your smile back to the one you know and love.
Traditional dental implants are a great solution with one big downside: aside from being more expensive, they also require a wait time of three to six months (or sometimes longer, depending on the condition of the jaw), a period during which you may be without stable teeth. For many of our patients, that's just too long. We have some good news: now, that wait time can be eliminated with Teeth-In-An-Hour, implanted right here at our Houston office. Read on to learn more about this exciting option in implant dentistry.
What to Expect from Teeth-In-An-Hour?
The key to this amazing procedure lies in technology. Using radiographic techniques combined with computer technology, your restorative dentist and oral surgeon work together to ensure your dental implants are placed super-precisely — and quickly. Teeth-In-An-Hour is a good option for single tooth, multiple teeth and all teeth replacement.
Teeth-In-An-Hour Procedure
You can expect the following during your Teeth-In-An-Hour procedure:
Initial consultation and x-rays to determine if you're a good candidate for Teeth-In-An-Hour

CT scans are taken to provide highly precise images of your mouth

Computer planning of the surgery with a three-dimensional model of your jaw

Surgical plan is sent to the lab, where implants are prepared and sent back to dentist

Implants are surgically placed

Prosthesis is fitted onto the implants

You leave the office with a beautiful and functional smile — in just one visit!
Advantages of Teeth-In-An-Hour
Aside from the huge savings in time, you'll also appreciate the many other advantages offered by Teeth-In-An-Hour. They include:
Incision-free procedure — no sutures or stitches needed!

Minimal pain and swelling

Procedure completed in just one visit to the dentist

Teeth-In-An-Hour is tailored to fit your unique mouth

Teeth-In-An-Hour allows you to resume your daily activities like normal, almost immediately
Contact Us Today
We're confident that Teeth-In-An-Hour is an excellent option in implant dentistry — and we're pretty sure it will fit with your unique needs and lifestyle, too. Call to learn more, or schedule your appointment for consultation online. You deserve a full, beautiful smile — let's get started today.