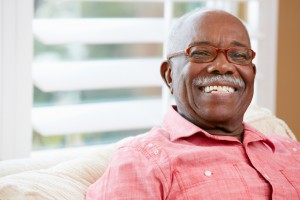 Dental implants are the leading method for replacing missing teeth currently available. Tiny titanium posts that are inserted directly into the jawbone, they replace the tooth's root — something other methods just don't do. There's a lot you may not know about the treatment, and we've listed the top five surprising things about dental implants in Houston below!
#1: They've been used for centuries
Did you know that evidence of the first dental implants dates back to 600 AD? That's right! The Mayan people used shells to take the place of missing teeth. Dental implants aren't anything new, and we've been improving on the method for literally centuries. Click here to read our recent post on the history of dental implants; it's fascinating stuff.
#2: They actually fuse with your bone
The thing that makes dental implants so stable is the fact that titanium is a material that the body naturally accepts. Over a period of six months following placement, the jawbone and dental implant will gradually fuse together to become one solid, unbreakable unit.
#3: They promote oral health
Have you ever thought about the fact that our bones need stimulation to thrive? And that once you've lost your tooth root, your jawbone lacks the activity it requires to stay healthy? Replacement with a dental implant is the only way to maintain proper jaw health following tooth loss. Other options that only give you back the visible portion of the tooth — like a non-implant supported crown, bridge or denture — result in the degeneration of the jawbone and more tooth loss over time.
#4: Caring for them is easy
Because they do so much, it may seem like dental implants would require a significant amount of special care — but they really don't. Care for teeth that have been restored with dental implants isn't any different from that of your natural teeth: brushing, flossing and visiting the dentist regularly are key to maintaining proper dental health.
#5: They're the best investment you can make
When cared for properly, dental implants can last a lifetime. That's what makes this replacement option the very best choice you can make for your smile and your wallet. Because the jawbone stays healthy and whole with dental implants, your prosthetic teeth will never have to be refitted to meet the changing shape of your mouth — something that will likely occur multiple times with non-implant supported tooth replacement options.
Questions? Contact Us Today!
If you've got questions about Houston dental implants, or if you'd like to schedule a consultation to learn whether or not this replacement option is right for you, don't wait to get in touch with the Piney Point Dental Implant Center! Contact us today.