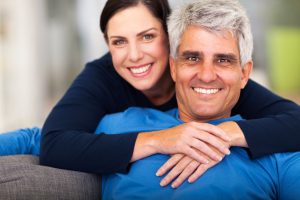 So you've decided you want to replace your missing teeth with dental implants — great! You've made a wonderful decision for your oral and overall health.
But wait. You've heard you need to undergo another procedure in advance of getting dental implants?
If your implant dentist told you that you need to have a bone graft before your dental implant surgery, there's no reason to worry. It's a routine procedure that a lot of patients require, and sometimes, the implants can be placed on the very same day as the bone graft is completed.
You may need a bone graft if…
Your teeth have been missing for awhile

Your upper molars are being replaced

You had severe gum disease (periodontitis)

You have always had a small or weak jaw
Many people learn they need to have a bone graft before they can get dental implants. It can be discouraging to hear, but don't worry — it's totally worth it to enjoy all the benefits of implant dentistry.
Why Are Bone Grafts Necessary?
Dental implant procedures are more than 98% successful, an impressive number for any surgery. One way your implant dentist can make sure your implants "take hold" (i.e. succeed) is by creating the perfect environment for them in the jaw.
That's where bone grafting comes in.
This common procedure strengthens weak bone tissue and adds volume to areas when it has disintegrated due to disease or missing teeth, or when there never really was enough bone present to begin with.
With a bone grafting procedure performed before your dental implants, your dentist and oral surgeon can work together to help ensure that your mouth is well-suited to accept the implant posts.
What Happens In a Bone Graft Procedure?
Bone grafting methods vary from patient to patient, depending on the health of your jawbone and where in the mouth it will be performed. Your oral surgeon will talk you through the specific details of your procedure so you understand just what will happen, how long you can expect the recovery to last, and whether or not your dental implants can be placed on the same day.
In general, to perform a bone graft your dentist first harvests healthy tissue from another area of the jaw (the donor site). Synthetic materials are increasingly used for donor tissue. Then, the new bone is placed onto the area where it's lacking. A growth hormone may be added to encourage the fusion of new and old bone.
If the implant posts can be placed on the same day, your surgeon will then perform the implant procedure. If not, you'll be sent home with precise aftercare instructions and we'll plan on a time for you to come back for a follow-up visit.
Bone grafting procedures are quick, efficient, and comfortable when performed by an expert. And if you need one, it's the key to success for your dental implants!
About the Authors
Dr. Steve L. Koo and Dr. Tom M. Weil are Houston's trusted source of implant dentistry. Both oral and maxillofacial surgeons with decades of experience in the field, the team at Piney Point Dental Implant Center offers unparalleled dental implant care. We encourage you to contact us at (713) 597-7340!