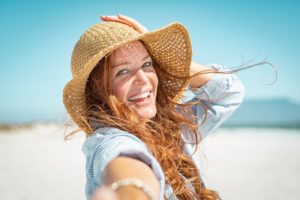 Have you been thinking about getting dental implants? This remarkable tooth replacement method can help you regain a complete, confident, and strong smile. But when should you get them? Should you do it now, or would it be better to wait until your kids are back in school? There is never a bad time to invest in your smile, but summer is a particularly advantageous opportunity to embark on your tooth replacement journey. Here's why:
You Might Have Time Off of Work
Most employers expect their team members to take some time off during the summer. You can plan your dental implant surgery for the beginning of your vacation. After a day or two of recovery, you might still be a bit sore — but you should be feeling well enough to enjoy the rest of your time off doing activities you love, such as lounging in the backyard or catching up on reading.
It May Be Easier to Get Help
Not only might you get some time off this summer, but your spouse and other loved ones might also have a bit of extra time. This means they could be more readily available to drive you to and from your dental implant surgery and help you out with physical chores while you are on the mend.
You Could Be Finished with Treatment by Next Summer
The overall timeline for dental implant treatment varies from patient to patient, but it typically takes at least several months. If you get started with your tooth replacement now, it's possible that your new teeth will be firmly in place by this time next year. That means that during the summer of 2022, you could have a photograph-ready smile that is strong enough to handle all of your favorite seasonal treats, including grilled meats and corn on the cob.
Dental Implants Are the Best Form of Tooth Replacement
Getting dental implants as soon as possible can set you up for a lifetime of benefits. Not only do they provide a strong bite force, but they also look incredibly natural. They can even preserve your jawbone and help your face to avoid the shrunken look that often accompanies tooth loss. Unnecessarily delaying treatment just puts off the time when you can begin to enjoy all the advantages of a restored smile.
There Might Be Insurance Advantages
Does your dental or medical insurance cover dental implants? We are over halfway through 2021, which means it is time to start thinking about how you can use your policy to your greatest advantage. Using your benefits promptly can help make your dental implants as affordable as possible, especially if you have already met this year's deductible.
Summer is the ideal time to get dental implants. Schedule a consultation with a local oral surgeon to get started on your journey to a new smile!
Meet the Practice
The team of three board-certified oral surgeons at Piney Point Dental Implant Center is proud to provide a range of dental implant services, from single tooth replacement to much more complex procedures. If you are interested in getting dental implants this summer, we would be pleased to serve you. Contact us at 713-597-7340 to learn more.