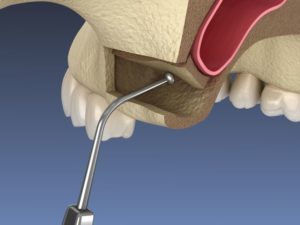 If you are missing one or more teeth, you are likely eager to get them replaced as soon as possible. Therefore, you might be a little disappointed if your oral surgeon informs you that you need to undergo a sinus lift surgery before you can move forward with getting dental implants. What exactly is a sinus lift, and why is it sometimes necessary? Read on below to discover the answers.
What Is a Sinus Lift?
A sinus lift is also known as sinus augmentation or maxillary sinus floor augmentation. However you refer to it, the surgery is basically a special type of dental bone graft. During the procedure, an oral surgeon accesses your sinuses through your upper jaw. Next, they gently push the sinuses upward and place a bone graft beneath them to keep them in their new place. Patients are usually eligible to receive dental implants about 4 – 9 months following a sinus lift.
Why Might You Need a Sinus Lift?
To determine if you need a sinus lift, your oral surgery team will take X-Rays or use a CBCT machine to understand the structure of your jawbone. If you do not have adequate bone in your upper jaw to support dental implants, you may need to undergo a sinus lift. Without the surgery, your implants may penetrate your sinuses. Plus, your implants will not have sufficient support to remain firmly in place. You could very well end up experiencing dental implant failure and other complications.
Who Is a Candidate for a Sinus Lift?
There are a number of reasons why your upper jaw may not be large enough to support dental implants:
Genetics have bestowed you with naturally large sinuses.
A significant amount of time has passed since you lost your natural teeth. The jawbone tends to begin deteriorating as soon as there are no longer tooth roots in place to stimulate it.
You are up in years. The sinuses tend to naturally enlarge over time.
You suffered an injury that caused your upper jaw to weaken and lose some of its mass.
You had a cyst or tumor in your upper jaw that was surgically removed.
You suffered from advanced gum disease, which caused your jawbone to weaken and shrink.
What to Expect During and After Sinus Lift Surgery
Thanks to sedation, you can expect to be comfortable during your procedure. In fact, you should feel little to nothing. Some soreness is to be expected after your appointment, and you will have to follow post-op instructions in order to protect your sutures and facilitate your body's healing process. Your oral surgeon will monitor your recovery and let you know when it is possible to place dental implants.
A sinus lift is sometimes a necessary step on the road to rebuilding a lost smile. If you have to undergo this surgery, you can commit to it with confidence, knowing that it will ultimately contribute to your oral and overall well-being.
Meet the Practice
Drs. Steve Koo, Thomas Weil, and William Shepard are the board-certified oral and maxillofacial surgeons at Piney Point Dental Implant Center. They perform sinus lifts, dental implant placement, and other complex procedures that help patients rebuild their lost teeth. If you have questions about any part of the dental implant process, they and our team are ready to speak with you. Contact us at 713-597-7340.