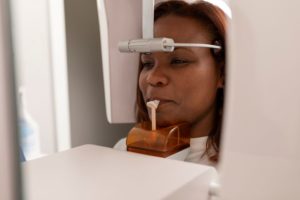 Countless dentists and specialists provide dental implant treatment. However, not all of them are equally qualified. Moreover, not all of them have the same advanced technology at their disposal. It is important to note what instruments a provider uses before you commit to partnering with them for your tooth replacement journey. Why should you choose an oral surgeon with a CBCT scanner (also called a cone beam scanner)? Continue reading to learn the answer.
What Is a CBCT Scanner?
CBCT is an acronym that stands for "cone beam computed tomography." This sophisticated machine emits the same type of radiation as a traditional X-ray. However, the radiation is emitted in a cone-shaped beam. Its unique design enables it to capture extremely detailed, three-dimensional images of a patient's oral anatomy, including their teeth, jawbone, connective tissues, and nerves.
The Role of a CBCT Scanner in Dental Implant Treatment
A CBCT scanner can be vital at various stages of dental implant treatment. Before your placement surgery, your oral surgeon will use the machine to analyze your jawbone to find out if it is strong enough to support implants. The images will also help your team plan the details of your surgery, such as exactly where, how deep, and at what angle your implants should be inserted.
Your surgeon may even use your CBCT scan to create a surgical guide. Such a guide is a custom device made by a laboratory that can be used during your procedure to promote precise placement of your implants. It can minimize human error so your tooth replacement journey is as low-risk as possible.
After your dental implants are inserted, the CBCT scanner will continue to be useful. It can help your oral surgery team monitor how well your implants are integrating with your jawbone. Plus, if you ever run into any problems with your implants (which is unlikely), the machine can assist in the diagnostic process.
How to Find an Oral Surgeon with a CBCT Machine
Clearly, a CBCT scanner can be an invaluable part of dental implant treatment. You might have to put in a little effort to find an oral surgeon who has one, but your time and hard work will pay off.
If an oral surgeon has a CBCT machine, you are likely to find information about it on their practice's website. If their site does not talk about the specific types of technology they use, feel free to call and ask for details. You should ask other questions as well, such as how the practice promotes patient comfort, their payment policies, and other key things that will be relevant for your tooth replacement journey.
Cone beam scanners are important! Choose an oral surgeon who uses one so you can enjoy top-quality dental implant care.
Meet the Practice
Our team proudly features three board-certified oral & maxillofacial surgeons. Our modern Houston office is home to a CBCT machine and other items of advanced technology. To learn more about how we may be able to help you enjoy all the benefits of dental implants, get in touch with us at 713-597-7340.