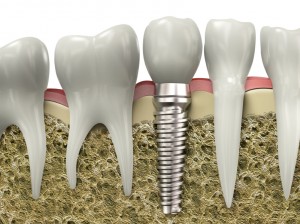 If you're suffering from tooth loss, you're probably considering dental implants to solve the complications you're facing. But, will implants be able to fix the spaces for the exact teeth you're missing? If your oral health and bone density are ideal, then yes, any tooth can be replaced with a dental implant. However, depending on your degree of tooth loss, you will require a different approach to treatment. All teeth can be replaced with an implant, but if you're missing all of your teeth, you don't want to replace each tooth individually. Piney Point Dental Implant Center will evaluate your tooth loss to determine which implant option is best for you.

Can All of My Teeth Be Replaced with a Dental Implant?
All teeth can be replaced using an implant, but if you're missing more than one tooth, your treatment plan may need to be customized because implants can only support a certain number of teeth. For example, larger spaces where two or more teeth are missing, individual implants shouldn't be used. For cases when a large space needs filled, an implant will be needed that's somewhat like a bridge, but less posts are used to anchor the implant in place. For those who have no teeth at all, you don't want to replace each tooth individually. Instead, you'll need a full arch that's attached using 4 to 6 implants, such as the All on Four implant. Those who have more than one missing tooth often have decreased bone dentistry, making individual tooth replacement too invasive and likely to fail. But, you aren't out of options. Instead you'll need a customized approach to use less posts while still replacing the correct number of teeth.
Are Certain Teeth More Likely to Fail?
While implants have a nearly 100 percent success rate, yes, certain teeth are more prone to implant failure. The biggest threats you face with implants are bacteria and infection. Areas that are prone to an accumulation of bacteria are more likely to fail. For example, the front teeth have a higher success rate than the back molars. Why? Because the front teeth are easier to keep clean, while the back teeth are more difficult to reach for proper hygiene. In fact, the front teeth only have a failure rate of roughly 5 to 10 percent, whereas the molars have a failure rate of 5 to 15 percent. Not to mention, the failure rate for implants on the lower jaw is generally higher than that of the top because the bone on the lower jaw often has less bone density.
Although implants can fail and some teeth are more prone to failure than others, that shouldn't detour you from getting implants. With an experienced dental implant specialist like Piney Point Dental by your side, you'll have a precise treatment that's more likely to succeed. With the right dentist and the right oral hygiene, your failure rate is generally less than 5 percent.
If you're considering implants for tooth replacement, call Piney Point Dental Implant Center today at (713) 597-7340 to schedule a consultation.