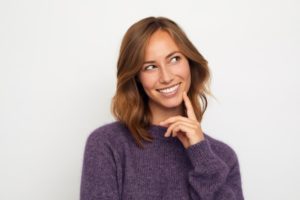 Has your dentist recommended that you receive dental implants? You can look forward to regaining a beautiful, functional set of teeth. Still, you probably have questions about the road ahead. What will your new teeth feel like? Will they always seem like a foreign object in your mouth, or will they eventually feel like a natural extension of your body? Let's talk about what you can expect while you are adjusting to your new teeth.
After Your Implant Surgery
After your implants are placed in your jawbone, some soreness and swelling are normal. After your initial recovery period, however, your mouth should feel comfortable. In most cases, the gums are closed over the tops of the implants, so you won't be able to feel them with your tongue.
When You First Receive Your New Teeth
Once your prosthetic teeth are attached to your implants, they may feel a little odd in your mouth. After all, you may have gotten used to having some gaps in your smile. You might produce extra saliva, and your gums may be a little tender. However, you'll probably notice that your new teeth have a texture that is similar to your natural teeth. You may also find that they provide a comfortable bite.
The initial adjustment period with implants usually doesn't last very long. As the days and weeks go by, you may stop noticing them altogether.
Eating and Speaking with Your New Teeth
Speaking might feel strange at first, especially if you were completely edentulous (without teeth) before receiving your implants. However, with practice, you can actually expect your speech to be clearer than it was previously. That's because making precise sounds depends on intricate interactions between the teeth and tongue.
Eating might take a bit of adjustment as well, especially during the first few days after you receive your permanent prosthetic teeth. You might want to start off with some soft, easy-to-chew meals. Once you get used to eating with your implants, however, you should be able to enjoy virtually any food. And unlike with dentures, you won't have to use any special techniques to chew effectively. That's because dental implants have a structure just like natural teeth, which provides remarkable strength and function.
What if You Run into Problems?
Rarely, patients experience complications or severe discomfort as they are adjusting to their implants. If you suspect that is happening to you, seek help from your dentist or oral surgeon right away. Hopefully, it won't be long before your new smile is back on track.
What do dental implants feel like? To put it simply, they feel like teeth! They provide outstanding function and aesthetics that might make you forget that you ever suffered tooth loss.
Meet the Practice
The three oral surgeons at Piney Point Dental Implant Center have decades of combined experience and are proud to provide a range of advanced services, including dental implant placement, bone grafting, and more. If you are curious about what to expect during your tooth replacement journey, they would be happy to speak with you. Contact our office at 713-597-7340.