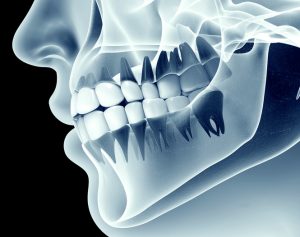 A lot of time and effort goes into placing your dental implants. While the materials used and the doctor's experience are essential, one of the most important factors when it comes to making sure your implants will succeed is pre-surgical planning. This is a critical stage that allows Dr. Koo and Dr. Weil to formulate exactly how your implant placement will go before you even step into their office. One of the most important tools they use for this is something called cone beam computed tomography. It's usually part of the very first step of getting your dental implants in Houston. What is it? How does it help? Today, we're going to explain this part of the process so you can know exactly what to expect when you let us restore your smile.
What Is Cone Beam Computer Tomography?
Other than a mouthful, cone beam computer tomography (CBCT) is a medical imaging technique, in other words, a kind of x-ray. What makes it different than other imaging methods is that CBCT actually uses divergent x-rays to create a more detailed, 3D image of whatever it is scanning. It was first used in Europe in 1996 and became commonplace in America by 2001.
CBCT is used every day in a variety of medical fields, and is now an essential part of implant dentistry.
How CBCT Helps Implant Dentistry
Like we mentioned above, pre-surgical planning is one of the most important parts of the implant placement procedure. This is when your doctor will decide exactly where your implants will be located, as well as how big the posts will actually be. In order to determine this information to the exact millimeter, a CBCT scan will be taken of your mouth and jaw. This will create a 3D image that gives the doctor important information, such as how thick your jawbone is (which is a very important part of placing your implants).
Once the doctor has used the scan to make your plan, he can confidently complete your implant procedure because he knows exactly what is going to happen. It will enable him to do it in the least invasive, most effective way possible. What this means is that your dental implants will have a greater chance of success and your recovery will be made as short as possible. CBCT is also important in helping the doctor avoid any complications he might encounter during your procedure, preventing problems before they even start.
What Is It Like To Get a CBCT Scan?
When you come in to get a CBCT scan, you will sit in a chair and place your head into a brace that will help keep it still while the image is taken. The actual scanner will be hanging from a metal arm that will be attached to the ceiling. It will rotate around your head, and the scanner will take up to 600 different images. Specialized software will combine these images to create a 3D model that your doctor can view and manipulate. The entire process is fast, painless, and a big part of helping you get your smile back.
Want To Know More?
We hope you found this information interesting, and that it helps calm any nerves you might have about the entire process. CBCT has made placing dental implants safer and more reliable than ever, so you can be sure that it'll be part of your process.
If you have any questions about CBCT, or Houston dental implants in general, just give us a call today.