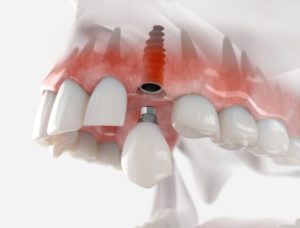 If you are missing a tooth, you may have considered getting a dental implant to replace it. That is a wise decision; dentists around the world view implants as the best way to rebuild lost teeth. Even after you choose to get an implant, though, you still have a decision to make. What material will it be made of? This blog post discusses titanium vs. zirconia dental implants so you can make a well-informed decision about how to move forward with your treatment.
Titanium vs. Zirconia: An Overview
A titanium alloy (not 100% titanium) is the standard material used for dental implants. It is similar to the material used for other bodily implants. It has a reputation for being incredibly strong. It is also known to be compatible with the human body. Allergies to it are extremely rare.
Zirconia dental implants may also be called ceramic implants (because zirconia is a type of ceramic). They are relatively new in the world of dental implants, but many patients who are hesitant to place metal in their body choose them. They are quite strong. However, there are more prone to breakage than titanium implants.
Which One Lasts Longer?
Multiple studies have been performed on the longevity of titanium dental implants. They consistently last for 25 – 30 years (oftentimes longer) without presenting any problems to patients.
Because zirconia implants have not been around for nearly as long as titanium ones, there is not enough data available to make any conclusions about how long they last.
Which One Looks Better?
You might hear it said that zirconia implants are superior to titanium when it comes to aesthetics. That is because zirconia implants are white in color, whereas titanium ones are dark, meaning that in some cases, their color can be seen through the gums.
However, keep in mind that if your titanium implants are placed properly, there is little risk that they will interfere with the appearance of your smile. In fact, no one should have any idea that your prosthetic teeth are not completely natural.
Which One Is Safer?
Both titanium and zirconia implants are quite safe. Both materials work well within the human body and have almost no chance of causing an adverse reaction. However, some natural health enthusiasts favor zirconia because it cannot interact with other metals in the mouth, as titanium can. The biggest health risk with zirconia implants is that they may break, necessitating the need for further surgery.
Which Should You Choose?
Both zirconia and titanium implants are effective tooth replacement options. Your oral surgeon can help you compare the pros and cons of each. Often, patients choose titanium due to its excellent track record of success and longevity.
Meet the Practice
Drs. Steve Koo, Thomas Weil, and William Shepard are highly skilled oral surgeons who enjoy helping patients rebuild their smiles with dental implants. If you have questions about this procedure or the materials used for it, our team would be pleased to speak with you. Contact our Houston office at 713-597-7340.