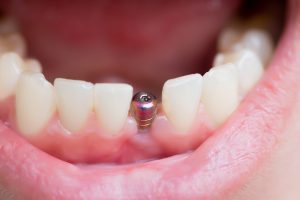 Just lost a tooth? We'll start off with the good news: you're not alone. In fact, the majority of people in the United States over the age of 35 are missing at least one according to the American College of Prosthodontics.
And now we'll give you the other news: that tooth needs to be replaced ASAP. It may not seem like that big of a deal right now, but you need a complete smile to enjoy continued oral and overall health.
Fortunately, a single tooth implant can come to the rescue.
Effects of Missing Teeth
The side effects of missing teeth are significant. When you have lost any number of teeth, your jawbone lacks the stimulation it needs to remain healthy and strong. That's the case after you've lost just one tooth, too. The tooth's root brings necessary blood flow and nutrients to the area. Without it, the jawbone will lose its volume and you will be at a higher risk of losing even more teeth.
Depending on where the gap is located, you may also find it more difficult to eat and speak correctly with a missing tooth. A lisp or whistle may develop in your speech. You may start to eat a softer, less nutritious diet.
Yes, the impact of even "just one" missing tooth are far-reaching. Don't wait to seek an implant solution to complete your smile with maximum success.
How a Single Tooth Implant Works
Many people who have lost just one tooth are eligible for a dental implant. You may need to have a bone graft procedure done first if the jawbone is weak or if there is not enough room to support a dental implant.
To place a single tooth implant after any necessary preparatory procedures are complete, your implant dentist or oral surgeon opens the gum tissue and inserts the titanium implant post beneath. A temporary tooth may be placed while the jaw bone heals together with the implant over a period of months.
Once this healing process (known as osseointegration) is complete, a connecting abutment is placed on top of the implant. After one more brief recovery, a prosthetic crown is affixed to the implant. The end result is natural-looking, sturdy, and can be expect to last for a lifetime.
Benefits of a Dental Implant
Compared to a fixed bridge, the other common option for a single missing tooth, the dental implant offers a number of benefits.
Some of the advantages of a single dental implant include:
Closely mimics the natural tooth structure

Looks and feels just like your natural tooth

Promotes better oral health with a stable jaw bone

Supports a balanced, nutritious diet

Can be expected to last a lifetime with proper maintenance
People who are eligible for dental implants should strongly consider this comprehensive option. Nothing else replaces a missing tooth better!
About the Authors
Dr. Steve Koo and Dr. Tom Weil provide comprehensive implant dentistry services for patients in and around Houston. To learn more about this high quality tooth replacement, including whether or not you are a candidate for a single tooth implant, please do not hesitate to contact the office at 713-597-7340.