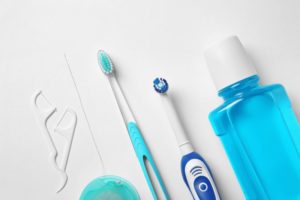 Dental implants in Houston are, by and large, a very successful procedure. For the vast majority of patients, their implants last for decades. However, in rare cases, dental implant failure occurs due to an infection known as peri-implantitis, which causes serious damage to the tissue surrounding an implant. How can you protect your new smile and help it stand the test of time? An implant dentist in Houston is here to offer some expert advice.
Rinse Regularly
Rinsing with warm saltwater or an antibacterial mouthwash can do much to rid your mouth of microbes that might try to infect the tissue around your Houston dental implants. You should not rinse in the first 24 hours after your implant placement surgery, but following that, you can make rinsing part of your regular routine.
Make Oral Hygiene a Priority
The same oral hygiene habits that protect your natural teeth can also do much to prevent dental implant infection. You should thoroughly brush twice a day and be diligent about flossing. Always be sure to clean the area along your gumline. If you have an implant-supported bridge, it may be wise to use a water flosser to clean underneath the artificial teeth that are between the crowns.
Do Not Smoke
Smoking introduces a lot of harmful bacteria into your mouth. It can also hinder your body's ability to heal after surgery and fight off infection. Smoking is never advisable for anyone with dental implants (or anyone in general), but it is especially dangerous in the first week or so after your implant placement surgery.
Eat a Healthy Diet
In the weeks after you receive your Houston dental implants, you should be careful to eat only soft foods that will not irritate the surgical site and increase your risk of infection. After you heal, you will be able to eat pretty much anything. However, it would be wise to stick to consuming a healthy, balanced diet. Eating a lot of sugary foods will give the bacteria in your mouth more of an opportunity to affect your implants.
Attend Regular Checkups
After your implant surgery, it is important that you follow-up with your Houston implant dentist as instructed. They'll make sure your mouth is healing well. If they notice any early signs of infection, they may be able to get ahead of the problem before it causes a lot of damage. Even years after your implant procedure, you should continue to regularly visit a general dentist so they can monitor your smile's health.
There is no need to let fear of infection hold you back from getting dental implants. As long as you take some simple precautions, your smile is likely to thrive for decades!
About the Author
Dr. Steve L. Koo is an experienced, highly trained implant dentist. He is a Diplomate of the American Board of Oral and Maxillofacial Surgery and a Fellow of the American College of Oral and Maxillofacial Surgery. He has helped countless patients to experience the benefits of dental implants, and he would be happy to help you as well. To learn more about Dr. Koo and his services, contact our team at 713-597-7340.