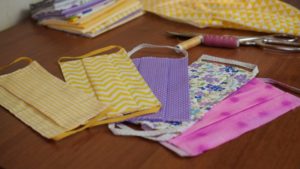 Governmental agencies and many experts in the healthcare field recommend that everyone wears a face mask in public settings. Whether you are at the grocery store, taking a stroll in the park, or visiting your dentist's office, a face covering can do much to protect both you and those around you. However, because everyone is wearing masks, it might be difficult to find any vendors that have them in stock. That is why we have provided some simple guidance to help you make your own face mask with materials that you already have on hand.
Quick Cut No-Sew Face Mask
Find an old t-shirt and cut off the bottom 7 – 8 inches. Then, cut a section out of the middle of the piece of fabric that you cut off, starting at one of the seams. The section should be about 6 – 7 inches in length. Make sure that the pieces of fabric at the top and bottom of the section are thin but not so thin that they are fragile. Then, cut the seams at the end of the top and bottom pieces. These will be the tie strands for your mask. Simply place the solid portion of the cloth over your nose and mouth, and tie the top strands near the crown of your head. Tie the bottom strands around the base of your neck.
The Bandana Method
For this method, find or cut a piece of cloth that is approximately 20 inches square. Fold it in half. Then, folding in the same direction, fold both halves in half, so they touch the middle of the cloth. Then, fold both halves in half again in the same manner. Place rubber bands or hair ties around the cloth with about six inches between them. Fold the sides of the cloth toward the middle, around the rubber bands. Simply hook the rubber bands behind your ears to start using your new face mask!
For Those Who Like to Sew
If you have a sewing machine at home, you have tons more options when it comes to creating a homemade face mask. There are many different patterns available, which you can adjust to fit your face's size so you get the best fit possible. Many patterns, such as this one, even have a pocket where you can insert a filter for extra protection from airborne contagions.
Face masks should be one of your wardrobe staples during this time of COVID-19. Use this guide to create a cloth facial covering that will help to keep you and your community safe.
Meet the Practice
Drs. Tom Weil and Steve Koo are oral and maxillofacial surgeons at Piney Point Dental Implant Center. They have over 50 years of combined experience. They care deeply about the well-being of their patients and staff, which is why they are encouraging anyone who comes into the office to wear a face mask when they are not undergoing treatment. To learn more about our doctors, our team, and the measures we are taking to protect patients from COVID-19, contact us at 713-597-7340.