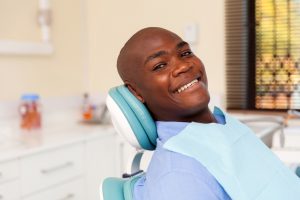 How long do dental implants last? This question is number one on the dental implant FAQ. We're pleased to tell you that, when properly cared for, your dental implants in Houston can last forever. But sometimes a condition known as peri-implantitis can cause initially successful implants to fail — and smoking can prevent them from ever healing in the first place. Keep reading to learn why dental implants last the longest, and how you can prevent dental implant failure to enjoy a full, confident smile that lasts the rest of your lifetime.
Dental Implants: The Only Life-Long Solution
This isn't the first, and it won't be the last time we say that dental implants are simply the best solution for missing teeth. They're the only replacement option that gives you back your missing tooth as well as its root.
Other options in tooth replacement, like a traditional crown and bridge or non-implant supported dentures, only give you back the visible portion of your tooth. But without the stabilizing root, your jawbone will gradually degenerate over a lifetime. That means the tooth replacement that is not retained by dental implants will require periodic adjustments to keep up with the jaw's changing shape. Your dental implants, by comparison, keep the jawbone healthy and whole for a lifetime to come.
Additional benefits of dental implants include…
They look, fit, and feel just like your natural teeth.

Forget about those messy, ineffective denture adhesives.

Eat what you like with dental implants.

Your teeth fit just like they should from day one.
Tips for Solid Dental Implant Maintenance
Just like you take care of big investments like your car and home, you'll need to incorporate a few best practices to keep your dental implants strong and healthy. Preventing plaque and tartar buildup and maintaining positive lifestyle choices for your overall wellbeing are key to enjoying your dental implants for a lifetime to come.
Because tobacco inhibits your ability to heal, people who smoke are unlikely to have a successful dental implant procedure. And even if you pick up the habit after your dental implants have healed, you are more likely to develop periodontal disease or oral cancer that may cause the implants to fail.
Continue to brush your teeth for two minutes, at least twice a day, and to floss daily after you have your smile completed with dental implants. Maintain your regular visits to the dentist to ensure you are keeping your teeth and gums free from the plaque and tartar buildup that causes peri-implantitis.
If you start to notice one of your dental implants is loose or if something just doesn't feel right in your mouth, do not hesitate to get in touch with your implant dentist. Prompt attention is crucial for the continued success of your tooth replacement.
Questions? Get In Touch With Us
Do you have remaining doubts about your dental implants? Please don't hesitate to get in touch with Piney Point Dental Implant Center. We want to help all eligible patients enjoy the numerous benefits of implant dentistry. Contact us to discuss your tooth replacements today!