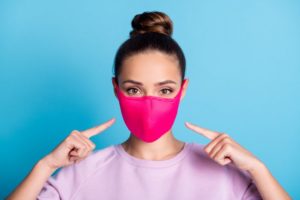 The Centers for Disease Control and Prevention are urging everyone to wear a face mask in public settings. In some municipalities and counties, wearing a face mask has even become mandatory. Indeed, there is no doubt that this simple precaution can do much to protect both you and those around you from COVID-19. But masks are only effective if they are worn correctly. An oral surgeon in Houston is here to provide tips to help you ensure that your facial covering is living up to its potential.
How to Put Your Mask On
Before you don your mask, thoroughly wash your hands with soap and water. Then, check your mask for any defects. If you are wearing a surgical mask, position it with the colored side facing outward. If either side of the mask has a metal strip inside of it, that part should be on the top of the mask. Holding the mask by the ear loops, hook it behind your years. Press the metal strip against the bridge of your nose to create a more secure fit. If your mask has tie strings instead of ear loops, be sure to tie the upper strings before you tie the lower ones.
Regardless of what type of mask you are wearing, it should cover both your mouth and nose. Be careful not to touch the main part of the mask while you are putting it on.
Wearing Your Mask
Here are some general dos and don'ts to keep in mind while you are wearing your mask:
Try not to touch your mask. If touching it is unavoidable, wash your hands both before and afterward.
Do not hang the mask around your neck.
Don't reuse masks that are designed to be worn only once.
If you wear eyeglasses, don't pull your mask down if it is causing your glasses to become foggy. One easy way to prevent this problem is by cleaning your glasses with a bit of dish soap before you put your mask on. The soap creates an invisible film that will help keep your vision clear.
Removing Your Mask
Don't touch the main part of your mask while you are taking it off. Instead, simply unhook the ear loops. If it has ties, be sure to untie the bottom strings before the top ones. Once your mask is off, either throw it away or toss it in a laundry bin (depending on if it is single-use or multi-use). Then, thoroughly wash your hands or use hand sanitizer.
Correctly wearing your face masks is important! Your diligence will protect both you and your community throughout the COVID-19 pandemic.
About the Author
Dr. Steve L. Koo is a Houston native who has been serving our community as an oral and maxillofacial surgeon for more than 10 years. He is a Diplomate of the American Board of Oral and Maxillofacial Surgery. Dr. Koo and the entire Piney Point team are committed to helping keep our patients safe during this unprecedented time. We urge patients to wear a face mask while they attending appointments in our office. To learn more about our safety protocols or the services we offer, contact us at 713-597-7340.