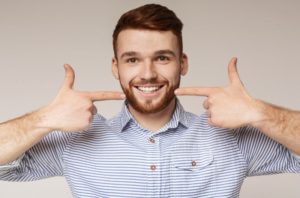 Statistics consistently highlight the astonishing rates of dental implant success. In fact, some research indicates that they are successful in up to 98% of cases! If you are thinking about getting dental implants to replace your missing teeth, you may wonder how you can be among that happy majority. Choosing a skilled oral surgeon, as well as making a firm commitment to caring for your new smile, can equip you to enjoy a lifetime of benefits from your dental implants.
Partner with the Right Doctors
The skill of the doctor who places your implants will have a large bearing on whether your procedure succeeds. It is usually best to have an oral surgeon, rather than a general dentist, perform this part of your treatment. Oral surgeons have completed years of training after dental school, and they often use the best technology to help them as they carefully insert implants into the jawbone. They place the implants at precise, pre-planned locations that will enable them to serve as the strongest base possible for your new teeth.
Care for Your Health
Dental implants are able to stand the test of time because they fuse with the bone around them. This process, known as osseointegration, allows implants to act as prosthetic tooth roots. You should avoid habits that might interfere with osseointegration or with your body's ability to heal after surgery. For example, you should not use tobacco in any form. If you have any chronic diseases, such as diabetes, you should take all reasonable steps to manage your condition.
Stick to Excellent Oral Hygiene Habits
Just like it is important to keep your natural teeth clean, dental implants also require excellent oral hygiene. Consistently brushing and flossing, as well as using an antibacterial mouth rinse, minimizes the amount of harmful bacteria in your mouth. You can thereby prevent infections that might otherwise compromise the long-term success of your implants. If you have questions about how to care for your implants, your dentist or hygienist would be happy to coach you. In many ways, caring for implants is similar to caring for natural teeth.
Routine Dental Visits
Routine dental visits allow your dental team to monitor your implants, answer your questions about oral care, and work to ensure that your new smile lasts for year after year and decade after decade. Most people with implants should attend a dental appointment every six months or so.
Dental implants are reliable because patients and doctors work together to ensure that every part of the treatment journey goes well. If you are thinking about investing in implants, you can move forward with confidence in your new smile's long-term success.
Meet the Oral Surgeons
Drs. Steve Koo, Thomas Weil, and William Shepard are the oral and maxillofacial surgeons at Piney Point Dental Implant Center in Houston. They have decades of combined experience, and they partner with local restorative experts to provide comprehensive dental implant care. To learn more about them and how you can enjoy a successful dental implant journey, contact our practice at 713-597-7340.