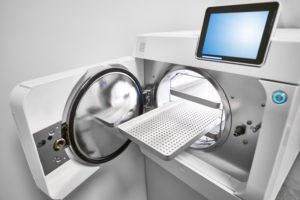 Sterilization has always been of utmost importance in medical settings, including dental offices. However, the recent outbreak of COVID-19 has shined a new spotlight on the need for medical professionals to ensure that they are working in a clean environment and using sterile instruments. But just exactly how does your dental team sterilize their tools to keep you safe and prevent the spread of contagions? In this post, we discuss some of the basics of dental office sterilization.
Using an Autoclave
Several well-known organizations, including the American Dental Association (ADA), provide guidelines on how dentists should sterilize their instruments. One of the ADA's recommendations is the use of an autoclave, a machine that uses superheated steam to kill microorganisms that might be lingering on dental instruments.
To make sure the autoclave is able to do its job as effectively as possible, dental teams have to follow certain steps before they place the instruments in the machine. For example, they wear proper protective gloves when handling the instruments. They also pre-clean the instruments to remove any visible debris before they are placed in the autoclave. All instruments are carefully packaged in autoclave wraps that allow the steam to pass through but will protect the instruments from contamination after they come out of the autoclave.
Autoclave maintenance is also important. Test strips are used to ensure that the machine is always performing at its best.
Disposable Instruments
It is impractical to sterilize some instruments (or portions of dental instruments) in an autoclave. That is why your dental team may use a range of disposable tools. For example, suction devices and air/water syringes have single-use tips that are replaced between every patient. Gloves, needles, and many other tools are also only used once before they are thrown away.
Sterilizing Surfaces
There are lots of surfaces within a dental office that are impossible to clean with an autoclave, such as keyboards, lights, counters, and much more. Dental teams may use various methods to ensure that these surfaces stay clean. For example, plastic barriers can prevent bacteria from hiding between the keys in a keyboard. Wiping surfaces with bacteria-killing cleaning agents also promotes a clean and safe environment. Due to the outbreak of COVID-19, many dental teams are taking extra time between patients to ensure that every portion of their office is as clean as they can possibly make it.
This article touches on just a few of the things dental teams are doing to promote the health and safety of their patients through proper sterilization. If you would like to know more, your dentist would be happy to answer all of your questions.
About the Author
Dr. Tom Weil is an oral and maxillofacial surgeon in Houston with over four decades of experience. His expertise extends into the realms of dentoalveolar surgery, dental and oral maxillofacial implants, orthognathic surgery, and more. He and the entire team at Piney Point Dental Implant Center are committed to keeping patients safe throughout the COVID-19 pandemic. To learn more about us or to schedule a consultation, contact us at 713-597-7340.