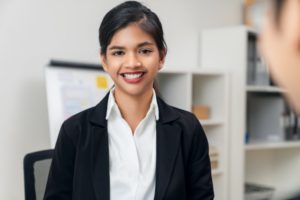 Tooth loss is a serious issue. It can have far-reaching consequences for your oral health, and it can hinder your ability to eat the foods you love. It can also impact mental health. Many people with one or more missing teeth find that they are not as confident as they once were, perhaps because of the way that an empty space in their smile looks. Others' confidence may suffer because they are afraid that their dentures will embarrass them in public. Fortunately, there is a solution to these problems. Dental implants may provide you with a significant confidence boost! Let's talk about some of their many benefits.
Enjoy a Beautiful Smile
Dental implants are one of the most natural-looking forms of tooth replacement. The implants themselves are concealed beneath the gumline, and the restorations (artificial teeth) on top of them are made out of materials that bear a close resemblance to natural tooth enamel. Dentists are careful to ensure that each restoration is carefully crafted to complement a patient's facial features and their remaining natural dentition.
Maintain Your Facial Shape
Following tooth loss, bone resorption in the jaw begins. Essentially, this means that the body recycles the bone to use it for other purposes. Over time, the resorption can reach the point where it affects the face's shape, causing it to look sunken and small. Dental implants replace tooth roots and stimulate the jawbone, helping to keep it strong and whole. Other forms of tooth replacement, such as dentures and traditional bridges, do not provide significant bone health benefits. In fact, dentures might even accelerate bone loss.
Eat Anything
Dentures can restore your ability to eat many foods, but they require that you take certain precautions in order to do so. Dental implants, on the other hand, provide a mighty bite force and function just like natural teeth. You will be able to enjoy that crisp salad, chewy pizza crust, or hearty stake with ease. This can be especially confidence-boosting when you are enjoying a meal at a restaurant with friends, coworkers, or clients.
Speak Clearly
The tongue interacts with the teeth in order to produce clear speech, so tooth loss may naturally affect the way you pronounce certain sounds. Dental implants are a sturdy and reliable tooth replacement, and they can help you speak with conviction whether you are casually chatting with friends or giving an important presentation at work.
Dental implants offer several benefits that can improve confidence. If you have lost one or more teeth, it is certainly worth your time to schedule a consultation with a local implant dentist. You may soon be on your way to a new smile!
Meet the Practice
Drs. Steve Koo, Thomas Weil, and William Shepard are the oral surgeons at Piney Point Dental Implant Center. They have decades of combined experience, and they perform precise implant placement using the latest technology. They partner with local dentists to provide comprehensive implant care. To learn more about them and the services they provide, contact our practice at 713-597-7340.