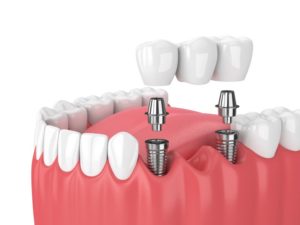 Houston dental implants serve as prosthetic tooth roots. Some people assume that means that for every missing tooth, you require a dental implant. Fortunately, that is not the case. Thanks to strategic implant placement, it is often possible to support many teeth with just a few dental implants. Let's talk about how your oral surgeon will determine exactly how many you need in order to regain a complete, healthy, and strong smile.
Single Tooth Replacement
Single tooth replacement is one of the most straightforward dental implant options. Your oral surgeon will place one dental implant into your jawbone at the site of your lost tooth. Once it fully integrates with the surrounding bone, you'll receive a beautiful crown to go on top of it and replace the visible portion of your missing pearly white.
Replacing Multiple Teeth in a Row
If you're missing two or more teeth in a row, your surgeon will carefully evaluate the health of your jaw, the location of the lost teeth, and other aspects of your oral anatomy. Then, they'll be able to determine exactly how many dental implants in Houston you need. Here are a few examples of what they might determine:
Two missing teeth in a row: Usually, this can be addressed with a single dental implant. It supports both a crown and a pontic (an artificial tooth attached to the crown).
Three to five missing teeth in a row. Often, an oral surgeon will replace these teeth with an implant-retained bridge, which utilizes two dental implants and their accompanying crowns placed at opposite ends of the empty space. The crowns support between one and three artificial teeth between them.
Rebuilding an Entire Dental Arch
If you have lost all or most of the teeth throughout one of your dental arches, there are a few different treatment options that might work for you. For patients whose jawbone is still relatively strong, an implant-retained denture may be ideal. The number of implants necessary to support such a denture varies from patient to patient, but usually, no more than six are needed.
Another possibility is the All-on-4 treatment. As its name implies, this special procedure uses just four dental implants to support an entire arch of lost teeth. Because the implants are strategically placed where the jawbone is naturally strong and thick, All-on-4 often works well for patients who have suffered a degree of bone deterioration in other areas of their jaw.
How many dental implants do you need? The answer: it depends. Your local implant experts will be happy to evaluate your unique mouth and talk to you about your treatment options.
Meet the Oral Surgeons
Drs. Steve Koo and Tom Weil are highly dedicated oral surgeons with decades of combined experience. Both of them are Diplomates of the American Board of Oral and Maxillofacial Surgery, and they have completed extensive training in a range of dental implant techniques. Along with Dr. William Shepard, they work to help patients rebuild their smiles, whether they need just one implant or several. To learn more about our team and our services, contact us at 713-597-7583.