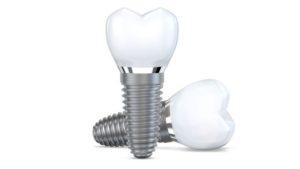 If you have missing teeth, you may be thinking about getting dental implants. This form of tooth replacement is the best that modern medicine has to offer! Still, you may wonder, "How many dental implants do I need? Do I need one implant for each of my missing teeth?" This blog post can give you a rough idea of how many prosthetic tooth roots may be required to rebuild your complete smile.
If You Are Missing One Tooth
If you are missing just one tooth, your case seems pretty straightforward. In all likelihood, your implant dentist will insert a single dental implant into your jawbone. Later, the implant will be restored with a custom crown that will replace the visible part of your missing tooth.
If You Are Missing Multiple Teeth
If you are missing multiple teeth, the number of implants needed depends on the specifics of your situation. For example, if you are missing two teeth in a row, you may need just one implant. It will be topped with a crown, and the crown will support a pontic (artificial tooth) next to it.
If you are missing three to five teeth in a row, you will probably need two dental implants. One implant will go at each end of the empty space, and they will support crowns. The crowns will support one to three pontics between them.
If You Are Missing All of Your Teeth
If you have lost all of your teeth throughout one of your dental arches, you will likely need an implant denture. Some removable implant dentures need just two strategically placed implants to support them. However, that solution is not as sturdy as a permanently fixed denture that is supported by four or more implants. In some cases, six to eight implants are used to support a denture.
So, How Many Implants Will You Need?
The number of missing teeth is one of the biggest factors that influences the number of implants needed. However, other factors also come into play:
Your jawbone health. If you are missing all of your teeth, and your jawbone is relatively strong and thick, you will likely receive a relatively high number of implants so your new teeth can be as sturdy as possible.
The health of your remaining natural teeth. In some instances, a dentist will recommend the extraction of the remaining natural teeth, which can lead to the need for more implants.
Your budget. If you are on a tight budget, your dentist may be able to adjust your treatment plan so you receive fewer implants.
After your implant dentist or oral surgeon has time to assess the specifics of your situation, they will recommend a treatment plan that fits your circumstances. However many implants you receive, you can confidently look forward to a stronger, healthier, and more attractive smile!
Meet the Practice
The three talented oral surgeons in our Houston practice are proud to offer a wide range of dental implant placement services. Whether you are looking to replace one tooth or all of them, our team is ready to assist you with state-of-the art technology and outstanding care. To learn more about how we may be able to serve you, contact our office at 713-597-7340.