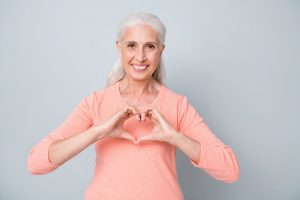 Think of all your favorite foods right now. What comes to mind? A perfectly-seasoned steak? Wonderfully crispy fried chicken? Tacos bursting with color and flavor? That one dish your grandmother used to make that you can't find anywhere? Now, imagine that in order to eat any of them, you had to put the food in a blender, set it to high, and drink the resulting mush. Doesn't sound very appetizing, does it? Sadly, this was an everyday reality for Sharon Tillotta, a Pasadena woman who was missing almost all of her teeth, rendering her unable to effectively chew anything. She simply couldn't afford to get the dental work she desperately needed, and that's when our own Dr. Steve Koo decided to reach out and help.
Sharon's Story
Sharon knew better than anyone that she needed to visit a dentist, but her family was financially "dead in the water." Her husband, a master electrician, developed kidney and heart disease, leading to months of hospital stays and astronomical bills. So, like many, she learned to just work around her failing teeth, blending her food every morning before taking care of her husband. She eventually reached out to Bill Spencer of "Spencer Solves It," and the investigative reporter connected her with a dentist who was willing to donate everything she needed, Dr. Terri Alani. But, there was just one problem.
"A disaster area…"
Sharon needed a full denture for her upper teeth and a partial denture to replace her back bottom teeth. This would allow her to comfortably eat again, plus it would help bring back her self-confidence. First, Sharon's remaining upper teeth needed to be removed, but her inflamed and infected gums would make this extremely difficult. So, Dr. Alani called the best oral surgeon in Houston that she knew: Dr. Steve Koo of the Piney Point Dental Implant Center.
How Dr. Koo Helped Sharon
Dr. Koo was able to successfully remove Sharon's failing teeth, putting a stop to the persistent dental pain she had been dealing with for years. After her mouth had time to heal, Dr. Alani was able to place two new dentures. To say the results were life-changing for Sharon would be an understatement. In her words, she doesn't just feel like she got her teeth back, but that she got herself back as well: "I can finally be myself again. I can communicate with people, I can talk to people again, and I can smile again and not be ashamed."
Between the surgery and the dentures, Sharon's dental work would have cost around $12,000, but Dr. Alani and Dr. Koo were more than happy to donate their time and skills to help someone who really needed it.
Come Get the Care You Deserve
Whether you need to rebuild your smile like Sharon or simply want to replace a single missing tooth, Dr. Koo and the team at Piney Point Dental Implant Center are ready to provide exactly what you need. Thanks to our expertise, you'll enjoy a comfortable experience and results just as beautiful and enriching as Sharon's. To learn more about our practice or schedule a consultation, give us a call today.