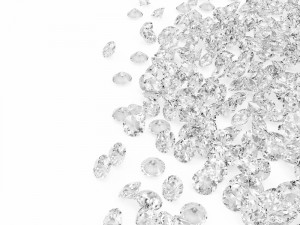 It seems like medical science has never evolved more rapidly than it is today. Nanodiamonds are just one example. They are tiny diamonds that are invisible to the naked eye. About 20,000 times smaller than a strand of human hair, they are the tiny byproducts of mining and refining operations. These nanodiamonds are changing the way we think about the future, especially in the way we administer drugs. One surprising impact of the miniscule, soccer ball-shaped particles has to do with your oral health, something that could greatly impact your dental implants. Piney Point Dental Implant Center has more information about the exciting new findings — keep reading to learn more about nanodiamonds and your dental implants in Houston.
Strong, Healthy Bone: What Your Dental Implants Need
Dental implants enjoy a success rate of up to 95 percent in eligible patients. Successful dental implants require one thing above all else: plenty of strong, healthy bone matter. Without it, your dental implants simply won't be able to anchor in place. Missing teeth cause your jaw to degenerate, meaning a person who doesn't replace their missing teeth with dental implants quickly will suffer from reduced bone mass and a weak, insubstantial jawbone unfit for implant dentistry.
Up until this point, bone grafting procedures, like a bone graft or sinus lift, have been necessary for building up bone matter preceding dental implants. These are invasive procedures that require long recovery periods. The need for bone augmentation may preclude some patients, like those who have diseases that affect the immune system, like HIV/AIDS and uncontrolled diabetes, from implant dentistry altogether. But nanodiamonds could change that.
Nanodiamonds and Your Dental Implants
If you are wondering how a microscopic diamond could possibly be used for the benefit of your oral health or dental implants, consider this: the surface area and size of these nanodiamonds makes for the perfect manner of delivering special solutions to your mouth. Like those that stimulate bone growth. And when it comes to your dental implants, that could mean a better method for strengthening your jawbone in advance of the implant procedure — eliminating the need for an invasive, lengthy bone graft or sinus lift. Nanodiamonds treated with medicine can be administered without the need for a surgical procedure. Instead, they can be delivered via oral rinse or syringe — a quick, painless, non-invasive process.
Nanodiamonds Benefit Your Oral Health, Too
The other encouraging news about nanodiamonds is their potential for treating oral diseases. Oral cancer and other conditions that affect jawbone density can be benefitted by bone regrowth with nanodiamonds.
The team at Piney Point Dental Implant Center is encouraged by this news of nanodiamonds, and we can't wait to see where the new technology leads. We are staying tuned for new updates and we will be at the forefront when they are approved for wide use. Stay tuned for more about nanodiamonds — for long lasting dental implants!