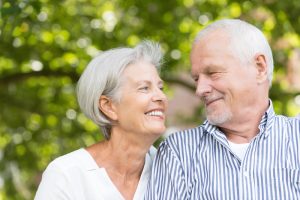 If you are missing or on the verge of losing one or more teeth, your dentist may have mentioned dental implants as a solution. This option offers the only comprehensive solution that is currently available — and it is one that so closely mimics your natural tooth structure that you may not even notice a difference once you have received Houston dental implants.
With all that said, though, you may still be wondering… what is a dental implant? What is it made out of? And how does it work? We've got the answers you seek in this week's blog post. Keep reading to learn more about this premiere option in tooth replacement!
What Are the Parts of a Dental Implant?
A dental implant is made up of three parts that are placed over the course of six months to a year, depending on the length of your treatment plan.
1: Tiny Titanium Post
The dental implant itself is a small post made out of titanium. Think of it as something similar to a golf tee, or a screw that takes the place of your missing tooth's root. This part is implanted beneath your gum line, so you will not ever see it after the treatment is complete. Because dental implants are made out of titanium, a material that promotes the growth of bone tissue, each implant post can actually fuse together with your jaw bone for the ultimate in stability. Dental implant procedures are 95% successful.
2: Connecting Abutment
There has to be something to help affix the dental implant post to the prosthetic tooth or teeth, though. The connecting abutment does the job beautifully! This crucial piece of the dental implant puzzle is either built directly onto the implant post or placed on top after the healing period of four to six months is complete.
3: Tooth Replacement
After your jaw bone has healed together with the implant post and the abutment has been placed on top, then comes the fun part! You will visit your dentist once more for the final restoration of your dental implant(s). This is the phase when the crown, bridge, or denture is affixed on top of each post. This tooth replacement is custom made to match your surrounding natural teeth, for a beautiful and sturdy result.
Are You a Candidate?
Most healthy adults whose tooth loss is relatively recent are eligible for dental implants. To learn more about this tooth replacement option, including whether or not you can benefit, do not hesitate to contact your implant dentist to schedule a consultation. If you are a candidate, we look forward to getting started completing your smile as soon as possible!
Meet the Practice
The Piney Point Dental Implant Center team provides high-quality dental implant services with precision and personalized attention. To learn more about their treatments or to schedule an appointment to discuss dental implants in Houston, you are invited to contact the office at 713-597-7340.