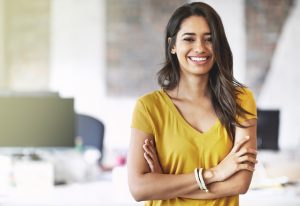 If you are in the process of getting dental implants, we are excited to tell you this: you
have a lot to look forward to. The tooth replacement option provides a comprehensive solution to missing teeth, and it's unlike anything else available today. So will your dental implants work as well as your natural teeth? The answer is yes — and, if you had an issue like a bad bite before, they may work even better. Keep reading to learn more about your Houston dental implants, then schedule an appointment at Piney Point Dental Implant Center today!
How Dental Implants Improve Your Smile
Because they replace the missing tooth's stabilizing root as well as its crown, dental implants provide unsurpassed stability for your new smile. Other options in tooth replacement, like a fixed bridge or a traditional denture, only take care of the visible portion of the tooth — and, without the nutrients it needs to survive from the dental roots, the jawbone will wither and melt away as time passes. Dental implants, on the other hand, stabilize the jawbone for life. Using dental implants, your dentist can also fix issues with alignment that may have existed before. That means dental implants could even give you a better smile than ever before.
The benefits of dental implants are many. Some of the most commonly cited include:
Closely mimic the natural structure of the teeth
Can be expected to last a lifetime
Resume eating and speaking with full confidence
No slippage or discomfort
No need for denture adhesives
Do You Have to Avoid Anything With Dental Implants?
Even the best-fitting pair of traditional dentures may still cause issues when it comes to eating certain foods. Take corn on the cob, for example. Some people simply can't eat it right off the cob after they've lost teeth. Even a really great crown and bridge in the front of the smile may require you to cut your food into pieces. With dental implants, though, you can feel free to bite right into corn, fresh apples, and anything else your heart desires, pain-free and without any slippage or discomfort. Go ahead, take a bite out of life with dental implants!
Dental Implant Maintenance Is Crucial
Take good care of your dental implants to ensure that they last for a lifetime to come. Dental implant maintenance doesn't require a lot on your part. Simply brush and floss regularly, and use a Waterpik or the interdental cleaner provided by your dentist for a thorough clean. Maintain your regular checkups and cleanings with your Houston dental implant dentist to ensure your dental implants stay clean and functioning properly for a lifetime to come.
Let's Discuss Your Dental Implant Options Today!
Do you have questions about implant dentistry? We're here to answer them! Contact your implant dentist, Dr. Steve L. Koo, to discuss your tooth replacement with dental implants today. You can also request a free consultation at Piney Point Dental Implant Center!