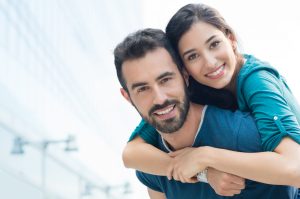 Missing teeth can affect patients of all ages. Children simply may not have some of their permanent teeth as a result of genetic factors. Injuries, poor dental hygiene, and other influences cause teens and adults to lose teeth. Most of the time, missing teeth should be replaced —  and you know dental implants in Houston are the premier option in tooth replacement, but are they right for you? Keep reading to find out how old (or young) you have to be to undergo implant dentistry.
Can You Be Too Young for Dental Implants?
Tooth loss is not limited to older patients — injury and facial trauma can occur in people of all ages. Additionally, children may be lacking some of their permanent teeth due to certain congenital disorders. Hypodontia, a condition in which some of the teeth just don't develop, is one of them.
While dental implants are the best option in tooth replacement, they are not ideal for young patients whose jawbones have not stopped developing. If your child is missing one or more teeth, your dentist may recommend using a space maintainer to ensure the existing permanent teeth can come in correctly. We can explore options in tooth replacement, including dental implants, once your child is a bit older and their jawbone has finished forming.
Can You Be Too Old for the Dental Implant Procedure?
Dental implant procedures are as much as 98% successful in eligible candidates. While there is no limit on how old you can be to get dental implants, people who are not healthy enough to recover from an invasive surgery should not get dental implants. And because they require healing periods of up to a year, significantly older patients may find it is not worth the investment in time to get dental implants. Your dentist can help you determine whether or not implant dentistry is a good option considering your lifestyle and personal smile goals.
Who is An Ideal Candidate for Dental Implants?
So, what's the right age for dental implants? There is no upper age limit. As for how young you can be, the jawbone has usually finished forming around age 16 for girls and 18 for boys. An x-ray of the wrist will be used to determine whether the time is right for dental implants.
Otherwise, the ideal candidates for dental implants include…
People who are healthy enough to undergo a surgical procedure
Nonsmokers
Patients with healthy gums
People with plenty of supportive jawbone structure
The best way to find out for sure whether or not you are the right candidate for dental implants is to schedule an appointment at Piney Point Dental Implant Center!
Go Ahead, Schedule an Appointment Today!
If you have lost one, two, or many teeth, the important thing is that you seek a replacement as soon as possible. Dental implants are the best way to complete your smile — find out whether or not you are eligible for the procedure, and what it entails, by visiting your Houston implant dentist. Request a free consultation with Dr. Koo today!