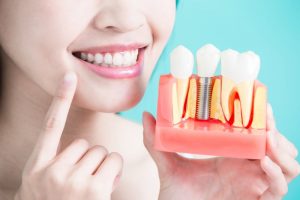 Houston dental implants have the potential to protect your oral health and restore your confidence, but getting them isn't always a simple process. You have to choose a skilled dentist to place and restore the implants, and you have to educate yourself about what you can expect along your path to a renewed smile. Everyone's journey is a little different, but here are six basic steps you can expect to go through after you decide you want dental implants.
Initial Consultation
This first appointment with your oral surgeon serves two main purposes:
You undergo a thorough oral exam so your dentist can determine whether you are a good candidates for implants (most people are).
You get to ask any questions you may have about implants, the placement surgery, and anything else that relates to the journey ahead of you.
Placement Surgery
Unless you need a bone graft, your next step is the implant placement surgery. Your dentist will create an incision in your gums and then insert the implants into your jawbone. You shouldn't feel anything during this procedure, though you may be a bit tender and sore afterward. Your dentist will give you tips on how to handle any discomfort you may feel.
Osseointegration
"Osseointegration" is a fancy word for the process that enables the implants to form a strong bond with your body. This occurs naturally as you heal from the placement surgery and can take up to several months. During this time period, you'll be able to go about your normal life. It might even be possible for you to wear temporary replacement teeth while you're waiting for your implants to settle into their new home.
Abutment Placement
An abutment is a little connecting piece that serves to hold your new teeth on top of the implants. In some cases, a surgeon can place the abutments at the same time they insert the implants into your jaw.
Restoration
This is the fun part! Your dentist will take some impressions of your mouth and design a restoration (artificial teeth) to be placed permanently on top of your implants. Once your custom new smile is ready, it will go into your mouth and you can begin to enjoy all the benefits of a complete, restored set of pearly whites.
Checkups
Dental implants in Houston have the potential to last a lifetime — but only if you care for them properly. That's why it is important to maintain excellent oral hygiene habits and attend regular checkups with an implant expert. They'll make sure that all is well with your new smile and perhaps offer some personalized suggestions on how you can take your home care to the next level.
Ready for dental implants? To get a detailed picture of the journey ahead of you, please schedule a consultation with an expert oral surgeon.
About the Dentist
Dr. Steve Koo is an oral surgeon who has a special interest in helping patients experience the marvels of dental implants. If you would like to chat with him about regaining your lost teeth, please contact our office at 713-597-7340.