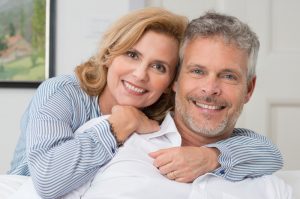 After you have suffered any amount of tooth loss, you will find that you have several options for replacing those teeth and completing your smile. Nothing, however, comes as close to replacing your entire natural tooth structure as a dental implant. In Part III of our five-part series on this tooth replacement method, we are covering the significant advantages of choosing Houston dental implants: like stability, a natural appearance, and more. Continue reading to find out just why implant dentistry is booming in popularity!
Let's Count the Benefits of Dental Implants
Eligible candidates for a Houston dental implant can enjoy a number of advantages from a comprehensive method of tooth replacement. Some of these significant benefits are listed below — which ones would you enjoy most?
Dental implants grow together with your jawbone, bringing important nutrients and blood flow to the area. This stabilizes the jaw and prevents the loss of more bone/additional teeth down the line.

Because they replace your missing tooth's root as well as the visible crown, dental implants offer a truly comprehensive replacement. This provides unsurpassed stability which supports a balanced, nutritious diet.

An implant-retained tooth replacement looks just like your natural teeth, so chances are excellent no one else will be able to tell you have lost any of your pearly whites.

A prosthetic retained by dental implants is brushed and flossed easily.

An implant-retained tooth replacement will not slip or slide around, reducing the risk of embarrassing incidents and oral sores/blisters.

Dentures supported by dental implants do not need to be replaced as frequently as those that are not.

Dental implants can correct previous bite alignment issues, like evening out crowded or gapped teeth.

An implant-retained tooth replacement supports an active lifestyle.

With proper care and routine maintenance, dental implants can last a lifetime.
Are Dental Implants Right for You?
In Part II of this series on dental implants, we covered what makes an excellent candidate for this replacement option. In short, it's pretty much anyone who has lost teeth and is healthy enough to heal from a surgical procedure. Schedule an appointment with your implant dentist to find out for sure whether or not you can benefit from a dental implant in Houston! We believe everyone deserves to enjoy the advantages of a complete, beautiful smile.  
Meet the Practice
Dr. Steve Koo and Dr. Tom Weil of Piney Point Dental Implant Center are the trusted source for Houston dental implants. If you are missing teeth and would like to find out whether or not this replacement option can be used to complete your smile, please do not hesitate to contact the office at 713-597-7340.