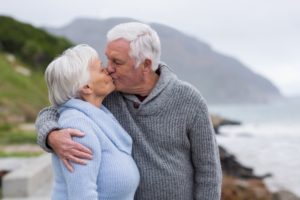 Do you have a big date coming up? Whether you are going out for the first time with a special someone, or you are planning an evening out with your partner of many years, you want your date to go smoothly. If you are new to dentures, you might be worried about kissing with them. Will they stay in place? Do you have to do anything special to prepare? To help you get ready for your date, we have put together a brief guide to kissing with dentures.
Make Sure Your Dentures Fit Well
If you feel a little self-conscious about your dentures, you may not want your date to know that you have them. A big key to a discreet prosthetic is the right fit. If your teeth do not fit well, they are more likely to slip out of place during eating, speaking, and kissing. Visiting your dentist for a reline (adjustment) before your date could help the evening go off without a hitch.
Slips are much less likely with implant dentures, which are secured in the mouth via prosthetic tooth roots. If you decide to upgrade to them in the future, you can look forward to a secure, kiss-ready fit that lasts for many years.
Pay Extra Attention to Hygiene
Missteps in oral hygiene could cause your dentures to accumulate bacteria and odors — that is the last thing you want your date to notice when you are kissing! Before your date, gently brush your dentures, and be sure to clean their underside as well as all of the teeth. You may also choose to soak them for a while in a cleaning solution. Just be sure you thoroughly rinse off any cleaning products; you don't want them to irritate your mouth or attract your date's attention.
Kiss Gently
If you have implant dentures, you can kiss without taking any special precautions. However, if you have a traditional prosthetic, there are a few things you should keep in mind:
Keep your lips soft, and don't apply too much pressure or suction on your dentures.
During the kiss, keep things gentle and try not to place too much force on your prosthetic.
French kissing is fine, but again, being gentle is the key. Try not to bang your dentures against your partner's teeth.
Relax! Even if your dentures slip out of place, prepare to laugh it off. You will get better at kissing with them with practice.
Kissing with dentures might seem a little intimidating at first, but most denture wearers — and their partners — find it to be quite enjoyable. All you need is a high-quality prosthetic, good oral hygiene, and a gentle touch.
Meet the Practice
The three oral surgeons at Piney Point Dental Implant Center specialize in helping patients replace missing teeth with sturdy, strong, and long-lasting implant-supported prosthetics. If you are interested in learning more about implant dentures and how they may benefit your oral health, your confidence, and even your kissing game, contact our practice at 713-597-7340.