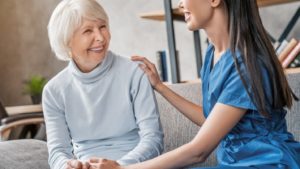 According to one estimate, roughly 1.5 million Americans suffer from rheumatoid arthritis (RA). If you are among them, you may face a number of daily challenges. Dealing with tooth loss on top of RA may make matters even worse. Is it possible for you to rebuild a healthy, complete, and strong smile with dental implants? Let's discuss a few key facts about dental implants and rheumatoid arthritis.
RA and Oral Hygiene
Rheumatoid arthritis may affect your hands to the point where it is difficult for you to hold a toothbrush and thoroughly floss your teeth. Without excellent dental hygiene, you will be at an increased risk of dental implant failure because a bacterial infection could sneak into your gums, attack the tissue around an implant, and ultimately compromise its base of support.
Fortunately, you may be able to achieve thorough oral hygiene with a little help. For example, many RA sufferers find that switching from a manual to an electric toothbrush makes it easier to keep their teeth clean. Similarly, using a water flosser (also called an oral irrigator) rather than traditional string floss might be enough to clean the tight spaces between your teeth without causing you a lot of joint discomfort.
RA Medications and Dental Implants
Since RA is an autoimmune condition, most medications for it suppress the body's immune response. Unfortunately, this can increase your risk of infection around dental implants. Other RA medications may adversely affect bone healing and bone density. They can therefore affect the way the implants bond with your body or make it more challenging for an oral surgeon to insert the implants.
Be sure to let your oral surgeon know about any medications you are taking. After they evaluate your circumstances, they may be able to come up with a treatment plan that allows you to receive dental implants. For example, you might require a bone graft to fortify your jaw.
Should You Get Dental Implants if You Have RA?
Dental implants are the best form of tooth replacement, so it is certainly worth your time to find out if you are a candidate for them. Your oral surgeon will examine your mouth, learn about the severity of your RA and other relevant health factors, and have a frank discussion with you about both the risks and potential rewards of receiving dental implants.
Based on your surgeon's expert opinion and your personal feelings about the situation, you can make a well-informed decision on how to proceed with replacing your lost teeth. If all goes well, you may soon be the owner of a strong, confident, and complete smile!
Meet the Practice
Drs. Steve Koo, Thomas Weil, and William Shepard are the board-certified oral surgeons in our office. Their extensive training and experience enable them to take on even complex dental implant cases, including those involving patients with RA. To learn more about them and how they may be able to serve you, contact our Houston practice at 713-597-7340.