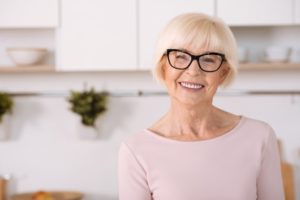 If you will soon receive implant dentures, you have much to look forward to! Not only will you enjoy an improved smile, but you will be able to eat a wide variety of foods and speak with clarity. But how long will it take you to get used to your prosthetic? Adjusting to implant dentures is a process that is unique to each patient. However, you should expect to adapt fairly quickly. Here are some tips on how to transition to using your new teeth:
Start with Soft Foods
Implant dentures are durable enough to handle virtually any food. When you first get them, however, they will feel foreign in your mouth. If you have an immediate load denture, such as an All-on-4 prosthetic, your mouth will still be healing from your surgery. It is best to eat soft foods until your mouth is fully recovered and you are well-adjusted to how your new teeth function and feel. When your dentist gives you the go ahead for tougher foods, you can start to add in all of your favorite meals, including relatively tough and hardy items.
Practice Speaking
Clear speech depends partially on how the tongue interacts with the teeth. Therefore, you should expect your implant denture to enable you to create crisp, clear sounds when you pronounce practically any word. However, you might find it strange to speak with it at first. Reading out loud or simply engaging in small talk with your loved ones can help you adjust.
Expect Some Extra Saliva
Because an implant denture is a foreign object in your mouth, you can expect your body to react by producing extra saliva. You might even drool a little. For most people, this issue clears up fairly quickly. In the meantime, you can drink plenty of water to wash away extra saliva.
Establish Good Habits
Caring for an implant denture is pretty simple, but it will require some adjustments to your routine, especially if it has been a while since you had teeth. If your denture is permanently secured in your mouth, you may be able to brush and floss it like normal. If it is removable, though, you will have to take it out daily to give it a thorough cleaning. It might take a bit of practice to be able to quickly "snap" your denture onto and off of its attachments, but you should get the hang of it sooner rather than later.
Ask Your Dentist if You Have Questions
The dental professional who provides your implant denture will be happy to help you address any questions or concerns. Give them a call if you need extra guidance at any point during the adjustment process.
Implant dentures take less time to adapt to than traditional dentures — they will soon feel like a natural extension of your body!
Meet the Practice
Drs. Steve Koo, Thomas Weil, and William Shepard are the three talented oral surgeons at Piney Point Dental Implant Center. They have decades of combined experience and have helped countless patients to rebuild their smiles. If you would like to speak to them about what you can expect with implant dentures, contact our office at 713-597-7340.