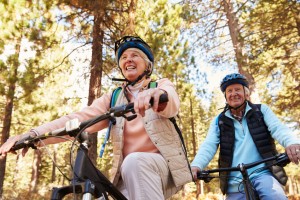 What can you do in one hour? Watch an episode of Law and Order, get in your morning cardio, and… have your missing teeth replaced? It's true. Dental implants in Houston can be completed in as little as sixty minutes, thanks to Teeth in an Hour from Nobel Biocare. Dr. Koo and Dr. Weil are pleased to provide sturdy, natural-looking teeth in an hour for eligible patients.
Teeth in an Hour: It's All in the Prep Work
Traditional dental implants take up to a year to complete, with multiple visits to the dentist during the treatment process. So how can one hour dental implants be possible? The secret to this quicker method is all in the preparation and planning.
First, your dentist will take CT scans of your teeth and oral structures to recreate a detailed image of your smile. Using this information, we create precise guides for the placement of the dental implants. Traditional dental implants are placed in a "freehand" style — but Teeth in an Hour are guided for improved precision.
Once we have the guides in place, impressions, photographs, and x-rays are taken for the creation of your dental prosthetic. We will place a temporary tooth replacement and send this information off to our lab, where your new teeth are created. You'll return to our office once it is ready. Then, the dental implant surgery is performed and your prosthetic is loaded in the same day — in just one hour!
The planning phase for Teeth in an Hour is extensive. The time spent preparing for your new teeth is what assures fantastic, reliable results.
Let Us Count the Benefits of Teeth in an Hour
One hour dental implants? The speed of this method is a huge advantage. But it's not the only benefit of choosing Teeth in an Hour for your tooth replacement. Some of the others include…
Immediate loading of dental prosthetic
Less swelling and bruising
Return to your normal activities quickly
Restored ability to eat, speak, and smile with confidence
Fewer visits to the dentist make it a more economical option
Reduced time sitting in the dental chair for dental implant procedures
Are you wondering whether or not you are a good candidate for Teeth in an Hour? If you are missing one or more teeth, you and your dentist at Piney Point Dental Implant Center will thoroughly discuss all your options in implant dentistry. Typically, people who are in good oral and overall health are suited for the accelerated dental implant procedure.
Dental implants anchor to a stable jawbone. If you have experienced significant bone degeneration as a result of periodontal disease or the missing teeth, a bone grafting procedure may be necessary before undergoing Teeth in an Hour.
Let's Discuss Your Options in Tooth Replacement
Please get in touch with Piney Point Dental Implant Center to discuss your tooth replacement options. Eligible patients enjoy reduced waiting times and a more comfortable treatment with Teeth in an Hour. Request a personalized consultation today!