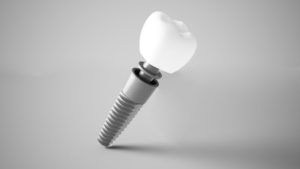 In recent decades, dental implants have become the gold standard of tooth replacement. They are reliable, long-lasting, sturdy, and highly functional. Yes, they are a modern marvel — at least, that is what most people think. The reality is that they have been around in some form for thousands of years. This blog post dives into the fascinating evolution of dental implants.
The Earliest Dental Implants
There is evidence to indicate that dental implants were in use as early as 2000 BCE. Archeologists have discovered that in ancient Chinese culture, carved bamboo pegs were placed onto the jawbone to serve as replacement teeth.
Other ancient societies also used some form of dental implants. For example, there was an Egyptian king who lived around 1000 BCE. He was found with a copper peg hammered into his jawbone. The Mayans may have used fragments of seashells and carved stones to replace teeth.
Early Modern Dental Implants
The ideal of implanting items into the jawbone to replace lost teeth endured, and in the period between 1500 and 1800 CE, European scientists used materials like gold and other metals in their attempts to replace teeth. Sometimes, teeth from cadavers or poverty-stricken individuals were also used as tooth replacements for wealthier people.
Dental Implants as They Are Known Today
None of the aforementioned forms of dental implants were very successful. Such materials did not integrate well with the human body and could cause other complications.
In the early 1950s, a scientist by the name of Dr. Per-Ingvar Branemark placed titanium in a rabbit's femur. Later, he found that the titanium and the rabbit's bone were so firmly integrated with one another that the titanium could not be removed.
Dr. Branemark's discovery paved the way for oral health researchers to create the first titanium dental implants. In fact, Dr. Branemark placed the first titanium implant in a human in 1965. The procedure was successful, but Dr. Branemark's research was not widely accepted until the early 1980s.
Recent Innovations
Since the 1980s, dental implants have continued to make great forward strides. Advanced technology, such as CBCT machines, surgical guides, and more have made dental implant procedures more successful and advantageous than ever. No doubt, continuing research will produce even more exciting innovations in the future.
Dental implants have come a long way since they were first conceived by ancient societies. Certainly, patients around the world can be grateful for this state-of-the-art form of tooth replacement.
Meet the Practice
Drs. Steve Koo, Thomas Weil, and William Shepard have many decades of combined experience as oral surgeons. They proudly offer dental implant placement and other advanced services in our Houston office. To learn how they may be able to help rebuild your smile, contact our team at 713-597-7340.