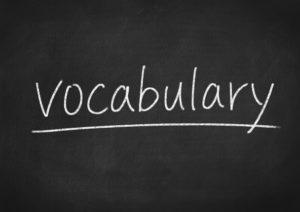 Are you thinking about replacing your lost teeth with dental implants? Throughout your journey, you might hear some unfamiliar terms. Feel free to ask your oral surgery team to explain anything that does not make sense to you — they will be happy to do so. In the meantime, you can expand your dental implant vocabulary by reading this blog post.
Parts of Your Dental Implant
A dental implant is a prosthetic tooth root, which an oral surgeon or other practitioner inserts into your jawbone, where it will be able to support your new teeth. A dental implant usually has two parts:
Post. The dental implant post is a screw-like titanium cylinder that composes the main part of the prosthetic tooth root.
Abutment. An abutment is a small connector piece that goes on top of the dental implant post. It helps to keep prosthetic teeth in place. (Not all dental implants require abutments; some feature one-piece construction.)
Other terms that relate to dental implants and their parts include:
Restoration. A dental implant restoration is the fake tooth (or teeth) that gets secured on top of dental implants. A restoration may come in the form of a single crown, a multi-unit bridge, or a denture that replaces a full arch of lost teeth.
Mini dental implants. These are basically the narrower version of traditional dental implants. They usually come in one piece and do not require abutments.
Dental Implant Procedures
The entire dental implant treatment requires several steps, and not all patients go through the same process. Your unique tooth replacement plan might include:
Bone graft. A bone graft is a procedure used to build up the jawbone if it is too weak or small to support dental implants. There are several types of bone grafts, including ridge augmentation and sinus lifts.
All-on-4. This is a special dental implant procedure that replaces a full arch of teeth in a single day. It may also be referred to as Teeth in a Day. Teeth-in-an-Hour is another similar procedure.
PRP/PRF. These advanced techniques use the platelet-rich part of your own blood to expedite healing after oral surgery.
Other Important Terms
A few additional terms that may be useful for you to know include:
Osseointegration. This is the natural process through which the jawbone forms a strong bond with dental implants.
Peri-implantitis. Peri-implantitis is a rare infection that can occur in the tissue around dental implants.
The world of dental implants is both fascinating and complex. You can trust your oral care team to guide you through this life-changing treatment.
Meet the Practice
Piney Point Dental Implant Center in Houston features a team of three skilled oral surgeons, all of whom enjoy helping patients rebuild their smiles. If you have questions about what is involved in the tooth replacement process, they would be pleased to chat with you. Contact our office at 713-597-7340.