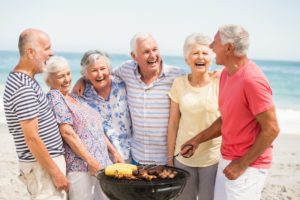 Summer is full of delicious foods. Plus, with the rollout of COVID-19 vaccines, it is becoming safer and safer to enjoy social gatherings — backyard barbecues are back! If you have dentures, though, you might worry that your prosthetic will limit your ability to enjoy your favorite summertime treats. In this blog post, we provide some simple and practical tips for eating with dentures. Hopefully, you will be able to enjoy all the delights of the season without too much fuss.
Cut Your Food into Small Pieces
Because traditional dentures rest on the gums, they can become destabilized if you use them to bite into corn on the cob or tear some meat off of a rib. It is best to cut your food into small pieces before you eat it, and move the food directly to your molars so you can chew it effectively.
Distribute Food Evenly Across Your Mouth
Everyone should make it a habit to chew on both sides of their mouth. However, this is especially important for denture wearers. If you do not do so, you could end up destabilizing your prosthetic, which can be both uncomfortable and embarrassing.
Be Careful with Hot Foods
Dentures have an insulating effect on the mouth, so you might not realize that a food is too hot to eat until it is too late. Start off with small bites and take time to gauge the temperature of a food before you really start to dig in.
Drink Plenty of Liquids
Starchy foods are plentiful at summertime picnics. Whether you are munching on potato chips, chewing on a hot dog bun, or indulging in s'mores, the starchy texture of these foods can make them cling to your teeth. Sipping on water can wash away that debris and help your mouth stay clean. Plus, it will help you stay hydrated in the summer heat, which is important for both oral and overall health.
Make Sure Your Dentures Are in Good Shape
Dentures can handle a wide variety of foods, but only if they are well-maintained. It may be wise to visit your dentist to get your prosthetic relined (adjusted) to ensure that it fits securely on your gums. This is especially important if it has been more than a year or two since your last reline.
You might also consider upgrading from your traditional dentures to an even stronger, more reliable option. Dental implants can serve as prosthetic tooth roots and help to keep your teeth in place through almost anything. In fact, many of the precautions that are necessary with regular dentures can become a thing of the past with dental implants.
Your dental prosthetic shouldn't make you miss out on your favorite summer foods. The above tips can help you enjoy all the treats of the season without worry.
Meet the Practice
The three oral surgeons at Piney Point Dental Implant Center specialize in helping patients enjoy the benefits of dental implants. They partner with local dentists to provide high-quality, long-lasting, and sturdy restorations. If you are thinking about trading your traditional dentures for a more stable option, our team would be pleased to talk with you. Contact us at 713-597-7340.