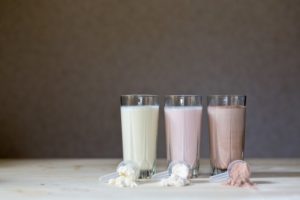 One of the best things about the All-on-4 procedure is that it allows you to get a beautiful new set of teeth on the same day as your implant placement surgery. But does that mean you will be able to eat anything you want right away? Not quite. Your mouth will need some time to heal. In this blog post, we discuss what you can expect after All-on-4 surgery and how you can pick foods that won't interfere with your recovery.
How Will You Mouth Feel after All-on-4 Surgery?
Your surgery will involve placing artificial tooth roots into your jawbone, so it is reasonable to expect that you will experience some soreness and swelling after your procedure. Usually, the pain is quite manageable with medications, and you should be feeling much better within a few days to a week. Following your surgeon's oral hygiene instructions and getting plenty of rest can help to facilitate a smooth All-on-4 recovery.
Which Foods Should You Avoid?
While you are on the mend, hard, sticky, and crunchy foods may cause you significant discomfort and increase your risk of postsurgical complications. It is best to avoid them until you are sufficiently healed. Also, keep in mind that you should avoid alcohol, especially if you are on any prescription painkillers. It might be safe to drink in moderation after your initial recovery period, but drinking too soon could interfere with your body's healing process.
What to Eat Immediately After Surgery
The first 1 – 2 weeks after surgery is when your mouth will be the most tender. During this period, it would be best to stick to a no-chew diet. Here are some examples of acceptable food and beverage choices during this time:
Broth
Coffee and tea
Smoothies
Protein shakes
Ice cream (without hard add-ins)
Pudding
Yogurt
After the First Few Weeks
Once the swelling and tenderness have subsided, you may be able to graduate to a fork-tender diet. That is to say, it should be okay to eat anything that can easily be cut with the side of a fork. Here are some examples of foods that you should be able to consume without any problems:
Soft breads
Mashed vegetables (potatoes, avocados, cauliflower, etc.)
Oatmeal
Eggs
Meatloaf
Soft tofu
Resuming a Normal Diet
After your dental implants fully integrate with your jawbone and you receive your permanent new teeth, you should be able to resume eating virtually anything, including hard and tough foods. This will probably be 3 – 6 months after your initial surgery. In the meantime, it might be a little challenging to restrict what you eat — but your beautiful, healthy, restored smile will be well worth it!
Meet the Practice
The three oral surgeons at Piney Point Dental Implant Center have many years of combined experience and are proud to offer All-on-4 as one of their services. If you have questions about the All-on-4 surgery or what to expect during your recovery, they would be happy to speak with you. Contact our office at 713-597-7340.