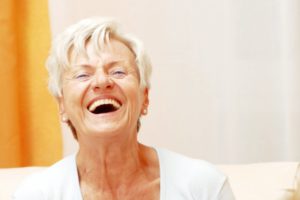 Many people choose traditional dentures to replace their lost teeth. Dentures are cost-effective, aesthetically pleasing, and functional. However, they do not solve all of the problems presented by missing teeth. One big issue that they do not address is bone loss in the jaw. Let's talk about why that bone loss occurs and how dental implants in Houston can help you to keep your jaw as healthy and whole as possible.
Bone Deterioration After Tooth Loss
The human body is a very efficient creation. You probably already know that if you do not regularly use your muscles, they atrophy as the body breaks them down and uses their raw materials for other purposes. The same principle applies to your jaw. As long as it is supporting your teeth, it tends to remain healthy, strong, and whole.
However, as soon as a tooth goes missing, your body begins to recycle the jawbone. In fact, according to one study published in the Indian Journal of Dentistry, up to 25 percent of the bone that once supported a tooth may be lost in the first year following an extraction.
Why Dentures Do Not Prevent Bone Loss
Teeth can be divided into two parts: the roots, which are below the gumline, and the crowns, the visible portion of the teeth. Dentures replace only the crowns of lost teeth. Since they do not replace the roots of the teeth, the jaw doesn't have anything to stimulate it and ensure that your body continues to deliver all the materials it needs to stay strong.
How Dental Implants Can Help
Houston dental implants are prosthetic tooth roots. As few as 2 – 4 of them can support an entire row of replacement teeth. After an implant dentist in Houston inserts them into the jaw, the bone begins to fuse with them in a process known as osseointegration. In effect, implants "trick" your jaw into thinking that you still have your teeth. They stimulate the bone and help to prevent deterioration.
Preserving your jawbone isn't the only benefit that dental implants offer. Some of their additional advantages include:
They do not slip around during eating and speaking like traditional dentures
They deliver a powerful bite force that can stand up to virtually any food
They are very comfortable and feel natural in the mouth
They can last for many decades — perhaps even for a lifetime
The prosthetic teeth they support look virtually identical to natural dentition
Tooth loss presents problems that traditional dentures simply cannot address. Fortunately, dental implants can both restore your smile and protect your bone!
About the Author
Dr. Tom Weil is a Houston implant dentist and oral surgeon with nearly 50 years of experience. He is a Fellow of the American Association of Oral and Maxillofacial Surgeons and a Diplomate of the American Board of Oral and Maxillofacial Surgery. He works alongside the Piney Point team to deliver top-tier implant dentistry to our community. To learn more about Dr. Weil and our practice, contact our team at 713-597-7340.