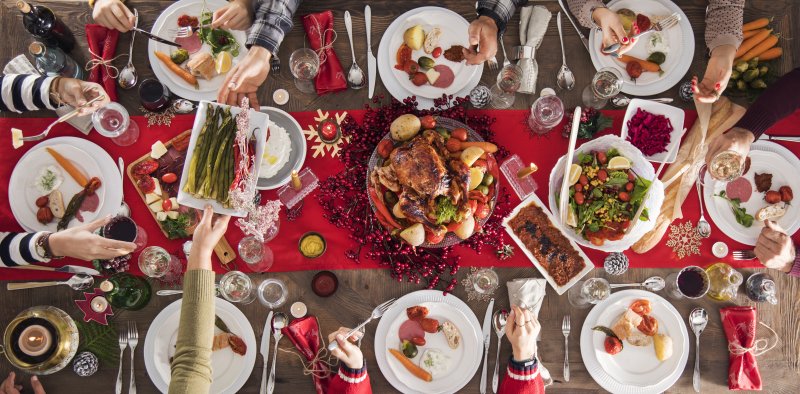 Wearing dentures can give you back the smile you've been missing, but it can also pose potential problems when faced with your favorite holiday foods. While craving your seasonal favorites, it's important that you understand which items you should avoid and which you can indulge in. Here are four holiday foods you'll want to say "no, thank you" to if you want to spend less time with your emergency dentist and more time with family and friends.
Nuts and Other Hard Foods
While nuts may not grace the Thanksgiving table this year, they'll likely be available for snacking purposes before the big meal. No matter the type of nut or snack mix, you're better off avoiding these tiny treats. Why? Because they can cause you to place unnecessary pressure on your dentures or similar restorations. As a result, you could accidentally damage your prosthetic and find yourself spending lots of money to replace your teeth.
Caramel or Other Sticky Foods
Who doesn't love caramel sauce? Whether you're putting it on top of ice cream, hot chocolate, or enjoying it as part of your grandma's apple pie, it may taste delicious but can wreak havoc on your restorations. The consistency can make it incredibly difficult to consume and even cause you to lose a filling, crown, or veneer. Not to mention, you may struggle to keep your dentures in should you choose to consume sticky food items.
Tough Turkey, Ham, or Steak
No matter if your family is one for tradition and sticks to turkey or ham or if you and your loved ones prefer nice, juicy steaks, these meats can be problematic for your dentures if you're not careful. The chewing that is required when eating tougher meats can pose issues in keeping your restoration firmly in place. If you are dying to try your brother's special steak sauce this year, try cutting up your meat into smaller pieces.
Popcorn for the Game
No Thanksgiving is complete without watching some football, right? Even if popcorn is the declared snack of choice in your household, you'll want to find something else to consume simply because it can burrow between teeth and underneath restorations. Also, should you bite down on an unpopped kernel, you might experience a cracked or broken tooth that requires immediate dental treatment.
Leaving your family get-together to tend to a dental emergency is not the ideal situation. Avoid this unnecessary trip by watching what you eat and drink. As a result, everyone can have a safe and happy holiday.
About the Practice
Piney Point Dental Implant Center wants all patients to enjoy the holiday season. While wearing restorations of any kind can be tricky, especially when faced with the many delicacies gracing your mother or grandmother's table during the holidays, we can provide helpful tips to reduce your potential oral health problems and keep your smile right on track. Visit our website or call (713) 597-7340 to let us help you navigate this time of year.