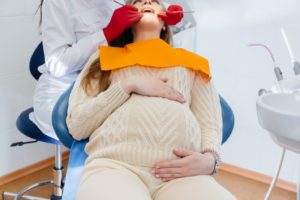 If you are expecting a baby, you deserve a hearty congratulations! Of course, while you are happily awaiting your little one's arrival, you must be careful to look after both their health and your own. Naturally, that brings up some questions about dental care. For example, you may wonder if dental sedation is safe during pregnancy. Let's discuss this important topic.
Local Anesthetic Is Safe
During most routine procedures, dentists numb the portion of the mouth where they will be working, either with injections or a topical anesthetic. The good news is that these numbing agents have been shown to be safe for pregnant individuals.
A study published in 2015 compared data from pregnant women who received local anesthetic versus those who did not. The researchers found no difference in rates of miscarriage, birth defects, and other problems between the two groups.
What About More Powerful Forms of Sedation?
Local numbing agents can certainly do much to make you comfortable during dental treatments. However, if you require an extensive oral surgery or are nervous about your procedure, you may be interested in more powerful forms of sedation.
In general, dentists and oral surgeons try to avoid using nitrous oxide, oral conscious sedation, and IV sedation for pregnant women. The medications involved in these techniques may pass through the placenta and have adverse effects on a developing fetus. Your dental team may try to perform your procedure without sedation or schedule it for after you give birth.
But what if there is an emergency and you require a procedure right away? In such situations, it boils down to a risk versus rewards analysis. In some cases, it can be safe to administer sedation during the second trimester of pregnancy. If you are in your first or third trimester, the situation is more challenging. However, you can trust your dental team to consider all relevant factors and make a recommendation that is as safe as possible for everyone involved, including your unborn child.
Caring for Your Smile During Pregnancy
Due to the risks associated with some forms of sedation, a handful of women make the mistake of not visiting their dentist at all during pregnancy. That is unwise because pregnancy presents some special challenges for oral health. For example, hormonal fluctuations can increase the risk of gum disease.
The next time you visit your dentist, make sure they know that you are pregnant so they can take appropriate precautions. They will do all they can to make you comfortable during treatments while they keep your health and safety, as well as that of your child, as their top priority.
Meet the Practice
Drs. Steve Koo, Thomas Weil, and William Shepard are board-certified oral and maxillofacial surgeons. They offer multiple types of sedation when performing dental implant services. Although dental implant surgery and sedation are not typically recommended for pregnant women, you can still visit our team during pregnancy to plan for future tooth replacement. To learn more about us and how we may be able to serve you, contact us at 713-597-7340.