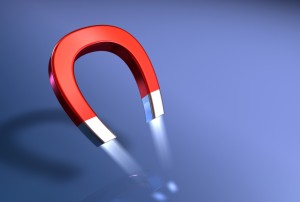 If you have done your research on dental implants, you know they are the most effective way to replace one or more missing teeth. The fixed alternative to dentures secured with bonding cream or suction, dental implants provide unmatched stability for prosthetic teeth.
This summer, an exciting advancement in implant dentistry was made. It's now possible to enjoy an implant-retained denture faster than ever, thanks to a new method that uses magnets to speed up dental implant healing. The team at Piney Point Dental Implant Center is staying on top of this cutting-edge technology to offer you the best in Houston dental implants.
Electromagnets Speed Dental Implant Procedure
Traditional dental implants are completed like this: the initial surgical implantation, and final restoration, or when the crown(s) are securely attached to the dental implants.
Traditionally, a recovery period of up to nine months is necessary between each phase for the dental implants to fuse with the jawbone. A temporary tooth replacement is worn during this time. It is a crucial, but lengthy, process known as osseointegration — and the time it takes to complete has been drastically reduced, thanks to a new development in electromagnets.
How does it work? By placing electromagnetic fields in the bottom of the dental implant to stimulate the jawbone and promote faster integration. Healing times are actually reduced by 40 to as much as 70 percent, thanks to the electromagnetic technology. Once osseointegration is complete, the restoration can begin — and then you're enjoying a beautiful, strong denture that fits just like it should.
Your Jawbone Gets Stronger With Magnetic Fields
Because electromagnetic fields dramatically speed up the osseointegration process, this advancement offers real benefits for anyone who wants dental implants. But it is especially promising for patients who may be risky candidates for dental implants due to a weak jawbone.
Tooth loss causes jawbone degeneration, meaning people who have dealt with missing teeth for a long time may not be eligible for dental implants without undergoing bone augmentation first. But electromagnet technology stimulates bone cells to help the bone regenerate on its own, strengthening the jaw and eliminating the need for lengthy procedures like bone graft or sinus lift altogether.
New Technology Keeps Dental Implants Healthy, Too
In addition to speeding up integration and strengthening the jawbone, the electromagnets also prevent and treat the development of the condition known as peri-implantitis. This condition occurs when plaque builds up around the dental implants, leading to their eventual failure. But electromagnetic fields kill the bacteria that cause the condition, for dental implants that stay healthy for a lifetime.
Piney Point Stays On Top Of Dental Advancements
If you are missing one or more teeth, please do not delay in seeking a replacement. Missing teeth cause the jawbone to lose its volume, leading to even more significant problems later on. Your Piney Point dental implant surgeons stay on top of the latest dental advancements, and we are happy to be at the forefront of implant dentistry technology. Contact us to discuss your tooth replacement with dental implants today!