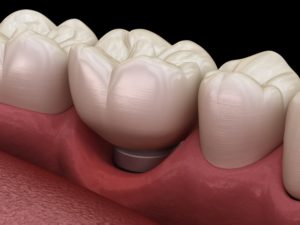 Dental implants in Houston are the best tooth replacement solution available. Because they mimic the structure of natural teeth, they offer remarkable and long-lasting function. Plus, they look absolutely gorgeous. As amazing as they are, however, they are not immune to complications. In rare cases, patients experience painful emergencies that are inconvenient at best. At worst, such situations can lead to dental implant failure. What causes these problems, and what can you do if you encounter a dental implant emergency? Let's discuss the answers to these vital questions.
Types of Dental Implant Emergencies
A dental implant emergency can be defined as any situation that compromises an implant's function and jeopardizes its long-term viability. Two of the most common types of dental implant emergencies are:
Peri-implantitis. This is an infection in the tissue that surrounds a dental implant. As the infection worsens, it can destroy both the gums and the bone that support the implant. Eventually, there will not be enough tissue left to continue to support your new tooth. Early signs of such an infection include swelling and redness in the gums, pus, a bad taste, and swollen lymph nodes.
Trauma. A hard impact to one of your Houston dental implants may damage the restoration on top of it. Trauma may also cause significant harm to the tissue surrounding an implant. Common causes of such trauma include trips and falls, sports injuries, and biting down on extremely hard objects.
How to Handle a Dental Implant Emergency
As soon as you realize that something is amiss with one of your dental implants, you should get in touch with a local oral surgeon. They will schedule you for an appointment as soon as possible. After they take some X-Rays and perform a visual examination of your mouth, they will formulate a treatment plan.
In some cases, an oral surgeon may refer you to a dentist or prosthodontist who can repair or replace your implant's restoration. In other instances, intensive treatment to fight an infection is necessary. For some patients, it is necessary to remove a dental implant in order to facilitate proper healing. A dental implant may later be replaced in the mouth.
After your emergency has been resolved, your dentist or oral surgeon will coach you on how to reduce the risk that such a situation will occur again the future. Their advice might include tips on oral hygiene, encouragement to quit smoking, and other practical suggestions.
You should not expect to encounter a dental implant emergency — but you should be prepared to handle one. The above guidance can help you recognize and cope with any problems that your new smile might encounter.
About the Author
Dr. Steve L. Koo is a Diplomate of the American Board of Oral and Maxillofacial Surgery and a Fellow of the American College of Oral and Maxillofacial Surgery. He has more than a decade of experience in helping patients reap the benefits of dental implants. If you ever encounter any problems with your dental implants, Dr. Koo and the Piney Point team are ready to help. You can get in touch with us at 713-597-7340.